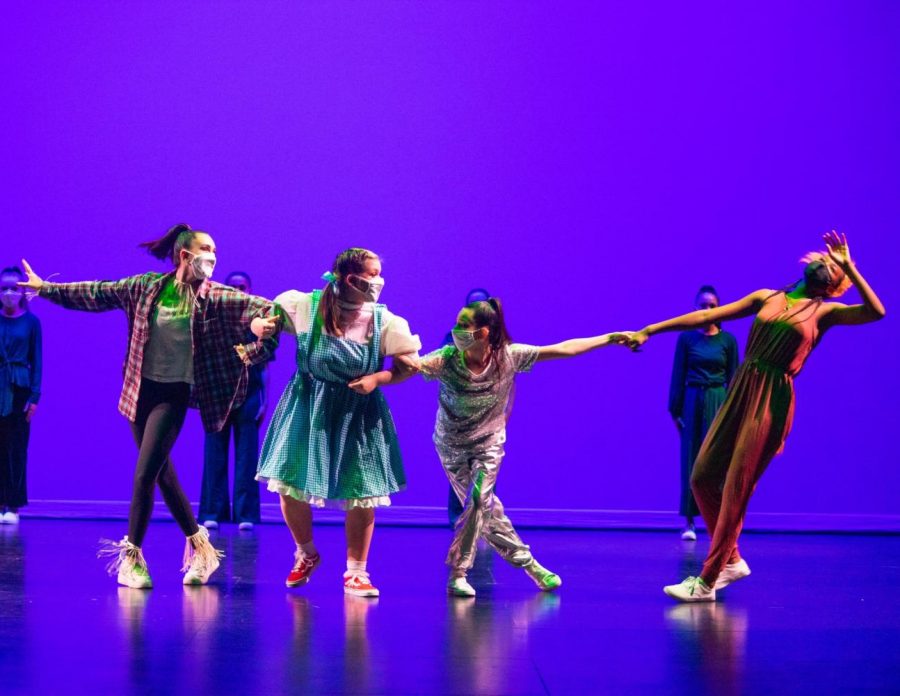 Over 150 FUHS dancers will be featured among 25 dances during tonight's spring dance concert. The event will be live streamed April 23 and April 24 at 7 p.m. This year's concert Reverie—a state of being pleasantly lost in one's thoughts; a daydream—focuses on dreams.
Compared to the fall dance concert which only allowed five dancers on stage at a time, choreographers for the spring dance concert were able to plan dances with 15 performers.
Students enrolled in Advanced Dance and Dance Production choreograph a piece for either the fall concert or the spring concert. The class votes on which pieces they believe would best suit the theme of the concert.
Junior Scarlet Marceno choreographed a hip-hop piece to the song "Dirty Harry" by Gorillaz. To fit with the dream theme, Marceno decided to go with an apocalyptic setting.
"I wanted to go a little more political with my dance because I choreographed at a time when I was angry about everything," Marceno said. "There's a lot of feminist themes in it and strong women empowerment. It might be kind of hard to see how it translates but I think my dancers are very strong."
Marceno's group of 10 dancers all play apocalyptic soldiers in a new regime. Marceno knew from that start that she wanted to work with a big group.
"I wanted a big group of girls because I can fit more formations in and it will help me better tell my story," Marceno said.
Although choreographers could work with twice as many dancers, the majority of rehearsal time was over Zoom.
"We only really got to practice in person a couple of times," said sophomore Devin Glass. "We had to really focus and make sure we knew which direction we were going because Zoom switches directions around which was very difficult,"
Glass chose the song "Living of the Dead" by Mrs. Trinity to go with his jazz musical theater piece. His dance focuses on nightmares and monsters; however, he says not to be frightened.
"It's not just a scary dance," Glass said. "It's actually quite fun."
"I do have a message in the booklet," Glass said. "I believe it's something along the lines of the monsters under your bed wanting to have a party. If you were to go and see a bunch of monsters in your dream and you know it's a dream, why not have fun with it."
Senior Miranda Van's dance titled "The 7th Sense" explores how you feel while dreaming.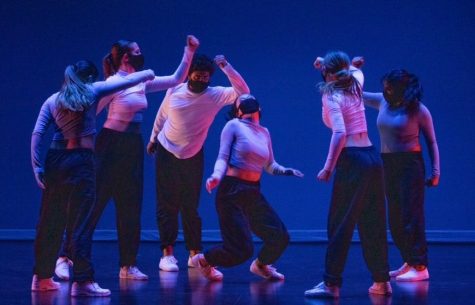 "When I dream it's terrifying. I can really feel everything," Van said. "I can see what's going on and once I wake up I can remember everything that happened and I can remember every single detail."
Van combined the instrumental versions of "Solo" and "Just Breathe" by B'Dash and "Daisy" by Ashnikko to create the music for her piece.
With no specific message, Van's piece is up to interpretation by the individual.
"Depending on each individual, how do they encounter their own dreams not in the 'Oh what's happening in my dream,'" Van said. "It's more of 'Do I feel a lot when I'm dreaming,' kind of like 'Oh do you relate to it, does this feel similar to you.'"
Tickets are available at fuhs.booktix.com. Single tickets are $5 and household tickets are $10. The online lobby opens at 6:45 p.m. and the concert will begin at 7 p.m.