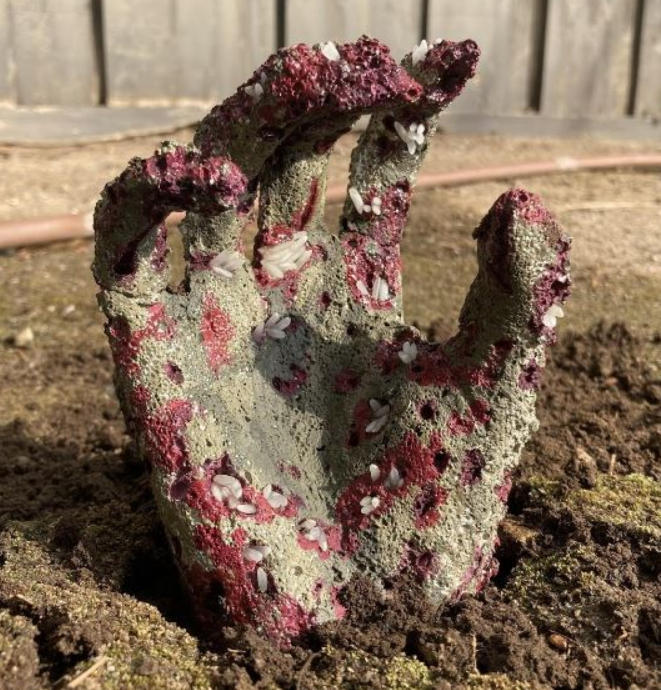 BEAST students create creepy cool projects
Despite Distance Learning BEAST students have created several cool projects this year including prop hammers and hand molds. In the MADE class, students have been working on talking skulls and are scheduled to begin a mini-coffin project.
The hammers were modeled after real hammers using Smooth-On Flex Foam-It! 25 (a dense flexible foam) to create a prop that could be used to safely "bonk" someone over the head in a film or play. 
In addition to the tool props, students made molds of their hands in Smooth-On Algi-Safe Alginate cast using Hydrocal Plaster.
Students used vacuum-formers to create molds of a prop arm which were then used with Smooth-On Flex Foam-It! 8 (a pillow-soft flexible foam) to create a prop severed arm for a film they imagined. 
Students also studied the anatomy of the human ear and then sculpted one from observation in clay.
Click slideshow below for more photos

Saada wins Mr. Fullerton title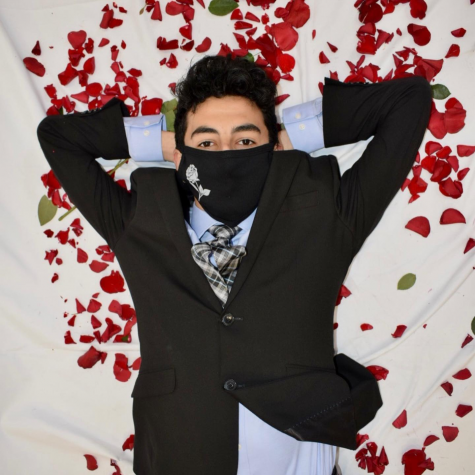 Senior Joseph Saada had never played the ukulele before he decided to sing and play as his talent for Mr. Fullerton. He had only practiced both separately for the weeks preceding the recording—he'd never actually sung and played at the same time until the event.
"Well to be honest with you, I was just cleaning out my garage and I found the ukulele, and was like 'oh, well, I need a talent' so I picked it up, asked around, found out it wasn't that hard to actually play the ukulele," said Saada, who was named this year's Mr. Fullerton. "In a week I learned 'Riptide' because it's an easy song."
Seniors Elistein Estrada, Troy Fregoso, Caleb Garner, Frank Padron, Chris Perez, Isaiah Sarabia, Andrew Severance and Josiah Yousling also participated in Mr. Fullerton.
Highlights of the event included Garner's comic sketch on how to make a peanut butter and jelly sandwich and Estrada's skillful trumpet performance while wearing a mask. Students who are logged in to a school email account can still watch the video of the Mr. Fullerton show here: Mr. Fullerton

Homecoming King & Queen named at halftime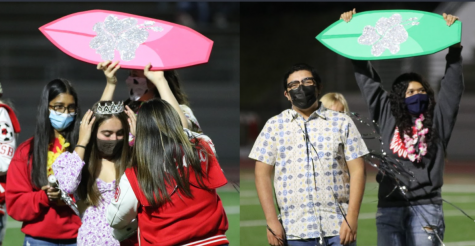 Seniors Zoey Afram and Ben Torres were crowned Homecoming Queen and Homecoming King at the halftime show on April 16.
The Homecoming Court included Maya Salazar, Mia De La Reya, Roman Lopez and Hunter Grimm. Franklin Honrado and Emma Hill won junior prince and princess. Cole Thompson and Nubia Taylor won sophomore prince and princess. Henry Pillon and Jamisen Chacon won freshman prince and princess. The Indians (4-2,3-2) finished the homecoming game with a 35-28 win against Sonora. Photos by Arashk Alivandi.

Speech team continues competitive season
Competing against experienced juniors and seniors, freshmen Audrey Bae and Isaiah Jung had a strong 3-3 showing April 4-6 at the National Debate Coaches Association National Championship (NDCA) tournament. As freshmen, Bae and Jung could have competed at the novice level but chose to compete in what is equivalent to "varsity" level. 
This weekend (April 23-25) the team will compete in the California High School Speech Association State Championship. Juniors Kylee Gong and Kennedy Hetts will compete in Expository; Mackenzie Mauldin will compete in Impromptu; junior Garrett Fan will compete in International Extemporaneous; seniors Astor Redhead and Ben Torres will compete in Parliamentary Debate; sophomore Amelie Heying and freshman Evelyn Ishikawa will compete in Program Oral Interpretation; Freshman Audrey Bae & Isaiah Jung will compete in Public Forum.