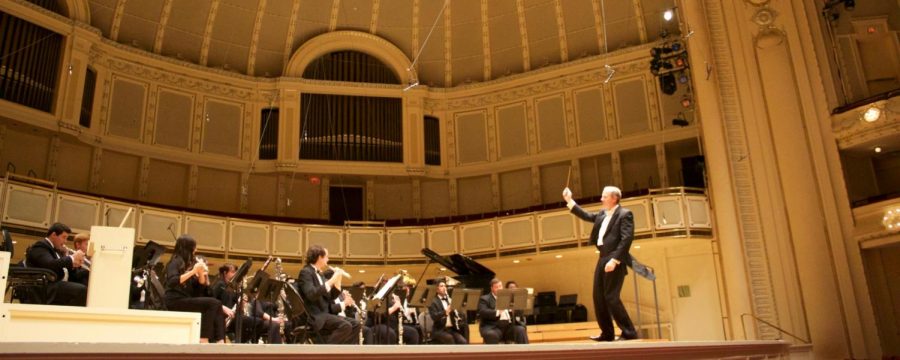 Photo courtesy of Larry Stoffel
Fullerton High School alum Larry Stoffel (Class of 1982) did it all as a student: concert band, choir, marching band, musicals, jazz band. He especially credits former FUHS music teacher Ron Perry for giving him and other students an appreciation for all performing arts."This is where I found my place and my friends and a sense of purpose in high school," said Stoffel, who was so impressed with his arts education that he chose to pay it forward by becoming a high school and college music educator.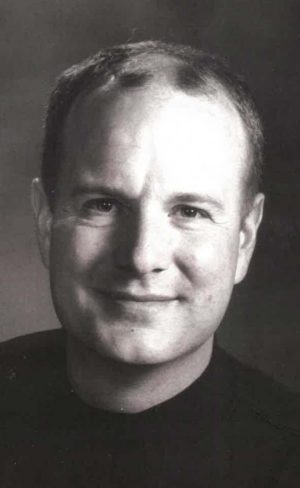 Stoffel was named California's music professor of the year in 2010 by the California Music Educators Association and has conducted all-state bands in Virginia, Texas and California.
For his successes and devotion to music education, Stoffel has been selected as an FUHS Wall of Fame inductee and will be honored at a homecoming ceremony on Oct. 15.
Stoffel recalls a time when the FUHS Drama Club hosted a student-run production of You're a Good Man, Charlie Brown. Stoffel, not surprisingly, was cast as the pianist Schroeder. 
"These were just simple blocks of abstract shapes and there was one that was piano shaped," he said. "A recording played through speakers with me mimicking like I was playing a piano on this wooden box."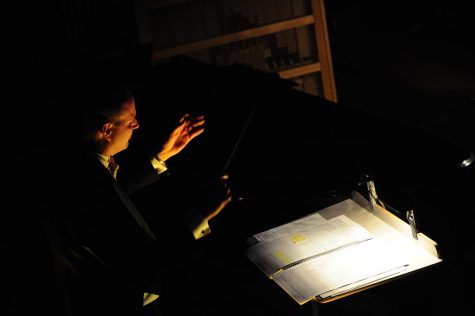 After graduating with a Bachelor of Arts in Music from UCLA, Stoffel started teaching music. He later earned a graduate degree in Colorado and a doctorate in Indiana. 
After nearly 10 years in the midwest, and after serving as the Director of Huskie Bands at Northern Illinois University, Stoffel moved back to California to join the faculty at Cal State Northridge.
Stoffel recalls being invited back to Fullerton High to help judge at a Concert Band festival hosted in the Fullerton Auditorium (formerly Plummer Auditorium).
"That really was a special moment for me," he said. "The historic nature of the auditorium, the fact that I ended up becoming a college professor and a band director for my career, and to come back and be the adjudicator at this music festival gave me a sense of gratitude for all the opportunities that were provided to me when I was here as a student."
Current FUHS band director Troy Trimble nominated Stoffel to receive the Wall of Fame honor.

"Larry has always been so friendly and giving to me as a young educator in my field and that is his lasting legacy on me," Trimble said. "The performing arts programs that he was a part of here at FUHS continue to be what he dedicated his life to teaching and advocating for."
To understand some of the unique difficulties in the performing arts, Stoffel compares learning music to learning algebra.
"Instead of taking the test in the classroom, what if the students in the algebra class take it in the stadium? The desks are set up on the field and there's an audience watching from the stands, and an announcer points out, 'Oh, John just missed a factor!' It's a silly scenario but for performing arts and music students it's accurate."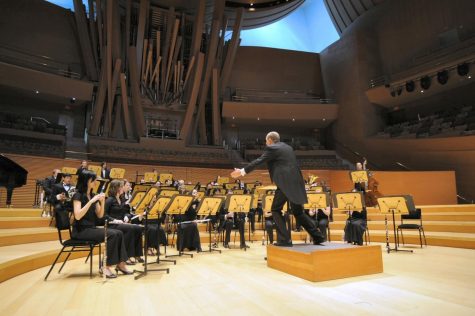 Stoffel has a very personal connection with music, which has shaped his approaches to both teaching and playing.
"Music is meant to be listened to by other people," he said. "This is something truly unique: most subjects that we teach at school don't have this aspect. When younger kids first pick up an instrument, they're just learning the basic skills of how to hold the instrument and play it. But as we get older we improve and get more advanced and suddenly it's not so much about how you play, it becomes why you play."
Stoffel believes music has a fundamental place in the lives of students around the world, and he hopes to see continued support for the arts at all grade levels.
"Music ultimately describes the human experience. Who we are, what we strive for, where we have failed. It describes the human experience in a way that touches people as they listen. The fundamental reason that music is, always has been, and always will remain a fundamental core subject in school curriculum is because to be human means you are a natural musician, either as a receiver or a performer."