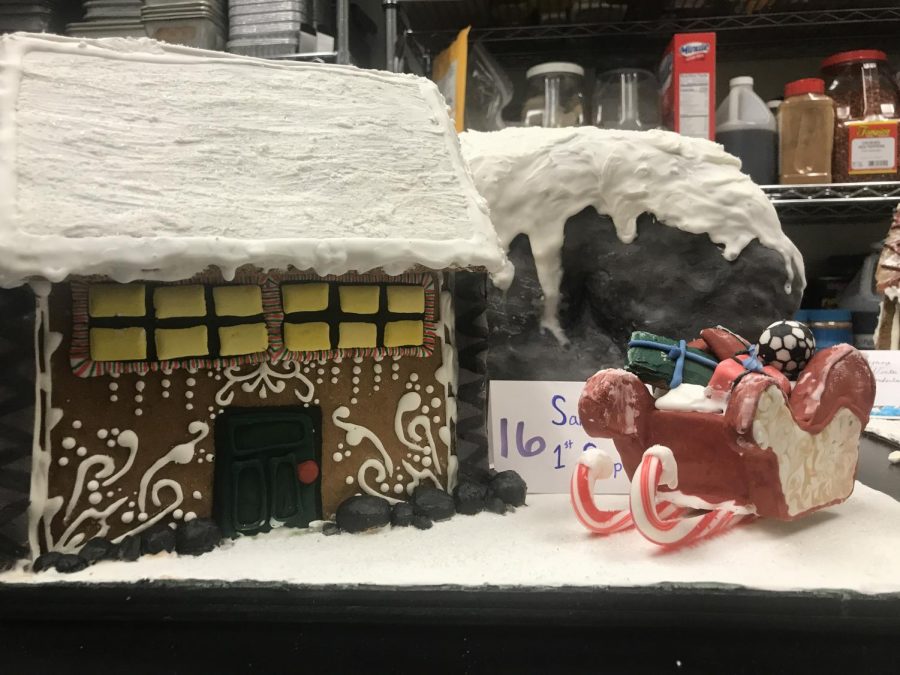 The FUHS Culinary Arts Academy held their 2017 Annual Gingerbread House Contest for Restaurant I and II students. This contest gives students the opportunity to showcase their hard work and knowledge in the form of a holiday tradition. Below are the winners of the competition.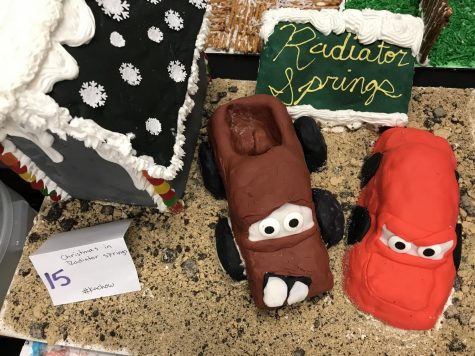 1st Place- Christmas in Radiator Springs
Seniors Kenya Lockett and Rebecca Tell scored first place. Inspired by the movie "Cars," Lockett and Tell designed and replicated a scene using gingerbread cookies and frosting as the house and cars.
"We started in August because the gingerbread takes a full couple months to get really hard and so we finished late October," said Lockett.
Being a chef is a dream of Lockett's, and she plans to continue her culinary art at Cal Poly for their culinary courses. Tell's aspirations may not include food, but her dream is to attend UC Berkeley.
2nd Place (Tie)- Santa's First Stop
Seniors Olivia Kehoe, Briana Hernandez, Cody Ortiz, and Emily Weston scored second place.
The gingerbread house was named "Santa's First Stop." They used white frosting to make the base look like snow and built a Santa sleigh with presents and candy canes. They also built a large boulder behind the house with melting snow (frosting) dripping off of it.
"[The hardest part was] probably just trying to make sure everyone was on the same page with what we were doing and figuring out how to make everything 100% edible," Weston said.
"When we first put the house together it just fell, so we had to do it multiple times," said Kehoe.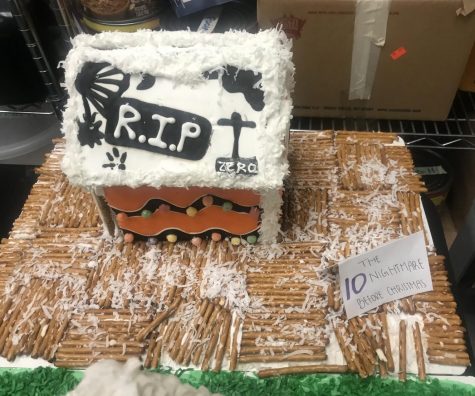 2nd Place (Tie)- The NIGHTMARE
Seniors Alejandra Alcaraz and Yessenia Rico tied second place with their house, "THE NIGHTMARE BEFORE CHRISTMAS."
Alcaraz and Rico used pretzels stick as the base for the gingerbread house, and piped "R.I.P" with icing on top.
3rd Place- Christmas Winter Home
Juniors Maxine Bennett, Isabella Felismino, and Miguel Kunze scored 3rd place with "Christmas Winter."
The decorating and the making of the gingerbread was difficult for Felismino, but for Bennett, it was something entirely different.
"[The hardest part was] not eating the ingredients," said Bennett.
Bennett is proud of their accomplishment, as the making of the gingerbread house was time consuming.
"I'm really surprised that we didn't get really frustrated and break it when it wouldn't stand up," said Bennett.
Felismino's love for cooking inspired her to attend FUHS for their culinary courses.
"I want to double major, so culinary is one of the one I'm looking at," said Felismino.
Overall the top three winners showed their work at their best. Their years in culinary has not only taught them the aspects of cooking, but decorating, building, teamwork and perseverance.