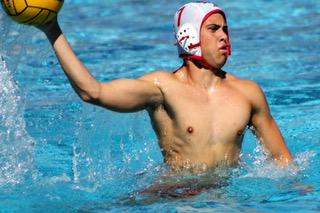 Sean Lawson
Sean Lawson's high school experience revolved around excelling in water polo, achieving his Eagle Scout award, swimming at the beach on the weekends, and developing a passion for engineering.
Lawson joined the Boy Scouts in the first grade, working his way up to earning Eagle Scout this year.
"My favorite thing I learned in scouting is canoeing and outdoor survival," Lawson said. "[My] favorite outing is the canoe trip, where we all go to the Colorado River for spring break and canoe 50 miles down the river."
Sean's involvement in water polo also shaped his past four years here at FUHS.
"I loved being in water polo and hanging out with my friends," Lawson said. "That's probably my biggest highlights in the high school experience. I've learned teamwork, learned how to hang out with people, learned how to be friends."
Through the sport, he learned how to deal with intense obstacles and sought to improve himself.
"When I first moved up to Varsity, me and most of my grade moved up the ranks. That was a hard time because it was really competitive. I got a lot of bench time," Lawson said. "I learned how to work harder to overcome that, so next season I'd have a lot more playing time."
Sean's character and sportsmanship, as well as his defensive ability, helped him earn his most notable achievement in his water polo career.
"Last year I got the Tribe Award, which is for the best character. Even while we were losing, I always kept a positive attitude and always there to cheer up the team," Lawson said. "Then in sophomore year, I got the best defensive player for FUHS because I was our set D, which is the middle guy who's the lock down for the big strong people."
Sean advises both future seniors and underclassmen to never give up.
"Future seniors, you just gotta make it to March and basically keep trying in school until it's done, so just hang on until then," Lawson said. "For lowerclassmen, you just gotta struggle through it — it'll pay off in the end."
This Eagle Scout gives one last piece of advice for anyone in the outdoors.
"The human body can survive 3 minutes without air, 3 hours in a hostile environment, 3 days without water, and 3 weeks without food."
Despite his hard work and time, Sean has enjoyed his senior year.
"Freshman year, everyone's on the same boat, and then sophomore year people get divided. In junior year everyone's going crazy, and then senior year everyone's chilling, back on the same page," Lawson said. "It's fun to talk to people, to learn from them, just hanging out and telling them how you feel and what you're doing, getting better opinions on everything."
Lawson plans on attending Cal Poly Pomona to major in Civil Engineering.
"Civil engineering is the building of bridges and streets and waterways. It falls along the lines of architecture and stuff like that. I have always been good at math and physics," Lawson said. "Cal Poly Pomona has a nationally ranked civil engineering program."