Fall sports begin Freeway League play
Updates for girls volleyball, girls tennis, boys water polo, girls golf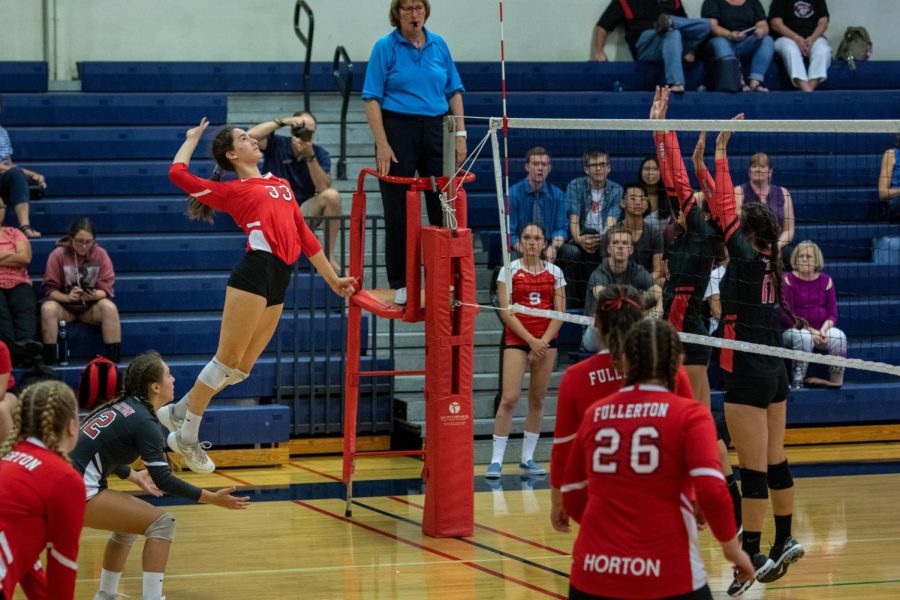 Volleyball team suffers close losses
By Vanessa Chavez, Reporter
The Fullerton girls volleyball team swept the Troy Warriors 3-0 in its Freeway League opener on Sept. 16.
Senior Danielle Lawson had 6 aces (serves with one or fewer touches). Lawson was able to take advantage of the Warriors, whose top player sophomore Kaitlyn Mickle has height but doesn't play defense.
"It felt amazing," Lawson said. "I thought our team really collabed together and I love being apart of a team like that."
Senior team captain Kadie Daniel had 24 assists and junior Morgan Horton had 4 blocks. Junior team captain Vanessa Chavez had 19 kills and 3 blocks.
The first League win against Troy was particularly sweet because the Indians had not beat Troy in two years.
The Indians also finished 3-0 against Buena Park on Oct. 1.
The team has suffered close 3-2 losses to La Habra, Sonora and Sunny Hills. The Indians had a rough 3-0 loss Thursday night against Troy.
The Indians, now 2-4 in league play, travel to La Habra on Tuesday. The Highlanders (4-2) are tied for first place with Troy. The Indians hope to shut down Carley Ritcher, the Highlanders top player who has 294 digs this season. 
Girls tennis team starts off strong
By Alexandra Williams, Managing Editor
The Fullerton girls tennis team (6-1, 2-1) beat Sonora 15-3 on Oct. 1.
Freshman Lillian Kelly won all three of her contests. Each FUHS singles player faces three opponents during one match. These mini matches are known as contests or sets.
The doubles team of junior Jade Sheridan and sophomore Abby Lynch won all six of their sets as did seniors Karla Martinez and Dayana Pardo. Doubles teams compete in six sets instead of three.
Sophomores Elyza Lynch, Dalia Eldjoundi, and Gabby Ilioi along with junior Sahej Grewal contributed points to the score.
The Indians played host to Sunny Hills on Thursday. Results were unavailable at press time. Fullerton will host a home match against Buena Park on Oct. 8.
Boys water polo to face Sonora
By Rachel Koo, Reporter
The Fullerton boys water polo team beat Laguna Hills 13-10 on Tuesday.
Senior Wyatt Logan successfully blocked more than half of the shots on goal by the Laguna Hill's team. 
Junior Nick Osborn scored 6 goals. Sophomores Garret Fan and Aiden Ricklef and freshman Preston Kim each scored one goal.  
The Fullerton team (1-4, 0-2) suffered a 6-4 loss against La Habra (2-3, 1-0) on Wednesday, although Osborn finished with three goals.
According to captain Mack Woolery, the team hopes to win its next match against Sonora (4-3, 1-0) on Oct. 9 by passing more effectively and keeping a better eye on the ball.