Jackbox brings friends together
For me, not being able to interact with my friends in person has been the hardest part of quarantine. Fortunately playing games online with them has been a good substitute. If you don't feel the need to be a legend playing League of Legends or a mass murderer playing Fortnite, the Jackbox Party Pack gives people an excuse to hang out and have fun.
The Jackbox Party Pack, of which there are six, consists of around five games that are unique to each pack. All packs usually have the same types of games: a drawing game, a trivia game, a fill-in-the-blank game, and two random games.
I've been playing Jackbox Party Pack 3 with my friends, and of all the Party Packs I've played it is definitely my favorite.
This pack has three of my favorite Jackbox games: Quiplash, Tee K.O, and Trivia Murder Party.
In Quiplash you fill in prompts and other players vote on who had the funniest answer. For example, a prompt might say "A terrible scent for a car freshener," and it is the players job to think of the funniest answer they can.
Tee K.O. is a game in which players design humorous t-shirts. Players are tasked to create three drawings and as many slogans as possible before the timer runs out. Then the drawings and slogans are shuffled and given to other players to make the best t-shirt possible.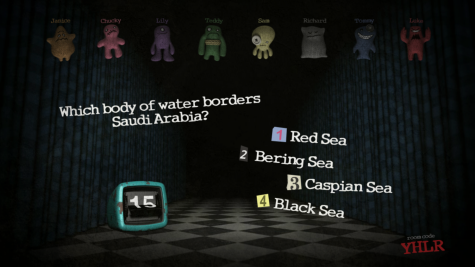 Trivia Murder Party is a trivia game, but when you get a question wrong you have to play a random mini-game, many of which kill one or more players who got a question wrong (you can still play as a ghost though).
The game is meant to be played in large groups, with most games having a maximum player limit of eight, but they can also be played with as few as two to three people, depending on the game.
Unfortunately it can be a little tricky to get set up, so that will likely be the biggest roadblock for most new players.
First one must download any of the Party Packs on a PC, laptop, or console, then have the person with the game stream it on a platform that all other players can access. My group of friends have been using the app Discord because one of us can stream the game live while simultaneously having a group call in the same app.
You'll need to download Discord, make an account, make a server, and invite your friends. Then run Jackbox in the background and the game's title should appear on the lower left hand side of the screen with a "go live" button next to it. Click that button and the other people in the server should be able to join the stream. Click here to watch Discord's video on how to stream.
The downside to the Discord method is that it only works on computers, not consoles.
I've heard it can also be streamed on Mixer, Twitch, YouTube, or most other streaming apps, though I haven't tried any of those personally.
There is also a family mode so that you can avoid any of the inappropriate questions to play with younger siblings.
These games are great for people who like really wacky, off-the-wall humor because a lot of the time, especially in Tee K.O, the submissions don't always make sense.
The games prices range from $24.99 to $29.99 depending on the pack and can be purchased on most consoles and PC models.