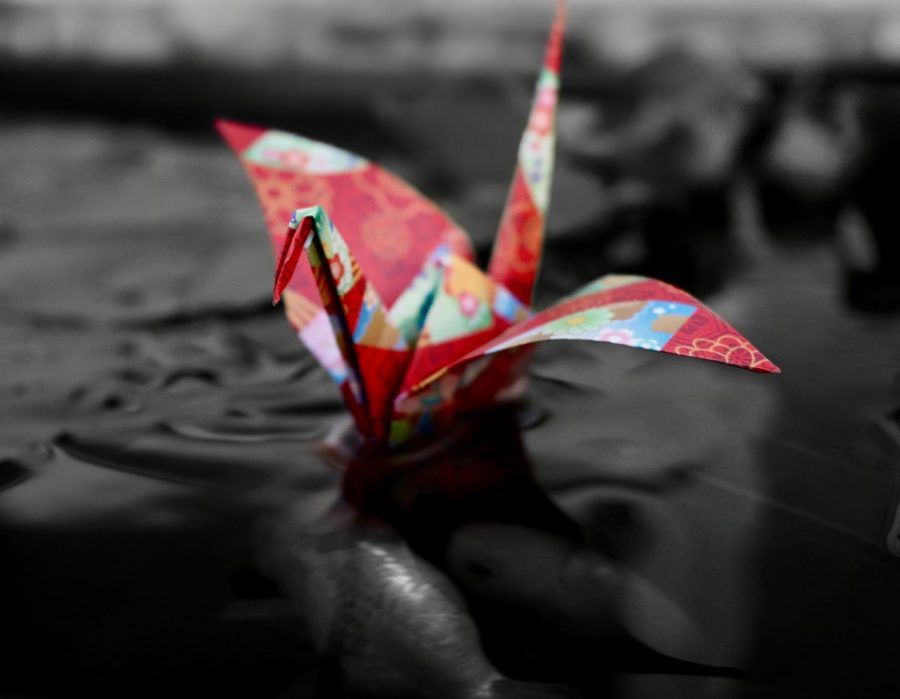 They're not just taking pictures in photo class. They're creating art. They're thinking art.
Advanced students chose about six images for their Sustained Investigation projects while AP students submitted about 15 images to depict visual ideas which ranged from displays of classic cars to Japanese culture to environmentalism.
Students were encouraged to choose any concept or object as long as the subject was personally important to the photographer.
The Tribe Tribune spoke with seven AP Photography students about their pieces.
Ally Matsumoto
Senior Ally Matsumoto investigated Japanese culture depicted in Southern California.
She emphasized the color red in her pieces by creating a contrast with black and white.
"I took a lot of my photos in Little Tokyo in Los Angeles, so I just spent like hours there just taking photos of random things," said Ally, who tried to capture the beauty of Japanese culture. "I had no idea what to do at first and Ms. Crail told me, 'Well, why don't you do something about your culture or something that's really important to you?' and I really love Japanese culture so I went with that."
Click on slideshow to view Ally's photos.
Emma Whittington
Junior Emma Whittington focused youth and innocence for her sustained investigation by highlighting the perspective of children and how they can find joy in the simple things in life.
"I have three little brothers so I thought this would probably be easy so I could use them," she said.
Click on slideshow to view Emma's photos.
Emely Gonzalez
Senior Emely Gonzalez used each of her photos to tell a different story by allowing the viewer to create their own storyline.
"The idea I was kind of going for was like bringing a story to life," she said. "I wanted the viewer to look at my photo and see a storyline or what I was imagining or what they think it is."
Using her camera, colored gels, reflectants, artificial lighting, and Photoshop Emely was able to create her pieces while placing a major emphasis on lighting.
"I came up with the idea mostly based on films I guess you could say," she said. "I really like the way films tell a storyline and also like having your own little story I guess."
Click on slideshow to view Emely's photos.
Andrew Severance
Senior Andrew Severance's sustained investigation centers on cultural diversity in Fullerton. He created documentary-type portraits to capture different cultural norms.
"So basically, I was asking some of my neighbors, family friends, or people that I knew through work, I would just ask them if I could take a photo of them and if they could wear their work attire," he said. "One of my neighbors is a security guard so I asked him if he could wear his security uniform and everything, and I took different photos from different vantage points, and used different lighting to see how I could create this dramatic effect on each person."
Andrew used his Samsung phone to take pictures and his Chromebook to do some edits on his photos. He also used Adobe light and PhotoPea to change the color and brightness of his photographs.
"My favorite that I've taken for my S.I. is a photo of my neighbor. He is a really older gentleman so the hard light that I used shows every individual wrinkle on his face," he said. "I monochromed it so that you could emphasize those different gestures and everything in his face."
Click on slideshow to view Andrew's photos.
Dominique Yepez
Senior Dominique Yepez used her iPhone to capture classic cars by pairing these cars with different environments to complement each car.
"The beauty of cars, where they can take you, and the stories they tell together are thoroughly brought out through perspective and experimentation with color," she said. "Movement throughout night and dark settings brings out a beautiful relationship between cars and their respective environments."
Ever since she was a child, Dominique has loved being around classic cars.
"My uncle always had a car to work on. We would watch him and his friends ride down a line stretching for blocks on end for various occasions," she said. "Aside from that, I genuinely enjoyed seeing car photography for these types of cars and I wanted in on some of the fun."
In her photographs, she placed a dramatic emphasis on colors while establishing a figure-ground relationship with cars and the environment surrounding them.
"The environment aspect of my favorite piece was emphasized with a brown gradient. It captured such beautiful clouded skies and a plain that seemed like it stretched forever," she said. "The car aspect complemented this deserted plain with its dust and brown gradient sky as well. Regardless of the shape the car was in, there was still this feeling of serenity and comfort being drawn out from both images."
Click on slideshow to view Dominique's photos. 
Julian Ortega
Senior Julian Ortega's sustained investigation was based on city life by experimenting with different angles, color palettes and lighting.
"Basically I go to all the major cities such as Los Angeles or Riverside and all those different cities but I basically positioned myself in a place where there is high traffic and people walking," he said. "Now that [COVID] mandates have been lifted, it's kind of fun to see how people just see a camera and, you know, they've been locked up for a long time and some people even come up to me and offer to pose and sort of stand in the shot for me so it's a very fast process."
For his photographs, Julian wanted to keep neon lighting and a night theme while incorporating a vintage feel.
"Growing up, I went to several cities across California and other different states and I thought it was fascinating how each city has its own unique style," he said. "There's all these different types of characteristics that each of these cities have, that's how I decided that my SI would basically be about city life not only during the day but also during the night too."
Click on slideshow to view Julian's photos. 
Paul Russo
Senior Paul Russo centered his sustained investigation on the impact that people have made on Earth. He took a different route by using an analog camera rather than a digital camera to capture how people have either made a good or bad mark on the environment.
"My favorite image is of a kid, probably age 6 or 7, reaching over this barbed wire fence to feed this horse, just pulling some grass out of the ground," Paul said. "It was a really hard shot to take because the camera I used, the one that I've used throughout the whole process, weighs four pounds. I had to hold the camera with one hand because I had to block the sun from hitting the lense."
Click on slideshow to view Paul's photos 
Photography teacher Maggie Crail says she loves how the Sustained Investigations push students to develop their own artistic voice and communicate universal themes in their pieces.
"So when I'm looking at your work, I feel like I'm looking a little bit into your soul," Crail said. "I have a better understanding of who you are, what's important to you, what you're passionate about, and I get to see all of that beauty in a photograph."
Go to https://www.fuhsvisualarts.com/ to view more student work.
Reporter Desi Garcia contributed to this story.