Barbour to study medicine at Johns Hopkins
Class of 2022 Dance, Personality Spotlight
May 24, 2022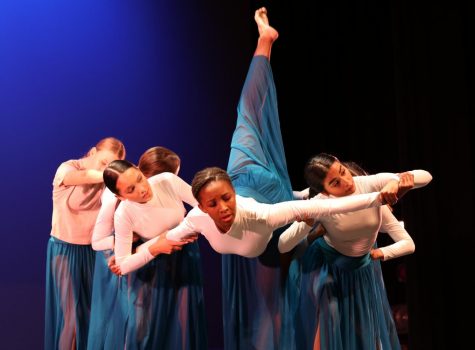 Senior cares for those in need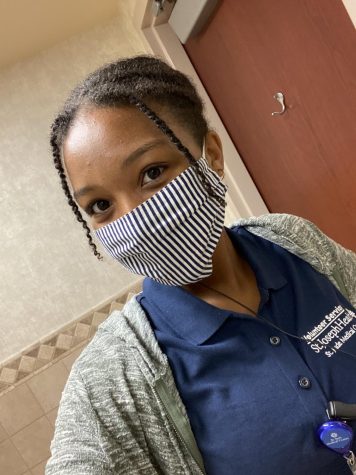 "One time when I was 4, I jumped off the side of the couch and landed directly on my arm and broke it in half. I went to the hospital and they had to do surgery," said senior Kelcie Barbour. "And I don't know why, but I've always loved the way hospitals smell, which is so strange, but I really do like the hospital smell. I just remember it being such a good experience even at age 4. Being taken care of and looking up to the doctors and admiring them, that's an experience I want everyone to have. I know being in the hospital is so terrifying but they gave me a little stuffed bear and everyone was so friendly. I want to give that experience to other people." 
With a memory like that, it's no wonder Kelcie has chosen to pursue a career in the medical field. To gain some practical experience, Kelcie volunteered at St. Jude's Hospital.
"I wanted to do orthopedic surgery but then I worked in the orthopedic department and now I'm, like, 'I don't know.' I'm thinking of general surgery or doing something with kids and cancer," Barbour said. 
Kelcie's volunteering was initially cut short because of COVID.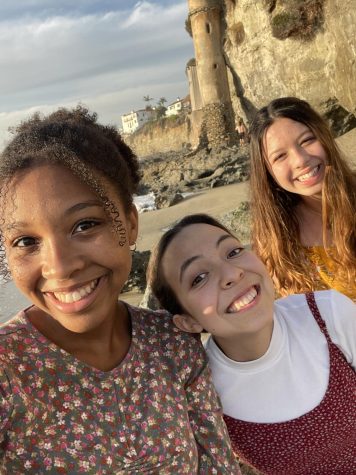 "I was in the first group of people who went in and then the program shut down for a little bit. They were like 'uh oh, there is COVID in the hospital; we don't want you there,'" Barbour said.  "We didn't get to go in for about four months. It was so cool to finally get to help out. The nurses were so grateful. They were severely understaffed so it was really nice to have us there to pick up the slack." 
Her interest for the well being of others spans farther than just the hospital halls. Kelcie has been a part of multiple mission trips thanks to her church. 
"I was in Seattle last summer for two weeks building tiny homes for the homeless," Barbour said. "I got a chance to meet people in the encampments and humanize homelessness a little more. I got to hear everyone's story."  
Her best friend, senior Destinee Beltran, has no doubt that Kelcie will succeed in becoming a doctor.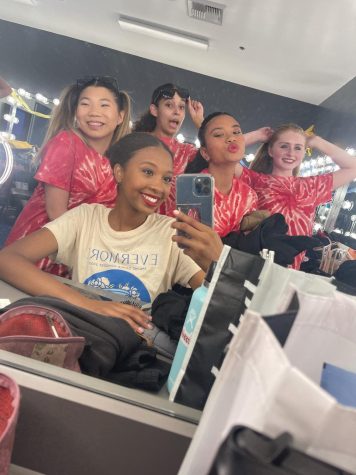 "She just wants to help people and make the world a better place. I know that is kind of cheesy," Beltran said. "When someone isn't feeling well, she's always willing to help them and give advice and respond. She has had instances when she has had to help people because they start feeling sick and she is right there and ready to respond." 
For college, Kelcie earned a spot at Johns Hopkins University, one of the top pre-med schools in the world. 
"I think there's just something about Johns Hopkins. It's in Baltimore, Maryland which is where all my extended family lives," Barbour said. "My mom used to take the bus past [the university] every day. I've always kind of thought about it. It was always in the back of my mind, but during COVID I went to some of their Zoom meetings and I think I really fell in love with it."
Essay helps with college admission
As part of her application to Johns Hopkins University, senior Kelcie Barbour submitted the following essay. With permission, the Tribe Tribune is publishing Barbour's essay to highlight her grit and talents. Barbour will attend Johns Hopkins next year.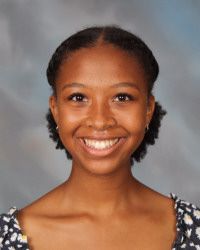 I've been taking ballet since age 9. When I was 14, I was as good a dancer as anyone in the class. I'd been in the same productions as my peers, and I'd always performed as well as the best of them. Even so, the dance studio director hadn't promoted me. She'd promoted everyone else with whom I'd started dance instruction. Just not me. I asked why.
"You don't have the skills yet," she said. "But, if you really want to try for a promotion anyway, I can't stop you from taking the Cecchetti exam." Her reply surprised me, but it shouldn't have. It wasn't the first time I had to prove myself worthy of being a Black girl in white-dominated spaces.
When I was 8, I was selling cookies door to door in my neighborhood. I knocked on one door, and a white woman answered. Teeth missing from my wide grin, and a box of cookies held firmly in my grasp, I delivered my well-practiced lines: "Hello I'm Kelcie Barbour and I was wondering if you would be interested in buying a box of delicious Girl Scout cookies?" Tilting the box enticingly, I glanced at my prospective customer.
She leaned out of her doorway offering me a saccharine smile before saying I was too cute, then she appraised me and asked, "What neighborhood are you from?" You see, I had been going door to door selling cookies in a very nice neighborhood—my very nice neighborhood. I politely informed her that I lived just down the street, and she proceeded to have me point out exactly which house was mine as if to verify my claim. It was then that I began to wonder why it seemed so unlikely that I would live in her neighborhood. The answer: It's because you're different; you're Black. I didn't fit her perception of the picture-perfect white existence we both inhabited.
So I understood why I needed to take an additional Cecchetti dance exam to be promoted and my peers didn't. The issue wasn't my skills but me. I'm Black. This is a poll tax that my white peers paid at birth. This is a literacy test, but they got Go, Dog, Go! and I get Moby Dick. Likewise, the neighbor wants me to show her an electric bill as proof of my residency before buying my Girl Scout cookies.
Like a woman possessed, I set into motion. My theory book lived in my backpack where I would pull it out to check over my terminology at every spare moment. After school, I took private lessons and soaked up every correction, eagerly writing it in "Kelcie's book of dance corrections".  I would even drift off to sleep by listening to the staccato of my dance soundtrack. My dance studio didn't even offer the exam, so I prepared to take it elsewhere, alone, and with an instructor I didn't know administering it. Nobody takes the exam that way. 
I passed with Honors and Distinction. When I showed her my results, my home studio's director was shocked. She shouldn't have been. I guess we both should've known each other better after 5 years. I should've seen her for what she was earlier, and she should've known that for me there's no greater motivator than being told that I don't belong, because I belong anywhere I want to belong. I have the will and the skills to prove it.
I also recognize that I'm not perfect. I've failed plenty of times. I didn't get elected as the NHS president. I came in twelfth place at my Speech and Debate National Qualifiers. And I'll probably never be able to sing an aria. But I have learned to lean forward and open myself to continuous growth. And each time someone says, "prove yourself," I won't shrink back. Another test is just an opportunity to reach my potential.