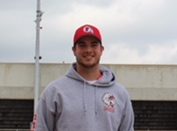 Brent Lowe
Brent Lowe has made many contributions to the school, from completing service hours for NHS/CSF to playing on varsity football in the Fall.
He has always envied previous Mr. Fullerton nominees because they had the opportunity to participate in the event. Now having the chance, he looks forward to participating in the Mr. Fullerton event and having fun with his friends.
Over the past four years, Brent has come to appreciate the connections made with his teachers and developing strong relationships with his friends.
He looks up to his dad, as he taught him to work hard in life and admires his father's teachings to embody respect and honesty.
However, Brent's dad isn't the only man he looks up to. Brent's celebrity crush is Zac Efron because of his High School Musical performance as basketball star "Troy Bolton."
If Brent were to be an animal, he would chose to be the unique Quokka because they are very photogenic, little animals.  
Brent also enjoys listening to his favorite song, "My Humps" by the Black Eyed Peas.