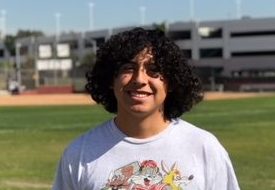 Matthew Gonzalez
Matthew Gonzalez is best known for his curly hair and humorous personality.
Matthew felt honored and surprised by his Mr. Fullerton nomination and thinks his outgoing personality helped him get picked.
Playing on the soccer team throughout high school has helped shape him into the man he has become.
Matthew's biggest inspiration is his dad because he has showed him that you can have everything that you want, if you work hard enough.
One word used to describe Mathew is funny, as he loves to make people laugh and always has a smile on his face.
His spirit animal is a dragon because he is "fire" like dragons, and he loves James Franco.
When Matthew grows up he wants to be rich, because "who doesn't wanna be."