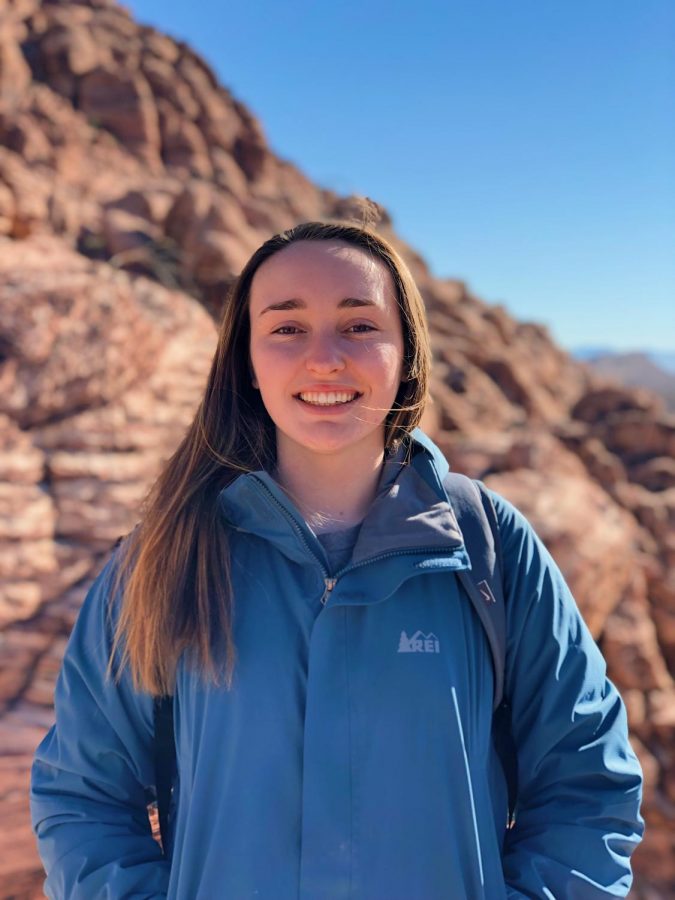 Sandy O'Sullivan
High school has kept Sandy O'Sullivan extremely busy as the varsity girls basketball captain, senior class vice president, CSF secretary, Assistant's League of Fullerton, AP classes, and more.
Through all the chaos and activity of high school, Sandy developed a passion and love for the environment; through her participation in the Ocean Defenders Alliance, a group which meets every month to clean the channels leading to the ocean, as well as her habit of picking up trash, Sandy constantly helps out the planet any way she can.
"A lot of my close friends know this, but if we're just walking around, I'll pick up trash, and they'll be like 'Oh my gosh Sandy, you're picking up trash again,' and I'm just like 'Yep!,'" O'Sullivan said. "It makes me feel so guilty if I just look at something, and I'm like 'Ugh, it's right there, and I can't just not pick it up.'"
Sandy was inspired to take action in the environment through the trips her family takes to Yosemite National Park every year.
"We go to Yosemite each year, and just seeing the changes in the park itself, from the waterfalls getting smaller, how much snow the valley has each year, and just like if trees are dying each year since the beginning," O'Sullivan said. "The bark beetle is a bug that has been killing the pine trees in Yosemite, and you've definitely been able to see the impact of them, and just seeing the impact and changes in the park has made me notice that things are changing and they need to be acted on."
Sandy hopes that her small actions have an impact on the world around her, and inspire others to take action in protecting and preserving the environment.
"I hope as I'm doing the small actions, even though [my friends] find it kind of embarrassing that I'm picking up trash, that I'm showing them I care about this and it's something that I'm hopefully encouraging them to do," O'Sullivan said.
Sandy has had a heart for the environment since she was a little kid.
"I fell in love with the environment, and just our world through all the camping trips I would go on as a kid," O'Sullivan said. "My parents and my brother really showed me the beauty that this earth has, and how everything's so fragile."
Sandy's decision to study the environment grew during her junior year, when she took AP Environmental Science (APES), with Mrs. Christine Irwin.
"I've wanted to do environmental forever, but when I took APES my junior year, having Mrs. Irwin, she shed such a positive light on the class, and didn't make it a negative thing," O'Sullivan said. "It was more like we need to act now, and [the environment is] not a bad thing, but we need more people."
Sandy will be attending Cal Poly San Luis Obispo in the fall of 2019, where she will be studying Natural Resource Management and Environmental Protection.