JROTC Leadership Team prepares for D.C. competition
What are the four JROTC winning colors and their corresponding traits? Answer: Brown/Leader, Green/Planner, Red/Adventurer, Blue/Relater.
When was the United States Army established? Answer: June 14, 1775.
Who wrote the Star Spangled Banner? Answer: Francis Scott Key.
Juniors Hannah Ramos and Nolan Haberland and sophomores Sebastian Alcaraz and Julia Bustamante  hope to answer questions like these if they receive the okay from district officials to compete in the Army JROTC Leadership Bowl Championship at The Catholic University of America in Washington, D.C., July 19-23. Although the team has qualified for the competition, they will need to receive the school board's final approval to travel. According to Lt. Col. Mike Albertson, the group "hopes to attend if COVID guidelines for schools allow it."
Among the 2,000 Army JROTC programs, only 40 teams qualified for the competition.
The competition tests students on leadership theories and practices along with relevant history. Qualifying for the competition improves students' chances of earning scholarships at colleges and military service academies. All transportation and lodging costs will be paid by the U.S. Army if the trip is approved.
JROTC Leadership Team Commander Hannah Ramos is excited to travel.
"How many times are you offered a full-expense paid trip to D.C.? It's insane, it's our nation's capital," Ramos said. "I'm stoked and the rest of the team is super stoked, too."
She believes the championship is going to be "fierce."
"We're competing with some of the best teams from the entire nation," Ramos said. "While there is a little bit of that anxiety, I think we just got to keep our heads up, keep practicing like we have and keep up this attitude of 'we made it here and that's awesome!'"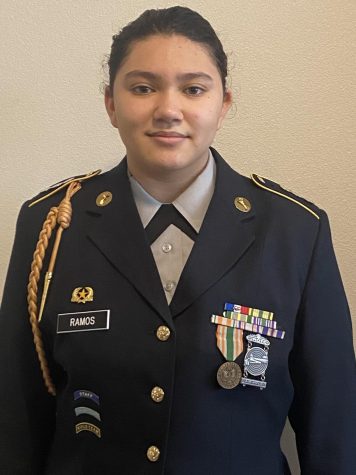 In addition to being tested on leadership curriculum the team will have to demonstrate their own team building skills.
"Our practices now will probably be more focused on building a greater sense of unity and friendship as well as practicing those actual team bonding exercises," Ramos said.
Team practices also consist of Quizlets and the textbook along with Ramos's review slides.
"I've made a bunch of review slides that are very interactive as well as pleasant to look at so nobody is feeling like 'oh great'," Ramos said. "While we may not be Einsteins, we definitely have down what we know and what we need to work on. We trust and rely on each other; we all really want this."
In addition to its Leadership Team qualifying for the national championships, the Fullerton Junior ROTC Battalion scored 99.4% on their formal inspection April 15 earning the status of Honor Unit with Distinction. Fullerton cadets will again wear a gold star above their name tags on their uniforms to indicate they belong to an Honor Unit with Distinction.
Only 10% of JROTC programs earn the status of HUD and of them 30% keep the status their second year of formal inspection. The Indian Battalion at Fullerton has earned HUD status during its last four formal inspections.