Valedictorian to help people through STEM passion
Class of 2021 Academic Spotlight
Valedictorian Emily Ruiz has always known she wanted a career in STEM (Science Technology Engineering and Math).
"I've always loved STEM," Ruiz said. "In elementary school, I would go to Raytheon and do labs there with scientists. We also had the opportunity to go to military bases and do plastic and bottle rocket experiments as well as geomapping."
Her love for STEM inspired her to join the FUHS STEM Club. As the current president of STEM Club, Emily has had the opportunity to be a leader, even in the face of new challenges caused by the pandemic.
Ruiz said that senior Elistein Estrada organized a recent session where members used soda cans to make noise.
"It has to do with frequency," she said. "It's definitely been a challenge to create STEM sessions where everyone can be involved even over Zoom, but it's still pretty fun. We got to blow air into cans and annoy our siblings."
She has also been able to make new friends through STEM Club.
"We walked to the Fullerton museum when they were showing a shark exhibit," Ruiz said. "I found that fun, the whole process. Just walking over there and being able to talk to everyone and get to know them better."
Emily's friends, in and out of STEM Club, have been a source of motivation and inspiration throughout her high school career. She said she couldn't have done it without them. Emily especially credits her friend senior Briza Espinoza for keeping her motivated through this past year.
"Briza would text me for help with things, and I would feel so bad for not having them done. I'm the biggest procrastinator," Emily said. "But I'm also a person who just naturally wants to help people. So when she asked for help, that would motivate me to get my assignments and work done earlier."
Emily's natural instinct to help others and her fascination with STEM have culminated in her plans for the future.
Emily will attend Harvard University this fall. She plans to be part of the pre-med program and hopes to earn her Emergency Medical Services (EMS) certification. After finishing her undergraduate degree, Ruiz hopes to attend medical school.
"Medical school and becoming a doctor has always been a dream of mine," Ruiz said. "I grew up in a household where a lot of my family members had underlying illnesses or illnesses that don't have cures right now. I personally would love to help in this research and study to find a cure."
Though she knows she wants to be a doctor, Emily is still deciding what field of medicine will be her specialty. She wants to help people, whether she does it by finding new cures or working in an emergency medicine capacity.
"I've been interested in EMS and EMT work. Watching what they do, I would love to provide immediate care for people. Emergency medicine has always been something I'm passionate about too."
At the end of the day, though, Emily said she dreams of a simple life.
"I definitely don't see myself living anywhere but California, so I'll definitely come back after college," Ruiz said. "In ten years, I'll most likely be at the intern or residency level. I hope I have a significant other that I can lean on for support and rant to. And good friends. Maybe I'll have a dog. Really I just hope I'm helping people because that's something I love doing."
Emily Ruiz is highly self-motivated, but all of us need support and inspiration from other sources. For Emily, that encouragement comes from her older sisters, Daisy and Brittany.
"My sisters definitely helped me as I was going through the application process and right now as I'm doing housing forms and stuff," Emily said. "Through the application process, we were like a little team. It would just be me writing, one of them peer editing, and another reading the finished copy."
Beyond the college application process, Emily's sisters inspired her to aim higher and work harder throughout high school.
"Watching my sister Brittany all through high school helped me. She has a great work ethic and she doesn't procrastinate at all. It made me want to work harder," Emily said. "Also seeing where my oldest sister Daisy is now. She is very happy, and that gives me a little more hope for the future."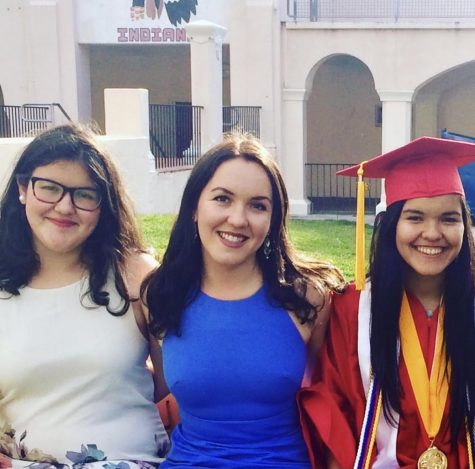 Since both of her sisters attended top tier universities, Emily faced pressure and doubt throughout the application process.
Emily said she felt a lot of pressure following her sisters who were so successful in college.
"After being accepted, I did have this thought of 'oh, did they only accept me because my sisters went to these schools?' because lots of applications have you put where your siblings go to school," she said. "But that's just an imposter syndrome side effect. I'm sure they wouldn't have accepted me if my academics weren't top tier."
And Emily's academics are certainly top tier. She is the valedictorian of the class of 2021, earning that title through GPA requirements. Emily is also a full IB diploma candidate.
Academic goals and accomplishments like Emily's come with their fair share of stress. Emily credits french teacher Alexandra Barlow for helping her get through difficult moments.
"I would definitely give a lot of props to Madame Barlow. I feel like in her class, she structures it so that we can get some of the work done in class and we do a lot of it together, and she gives the longest extensions on due dates because she understands."
Beyond classroom and work policies, Barlow's classroom has been a safe space for Emily to deal with and overcome stress. Every week, the french students have a chance to talk about their high and low points from the week in a circle discussion.
"On Fridays we do circle talk which has been helpful for me," Emily said. "[French] is a group of people who I've been with for four years, and I can rant about the low points of the week or stressors. Expressing that in a class with a teacher is very cool and very alleviating."
Though French may not help Emily in her future plans directly, the caring and safe space that Barlow created helped her get where she is today.