Hunt 'can sing anything'
Class of 2021 Theatre Spotlight
Vocal coach Melissa Lyons Caldretti says that her student senior Karina Hunt "can sing anything."
"Karina has always had classical tendencies but she can sing arias for days now," Caldretti said. "She has such a great instrument. She has one of those voices that can do a lot of things."
Karina is at the top of her game in classical voice and musical theater.
"She's very versatile and her belt is up past the rafters," Caldretti said. "She just has this space in her resonance for really awesome material. I can give her the hardest songs and know she can sing them."
One of Caldretti's favorites to hear Karina perform is "Stupid With Love" from Mean Girls.
"It has a lot of heart and big old belt notes at the end which she just nails," she said. "There's no break in her voice; she just sings all the way to the top."
Caldretti says she loves how Karina is able to embody a song's character: "Once she knows a song, she really dives into the acting part of it. She spends a lot of time really working the text of the song and learning who her character is, what happens, and where her character's going."
Indeed, Karina pours herself into every role. This year, she's also stepped up as a leader. She's president of the Comedy Sportz improv club and vice president of the campus's Thespian Troupe. For both, she's had to figure out how to navigate the world of online performances.
Reflecting on her high school theatre experience, Karina says she still treasures her freshman year when she was part of the show Secret in the Wings. She was excited to be part of the devised theater process where everyone works together to create the final product.
"It was intimidating and fun at the same time because it was devised theater," Karina said. "Even though we had a director and he made the final decisions it was that process of allowing us to speak and give ideas that made it so special."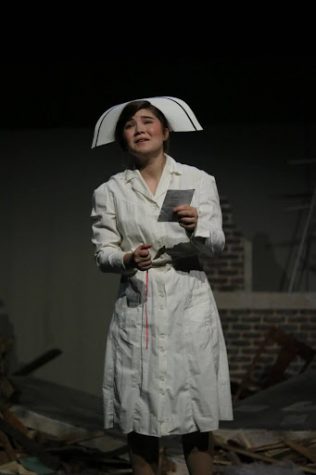 She says she had what felt like break out moments her sophomore year in Angel Street and Cabaret.
"I've always known I wanted to do theater as a career but these were the moments where I was like 'I have to do this'," she said. "I was an understudy for Cabaret. I played a 60-year-old woman which was interesting because I was the only sophomore playing a much older role. I really learned a lot about acting that year."
Karina will attend Roosevelt University in Chicago where she will pursue a B.F.A. in Acting.
"In ten years I want to be an independent artist," she said. "By then I've hopefully made connections in the theater industry. Maybe I'm an intern at a theater company, maybe I'm a director for a children's theater company, maybe I'm in grad school getting my Master's or my teaching credentials."
Karina says she's grateful for everyone at Fullerton, especially her arts teachers.
"All of them are important because they create this arts program and this culture they work together, but I think Mr. Despars at school has been my biggest mentor," she said.
She's also been able to work with FUHS alum Zach Hillman. "He's been my acting coach, college consulate, and big supporter."
As she approaches graduation, Karina has advice for her freshman self: "Take your time, you're going to be fine. No need to put yourself in a box, no need to label yourself. Just be whoever you want to be. I'm a really insecure person when it comes to confidence. I come off as really confident but I'm an actor," she says with a smile. "Don't be afraid to be yourself. Be as genuine as you can be."