Dinh joins Marines, gives extra time to JROTC program
Class of 2021 JROTC Spotlight
Senior Timothy Dinh's list of accomplishments is nothing short of impressive. He actively participated in Fullerton's JROTC and Agricultural programs for all four years of high school, even taking on Speech and Debate, another time consuming extra curricular, his senior year. After school, he also took part in Vovinam, a Vietnamese form of martial arts.
Dinh has enlisted in the Marine Corps where he plans to specialize in artillery. He's scheduled to ship out to Camp Pendleton in June.
In JROTC, Dinh rose to the position of Company Commander, though he was also a medic and a key member of the Raider Team. Lt. Col. Mike Albertson said that Dinh's outgoing and energetic personality has helped him succeed.
"He's the most optimistic, energetic, committed and dedicated cadet I have; he really is," Albertson said. "He's just a friendly guy. He does everything I ask him to do and he does more."
Albertson says Dinh puts in extra hours to benefit the entire battalion. "When we had our recent inspection, he was here late making sure that everything was straight. He cleaned up the room, made sure that everything was organized and we were ready to go. He's doing stuff like that all the time, he's always there helping out making sure it's perfect."
In fact, Albertson says Dinh has surpassed expectations when it comes to being involved with the program.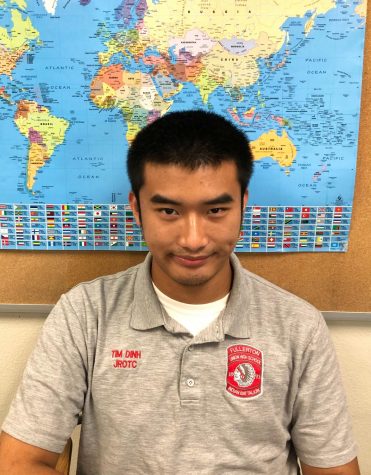 "Everything we've done in JROTC, Tim has always been a part of it, everything," Albertson said. "He's involved in all the Raiders, he's involved in drill and ceremony, he's been in the Veteran's Day Parade every time we've had it, Memorial Day rehearsals and practices at the Bastanchury Loma Vista Cemetery."
However, freshman Maya Burns, a JROTC cadet, says that Dinh never uses his achievements to act as if he's above others.
"He definitely demonstrates that he's a strong leader, but he's not trying to take advantage of his position as captain and he's not trying to make all the cadets under him and our company feel inferior," Burns said. "Although we're not the same rank or anything, he definitely makes it seem like everybody's a big family. I think that would be the best way I see his strength as captain."
In fact, Burns said that Dinh reached out to her and made her feel more accepted despite the fact that she was in distance learning.
"Tim is a very outgoing person. I'd say he really knows how to make someone feel welcomed, even with COVID," she said.
Burns said Dinh has been a helpful JROTC medic. "He's helped out a lot of kids that have gotten hurt: twisted ankles, hamstrings, he's been right there to take care of them and make sure they're okay," she said.
Tim says that a positive attitude leads to success. "I'm usually the underdog," Tim said. "But it doesn't matter. No matter how many times you get knocked down, get back up. Work hard and do everything with enthusiasm."
Staff writer Desi Garcia contributed to this story.