Winter Sports Pre-Season
Wrestling
Sweeping his matches (5-0), senior Levi Banuelos finished second among Heavyweights at the Costa Mesa Classic Tournament over the Thanksgiving break.
"Getting second is obviously a big disappointment, but overall it was fun," Banuelos said. "I got to work on my craft and see where I stand for my first time back on the mat. I had a strategy to just take it one match at a time. Don't look too far ahead. It was challenging physically. Mentally wasn't too hard to be there."
Senior Nathan Diaz went 5-0 at 220 and finished seventh at his division. Also finishing 5-0 and seventh in his division was junior Austin Hulsizer at 182.
Senior John Hernandez went 4-1 at 170, and junior Emmanuel Hernandez went 4-1 at 106.
The JV and Frosh-Soph wrestling teams competed in the Capo Valley Tournament. David Williams took Frosh/Soph first place at 195. Landon Lunatorres took JV second place at 172. Faálaga Sué took JV fourth place at 220. Chris Rasmussen took JV fourth place at 195, and Emiliano Castaned finished first at 220 for JV.
The girls wrestling faced Sonora for their first game of the season and took a win, along with JV who beat Sonora 36-27. 
Boys Basketball
The boys basketball team beat Long Beach Cabrillo 83-61 on Dec. 10 in a non-league game. In tournament play, the Indians also beat Loara 62-32 on Dec. 4 and wrapped up last week with a 45-38 win over Long Beach Wilson.
Scoring 24 points in the game against Newport Harbor on Nov. 29, junior Josiah Reed earned player of the game honors despite the Indians 62-53 loss.
The team is scheduled to play one more non-league home game against Katella on Dec. 17 before traveling to Sonora on Jan. 4 for its Freeway League opener.
Girls Basketball
The girls basketball team (2-4) will play host to La Mirada on Dec. 13 at home at 5:30 p.m. for its final non-league game before its Freeway League opener against Sonora at home on Jan. 4. 
The Indians had a 41-24 win against Costa Mesa in tournament play. However, they fell short by just 4 points against Ocean View, losing 42-38. On Dec. 6, the team took a 50-33 loss against Jordan High School. The girls overwhelmed Calvary Chapel with a 39-13 victory on Dec.7. 
Boys Soccer
The boys soccer team defeated Anaheim High 2-1 on Dec. 8 in a non-league match. Upsetting the Division I Anaheim Colonists gives the Indians a lot of momentum going into their Freeway League schedule.
The Indians also defeated California High 3-0 in a home game on Dec. 10. The team had a 4-3 loss against Valencia on Dec. 1. The game was hosted at Fullerton College due to ongoing repairs at the Fullerton Stadium. The Indians came back with a 5-2 win against Loara on Dec. 3.  
The boys JV team also performed well, tying Anaheim 1-1 and beating California High School 4-2.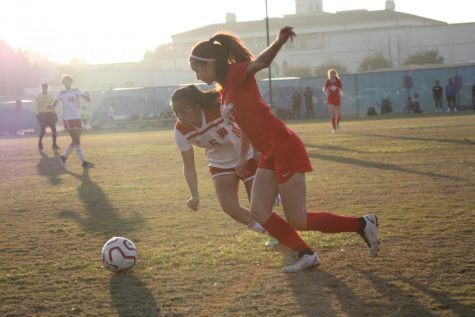 Girls Soccer
The girls soccer team opened non-league play with a 4-1 win at Santiago High School Nov. 16.
The Indians lost their next five games: 5-0 against Cerritos; 5-1 against Santa Ana; 4-1 against Rosary; 5-2 against Diamond Bar; 3-0 against Corona Del Mar. 
The girls will go up against Orange Lutheran on Dec. 16, finishing their pre-season games. 
Girls Water Polo
Despite an 11-3 win against Segerstrom to open its preseason, the girls varsity water polo team has struggled in non-league match-ups. 
The junior varsity team had some success at the Ayala Tournament with a 15-7 win against Sonora and a 12-6 win against La Habra.
The team will face Sonora for its League opener Jan. 4 at the Troy High School stadium.