January Sports Briefs
Boys Basketball
Reagan Glidewell, Staff Writer
The boys basketball team (3-2) is in third place going into this Friday's 7:30 p.m. game at Buena Park High School. However, the Indians are the only Freeway League team to beat first place Sonora (6-1). Senior Zane Mustafa had 18 points and 11 rebounds in the Indians 53-48 win against the Raiders on Jan. 10.  The 6"6' Mustafa was also named player of the game.
Mustafa said that adjusting to postponed and canceled games due to the COVID outbreaks has occasionally thrown the team off balance.
"I think it's difficult for us to be consistent since we're not consistent with times and stuff that we're used to," Mustafa said. "It is kind of all over the place. It feels unorganized, but I think we're able to persevere through that part. It's almost like a game of who is able to just battle through all this stuff that's happening."
Mustafa says playing in the gym and being supported by the student section has had a positive impact. "[The student section] can almost change the games completely," Mustafa said. "It gives energy to our team as well as allows other people to come enjoy watching the game. The atmosphere is a lot more fun."
In Tuesday's 53-44 win against Troy, junior Christian Hubbard scored 14 points and junior Josiah Reed scored 13.
Going into their game against La Habra on Wednesday, the Indians were in third place behind first place Sonora (6-1) and second place Sunny Hills (4-1). Fullerton has three remaining League games and will travel to Buena Park on Friday for a 7:30 p.m. game.
The Indians played the La Habra Highlanders on Wednesday. Scores were unavailable at press time.
Boys Soccer
Kate Viramontes, Sports Editor
The boys soccer team (5-1) is in second place in the Freeway League after a tough 2-1 loss to Sunny Hills (6-0) on Jan. 19. Senior Matthew Ballin scored the Indian goal off of senior Misael Gonzalez's corner kick in the first half.
The Indians will face the Lancers again on Feb. 2, a match which likely have the two teams battling for the first place Freeway League finish.
The team traveled to La Habra on Jan. 26 but scores were unavailable at press time.
In other Freeway League match-ups, the Indians beat Sonora 5-0 on Jan. 21. They beat Troy 2-1 on Jan. 14 and took a 1-0 win against Buena Park on Jan. 12. On Jan. 4 the team beat La Habra 4-0; the JV team had a 5-1 win the same day.
The Indians will play host to Buena Park on Friday at 3 p.m.
Wrestling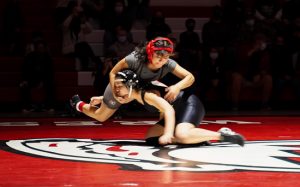 Alia Noll, Managing Editor
Junior Austin Hulsizer is 4-0 in the Freeway League. However, two of those wins—against Buena Park and Sunny Hills—were an automatic six points to Fullerton because there was no one in his weight class to wrestle.
The boys wrestling team will host La Habra on Thursday this week after their original match date was canceled due to COVID exposures. Whoever wins the match will travel to Mayfair High School on Jan. 28 for a CIF dual meet. Individual Freeway League finals are on Feb. 4.
The team, 3-1 in Freeway League play, is tied for second place with La Habra behind the undefeated Sonora Raiders. The Indians beat Sunny Hills 58-22 on Jan. 25, cementing Fullerton as Tri-City champions.
Last week, the wrestling teams swept Troy. The girls team won 18-6, JV went 48-0, and varsity boys finished 60-20. Fullerton also won by default over Buena Park when the Coyotes forfeited for not having enough wrestlers.
Girls Water Polo
Osvaldo Munoz, Staff Writer
Despite an 11-5 loss to Sunny Hills this week, the girls water polo is in second place after completing the first round of Freeway League matches. The Indians will play Troy on Thursday at 6 p.m. at Sunny Hills to start the season's carousel rounds which will determine the final league standings.
The Indians recorded the following victories this season: 15-8 win against Troy on Jan. 19; 10-8 win against Buena Park on Jan. 12; 10-8 win against La Habra on Jan. 6 and an 18-4 win against Sonora Jan. 4. 
Despite their 4-1 record, the Indians will likely face tough competition in the carousel tournament. According to senior Chelsea Yun, the team will need to watch out for third place La Habra. The Indians are scheduled to face the Highlanders in the carousel round on Feb. 1. 
Junior goalie Elle Northgrave says the team has been focusing on defense, especially speeding up the transition time between their offensive shots on goal and resetting for defense. Finishing in the top three for a CIF berth most likely will come down to the strongest defensive showings at next week's final carousel round.
Girls Soccer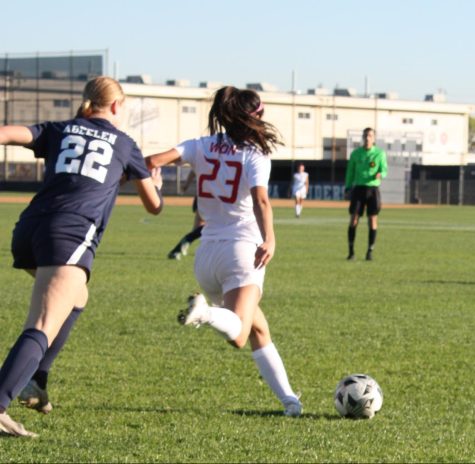 Sheila Ruiz, Staff Writer
The girls soccer team hopes to have a repeat victory against Buena Park on Thursday, Jan. 27 as the Indians play host to the Coyotes in a 3 p.m. match.
In the Indian's 1-0 win against Buena Park on Jan. 11, senior Katheryn Gutierrez scored the winning goal minutes before the game ended. JV also beat Buena Park 5-0. Sophomore Janelle Flores scored 3 goals with 2 assists and sophomore Chelsy Chavira scored one goal with one assist. Freshman Natalie Pena scored one goal as well. 
The varsity girls lost the next four games: 12-1 against Troy; 4-0 against Sunny Hills; 7-0 against Sonora; 5-2 against La Habra.
Girls Basketball
Angella Yurek, Sports Editor
The girls varsity basketball team (5-16, 0-5) has had a tough season. In the Freeway League, Sonora (6-0 ) is currently in first place, followed by second place Troy (4-1), Sunny Hills (3-2) and Buena Park (2-3). The Lady Indians traveled to La Habra on Wednesday. Results were unavailable at press time.
As the season progressed the girls played two non-conference games and managed to pull off a couple of wins, beating Firebaugh 36-21 and Orange 37-28. 
They kicked off league play with a 49-12 loss to Sonora and suffered a 44-27 loss to La Habra followed by a 57-11 loss to Buena Park and an 81-15 loss to Troy.
Freshman guard/small forward Peyton Seo hopes to change the outcome in the last few games left of the season by addressing the team's weaknesses.
¨Some of our weaknesses as a team are staying composed and not being so tense when playing," Seo said. "Sometimes we forget to look up at other teammates and we forget to box out. To improve we have to work on playing with pressure on us, such as teams like Troy and Sonora. We also have to work on looking up when dribbling."
The girls season comes to an end on Feb. 3. They will finish out the season with four more games, facing Buena Park, Sunny Hills, Troy, and Sunny Hills again.