Crowd Control: Concert Going in the Age of COVID
While Taylor Swift recorded two full-length albums from her home during the 2020 COVID lockdown, and other musicians gravitated to genres like hyperpop with DIY aesthetics, live music scenes imploded. There pretty much weren't any live gigs until recently. So when presented with the opportunity to attend a pair of shows this month, I—being fully vaxxed and boosted— braved them. Across both venues, the policies regarding COVID safety and enforcement of said policies were somewhat parallel, but I wanted to see how venues handled things, and I wanted the music.
Tool at the Honda Center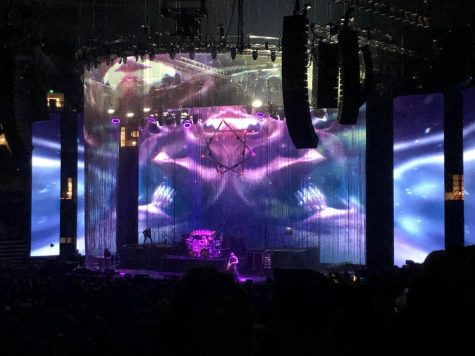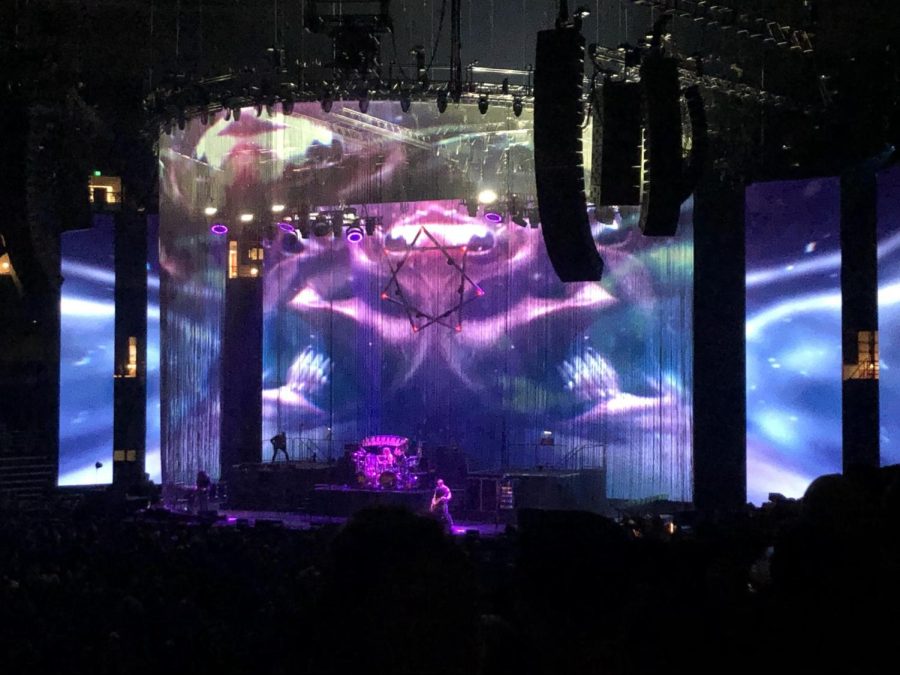 I saw the progressive metal band Tool at the Honda Center on Jan. 18.
Tool are a metal band that pull from many corners of rock music, from progressive rock to alternative metal to even some post-metal, all with surreal rhythmic performances, giving it a psychedelic undertone. The result is a sound that makes the listener feel simultaneously empowered and entranced.
Tool's fans come from the 90s, an audience of rowdy teenagers and young adults that have grown up since then into responsible adults. They are mature enough to get in a single file line when told to, but still have enough spark in them to attend a metal show.
Going into the Honda Center in Anaheim, I was asked to give ID as well as my proof of vaccination or proof of a negative COVID test. I was told to wear a mask at all times at the venue, as stated on the Honda Center's website. Other attendees were expected to do the same.
Despite the precautions in place, it wasn't difficult to spot many fans before, during, and after the Tool concert taking off their masks (often to smoke), to the point where the whole venue smelled of smoke, which would directly violate the very clear rules given out.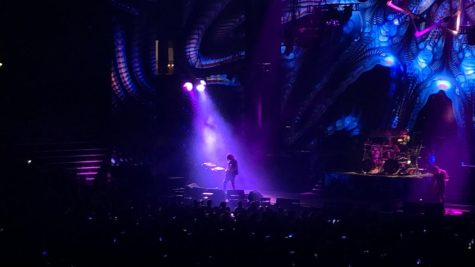 Although it didn't appear that security did much about enforcing the no smoking rule, they did crack down on offenders of the "no filming" policy. Even during the final song of the show, where the frontman Maynard Keenan specifically told the audience to pull out their phones and record, I spotted security staff telling some people to put away their phones.
Additionally, they had a "no bag" policy where, according to their website, "bags, backpacks, purses, totes, clear bags, fanny packs, and camera bags are not permitted inside Honda Center", which was a rule that was followed by every attendee I saw.
In the stadium, the center of the Honda Center, attendees were all given rows of assigned seats, similar to that of a movie theater where guests were seated right next to each other with only inches of space between them.
Coupled with the frequent smokers, the show was not entirely a COVID-safe experience from my perspective.
As for the show itself, Tool put on one of the most visually stunning performances I had ever seen. They had a giant curtain hung around them from the ceiling that displayed a variety of visuals, ranging from colorful fractals, close-ups of bizarre alien creatures, and a sunburned pyramid, all alongside an assortment of lasers and colored lights illuminating the stage.
Tool's musical performance was outstanding as well, showing that even after all these years, the band still has it in them to make the heavy, hypnotic, and technical music that put them on the map 20 years ago.
Overall, the show was a stunning display of visual and auditory mediums melding together in harmony.
Death's Dynamic Shroud at the Lodge Room
The following Saturday on Jan. 22, I went to the Lodge Room in Los Angeles for the vaporwave supergroup Death's Dynamic Shroud and their opening acts of Vitesse X, Adam Kane, Matt Watson, and George Clanton in his role as performer ESPRIT 空想.
Death's Dynamic Shroud's sound, contrary to what their name may suggest, sounds nothing like Tool. They are a group who make vaporwave, an incredibly diverse genre of electronic music, with artists in the genre making vaporwave in a variety of styles and blending it with a variety of genres, such as muzak, hardcore edm, chillwave, ambient, trap, pop, and sound collage.
Death's Dynamic Shroud stands out among the rest in that their approach to vaporwave is far more lush, glitchy, and progressive, all without sounding too scatterbrained.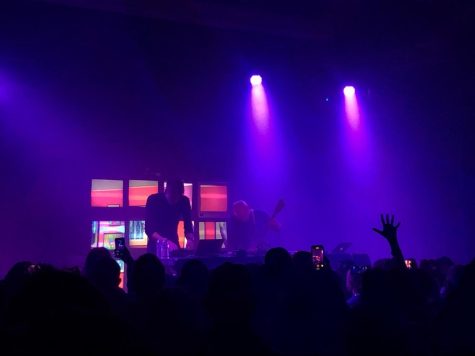 All of the music from Death's Dynamic Shroud's show was put on by the label 100% Electronica, a label founded by George Clanton that specializes in reviving various styles of 90s music from alternative rock to electronica, all while presenting a sound that appeals to fans of vaporwave.
Death's Dynamic Shroud fans come from the vaporwave genre, a scene that was established entirely online from people around the world with active participants often claiming they hail from another country, giving an aura of mystique to the genre and letting the art speak for itself rather than attaching it to an individual.
As for the fans themselves, they are people who were raised on the earliest stages of the internet, Millennials to Gen Z-ers, back when the internet was still a fresh new thing and the content they consume from the vaporwave scene reflects the early-internet era.
In recent years, however, the genre has shifted from an ethereal, avant-garde sound to something akin to house music, which is far more upbeat and danceable, something that's perfect for a live setting.
As for the Lodge Room, things were definitely different from the Honda Center, both from a musical standpoint and a security standpoint.
When I got inside the Lodge Room, I was able to get a brief interview with one of the event organizers, Lindsey French, also known by her stage name, Neggy Gemmy.
When asked about COVID precautions, she said, "There is proof of vaccination required, they take your temperature at the door, you know, pretty standard things. Don't come if you're sick, that kind of thing."
In regards to mask policies, she said, "People are pretty good at the Lodge Room. The staff here is pretty good at reminding us to keep your mask on if you're not actively drinking. I feel like we're being as responsible as we can be while still having an event."
From my perspective as one of those people in the audience that night, her statements held up pretty well. Despite the packed-in crowd, guests wore their masks often. Few took off their masks during the performances, but they quickly were noticed by security staff, who told them to keep their masks on, which the attendees complied with.
Additionally, I didn't see any notices or security staff telling audience members not to film the event. The Lodge Room, despite their smaller budget, were able to enforce their policies consistently.
As for the music performed, the acts displayed a vivid aura of 90s revivalism, not only in the music, but the visuals as well with a wall of CRT televisions on stage behind the performers that displayed various images, typically relating to the artist on stage.
First to perform was Vitesse X, a singer/DJ who played a wide variety of EDM styles from House to Techno to Drum and Bass, all styles within the 100% Electronica wheelhouse.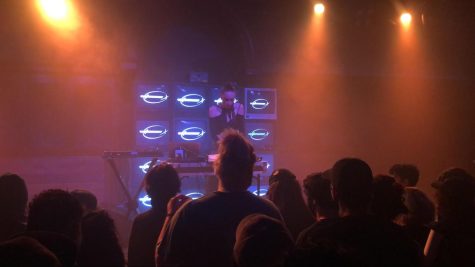 Next was a guest performance from youtuber Matt Watson of SuperMega fame, who has affiliated himself with George Clanton in the past by appearing on Clanton's podcast multiple times. For someone who is not particularly known for making music, Watson's performance was surprisingly in line with the 100% Electronica sound, but delved into less of a synth-heavy sound and more of a straightforward pop sound.
Directly after Watson was Adam Kane, who also isn't known for making music as he acts more as the label's hype man, wearing a ginormous catsuit akin to a sports team mascot's outfit and proceeded to perform a surprise rap track, which got a lot of energy out of the crowd.
ESPRIT 空想 set was next and was the closest the show got to pure, unfiltered vaporwave with his music's warm and warbly new wave textures that sound like you've been sucked into the world of a vhs tape.
Death's Dynamic Shroud performed the last set of the night, ending on an incredibly high note. The songs they performed ranged from new, unreleased tracks yet to be heard by fans and classic tracks reworked to better fit the mood of the live setting.
Both members were visibly feeling the music as they performed, more than any of the other artists. They even sang on a few songs, something that's not common for the group. Member James Webster even pulled out an electric guitar for one song, shredding on it like the spirit of Eddie Van Halen had possessed him.
Overall, the performances from every artist that night was well worth the $20 I paid for my ticket.
Tool is currently on a world tour and is not currently performing in California for the foreseeable future and Death's Dynamic Shroud won't be doing any shows anytime soon, but there is some music from both artists' catalogs that are worth checking out. "The Pot" by Tool is a great introduction to the band's general sound and "Schism" is a bit more in-depth in terms of their more progressive side.
In terms of Death's Dynamic Shroud's music, "Tear in Abyss" is a decent start into their poppier and glitchier sound and "Butterflies" is a decent start into their more ethereal and ballad-like sound.