Teens teach students about Judaism
Across America and throughout the world, antisemitism is on the rise. The American Jewish committee reports deep anxiety among American Jews regarding increases in antisemitic hate crimes in America.
According to NPR, 1 in 4 American Jews report having experienced antisemitism in the last year. A 2020 report estimated a 114% increase in antisemitic hate crimes in Orange County alone.
Today is Jan. 27, International Holocaust Remembrance Day. Today is an opportunity to reflect on the history of hate that led to the Holocaust, but a once-a-year reflection is not enough to combat antisemitism.
When Jewish teens read about yet another antisemitic crime or hear yet another so-called joke, it can be tempting to feel overwhelmed. Junior Sophia Galvan has been alarmed by the trends.
"Things have been severe in New York and Texas specifically for the Jewish people, but you don't expect antisemitism in California. We preach progressiveness here, but there are so many microaggressions slung at us every day. It builds up," she said. "In recent years I've noticed it, become conscious of it, and actively try to do something about it. But it's still not enough."
In response to growing ignorance and hate, Galvan and other Orange County teens are becoming Jewish educators, who travel to junior high classrooms to teach students about Judaism and Jewish culture.
The organization Student to Student is a high school peer education program that strives to reduce prejudice and bigotry against the Jewish community through student-led presentations.
Student to Student was founded in Des Moines, Iowa, in 2017. Since then, it has spread across the East Coast. This year marks the first Student to Student chapter in California, here in Orange County.
"The group's proactivity really grabbed me," Galvan said. "I filled out a short application about my personal Jewish identity, what branch of Judaism I identified with, and why I wanted to join."
Her first presentation was at Oxford Academy in Cypress in her mother's 8th grade English class.
"Her class was reading the play version of Anne Frank's Diary—it was actually during Hanukkah that we went, and they had just finished the Hanukkah scene in the play," she said. "After, she asked her students what they remembered from the scene, it was dead silent. Some kids said they lit candles and gave gifts—then my mom transitioned into our presentation."
Galvan recalls one or two stand-out kids in each presentation.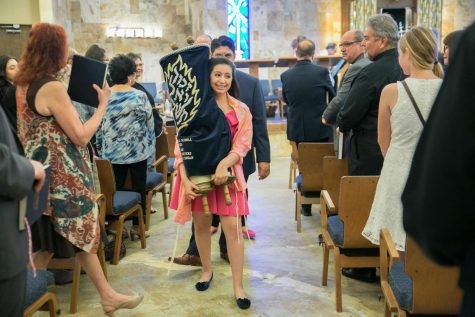 "There was one girl who asked all of the questions in the period," she said. "Her being inquisitive and trying to understand was such a relief. Because it let us talk about things that, as Jewish people, we've been surrounded by our whole lives. They're not things we question, but to non-Jewish people, they might be different or confusing. Having people ask questions is imperative to minimizing ignorance—because ignorance is what leads to stereotypes, and that leads to harm."
Most of her presentations have been for students in English literature classes.
"Usually it's English teachers who want to educate their students on some of the topics brought up in class like antisemitism," she said. "What it looks like, feels like, and where it comes from."
Galvan hopes to see more education of Jewish culture and heritage in history classes as well.
"In my experience, they've done the worst job of teaching Jewish history," she said. "People often misconstrue that the holocaust was the only time we've been targeted and persecuted which is obviously not true. For all of human history, we've been the scapegoats of the world."
Galvan believes education is the best way to systematically reduce antisemitism in society.
"There're so many weird stereotypes about Jewish people that most people aren't even aware of. Someone will make a joke or say something out of nowhere, and I'll go 'Woah, what the Hell. Where did that come from?' And they don't even realize that their comment was a QAnon conspiracy about Jewish people. And then when you tell them they say 'Woah, I'm not antisemitic, my best friend's Jewish, what are you talking about?'"
Galvan isn't surprised about the growth of Student to Student in Orange County. Growing up, she recalls meeting very few Jewish students through school.
"I was the only Jewish kid in Beechwood Elementary," she said. "Sixth through eighth grade I was alone, and I was known for that. We are so sparse and alienated everywhere and with everything we do, and I've felt that my entire life."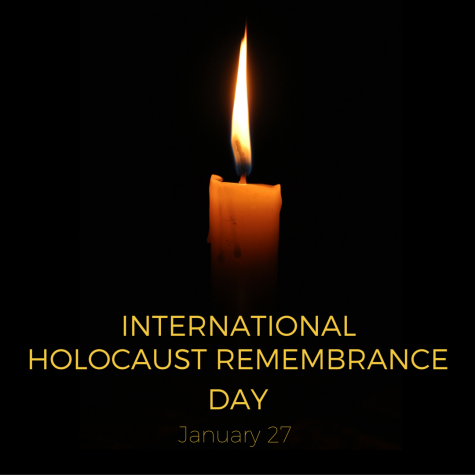 Galvan is adamant that live presentations from student peers are more effective than a lecture from a teacher or a video recording, which she hopes to take advantage of through groups like Student to Student.
"With videos, kids zone out. Kids do not care," she said. "I remember doing the Holocaust Chapman Arts and Writing Contest at Beechwood, and people did not care. We watched testimonies of Holocaust survivors and people went to sleep and walked out of class making Hitler jokes."
To Galvan, videos lack the same impact as live presentations.
"Videos, although objectively powerful to a mature person, are just random crap they put on a screen to a middle schooler," she said. "It's easy to disrespect a screen and get away with it. I've had so many experiences with great videos that people tune out."
Even though things may seem bleak, Galvan hopes that she can help work towards a more respectful future through teaching others about Judaism through groups like Student to Student.
"Ignorance is the main thing, especially in less violent cases of antisemitism. Usually, when you are violent towards Jewish people, it's because of deep-rooted hatred, not because of a misunderstanding," she said. "But little misunderstandings can take root in people's brains and lead to deep hatred and violence. Humanizing the Jewish people is my highest goal."
See related story: Antisemitism is not funny