Adult students with disabilities enjoy work, learning
"We're all human, but sometimes it's hard for people to see beyond the disability and see that these guys are people first," said Kathi Pope, who teaches students with varying intellectual and physical ability. The Adult Transition Program (ATP) helps students ages 18-22 transition from high school to work or to college.
Luz Gomez, 21, is a third-year ATP student. Apart from reading Disney books and listening to Latin music, she enjoys helping others.
"I like helping classmates walk to the restroom or help them pack up their stuff," Gomez said. "If someone is in a rush, I like to help them or if someone drops something I want to pick it up for them."
La Sierra High School runs the four-year program with classes hosted at most of the campuses in the school district, including Fullerton High School.
Some ATP students have paid and unpaid positions at restaurants like El Farolito, Big B's, and Brian's Irish Pub and Cafe. Some students are placed at stores like the Comic Book Hideout.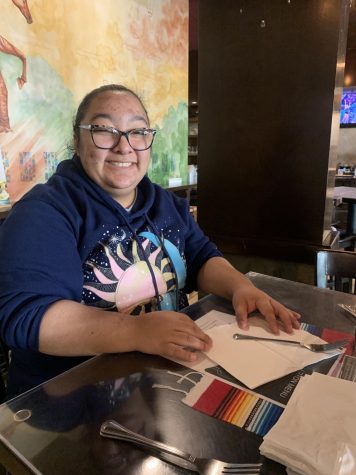 Gomez loves working at El Farolito Mexican restaurant. She finds the service industry appealing and hopes to continue working as well as pursue a college education at North Orange County Community College.
"[The restaurant industry] is interesting because you get to serve the people," Gomez said. "You get to serve them their food and drinks but you have to wait for it to be their turn to be served or call them in to get seated and take their order."
ATP students participate in volunteering and fundraising for local organizations through the Rotaract Club. In December, students collected blankets and pet food donations for the cats and dogs at Ally's Rescue. In March, the class crafted and delivered 11 Easter baskets for foster kids attending Olive Crest Academy. 
ATP's focal point is the students' opportunity to grow rather than dwell on hardships. An ATP student should be thought of as a person first.
"We want to think of them as students with disabilities as opposed to disabled students," Pope said. "It sounds like a small thing to a lot of people, but it really makes a difference now because they are students. They just happen to have disabilities. They're not their disability."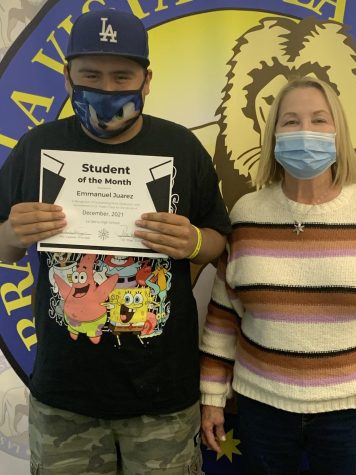 Pope, with credentials to teach social science and English Language Arts, began her career as an in-house substitute teacher at Tesoro High School. When the school needed a special education substitute, Pope found that her true calling was working in special education.
"I like working with the adults," Pope said. "I like working on practical things with them, things that they can actually apply directly to their lives. For example, going shopping and getting what you need." 
ATP focuses on skills beyond academics. The program shows students how to access local resources like public transportation and the public library. The students practice how to stay safe while out in the community, manage money, work at a job site and interact with people.
Pope likes to pair the younger students with older students so they have someone to look up to. "A lot of the students with varying ability, especially ones with autism, have trouble socializing with other students and peers around their own age," Pope said. "Most of the time they'll talk to me and the teacher aides, but talking to each other is kind of hard for them."
Every Friday, the class focuses on recreational activities like going out and shopping which allows them to learn about money management and helps with socialization skills. 
"You can sit there with the money, line the quarters up and do that all day long, but what these guys really need is to get out in the community and do it right then and there," Pope said. "They need to be able to look and find what they need in the store instead of pretending they're buying something. They need to be able to get their item up on the conveyor belt, look at the person in the eye and when the person talks to them, talk back and make that exchange and remember to pick it all up and take it with them. Those are things that you can't really teach sitting in the class."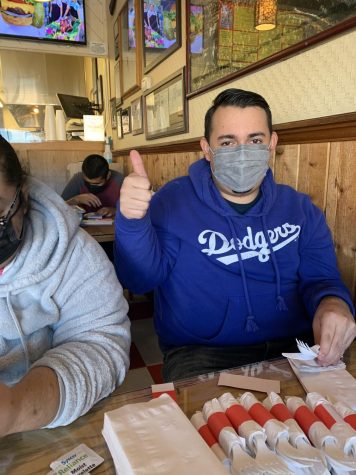 Pope encourages FUHS students to just say hi and acknowledge ATP students around the FUHS campus. 
"Some of them can be kind of shy or introverted so they'll just, like, avoid eye contact, but don't let that be discouraging," Pope said. " Just know it's not you, it's just how they are sometimes. Saying hi to people when they say hi to you is one thing we work on in class." 
Other students love to talk with everyone. "Some of them like Luz [Gomez], she'll talk your head off," Pope said. "You know, they can really crave that interaction."
Gomez values her time in the program and finds it is necessary for her future. "It's better than staying at home," Gomez said. "You can't learn anything. If you stay at home then you'll just end up playing video games or staying up and sleeping all day."
Click below for more photos