Spring Sports Update
Girls Swim 
Freshman Lily Guevara qualified for CIF in the 500 yard freestyle despite a disappointing meet against Sunny Hills on April 20.
"I think we did okay, I know a lot of people missed their event. I missed my event for the 200 meters individual medley." Guevara ended up participating in the 200 medley relay, 100 breaststroke, and the 400 freestyle relay.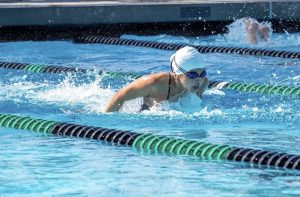 Girls prelims will take place on April 27 and the final swim meets for the team will take place April 29. In preparation for league prelims, Guevara plans to focus on recovery, a strategy that she learned while swimming for club at FAST.
"Usually for a championship meet, a club will taper for like two weeks, which involves lowering the amount of difficulty during practice so that your body can start recovering."
League finals, Guevara says, is when the atmosphere begins to get more competitive. 
"That meet is more serious, so everyone, if they have a tech suit, or a compression suit, they wear it. Compression suits are meant to compress your muscles and make you go faster. It makes you more buoyant, more streamlined. You can only wear them maybe like five times before you have to get a new one and the good ones cost $300."
Overall, Guevara feels hopeful about her team and performance in the weeks leading up to CIF. "It can be stressful sometimes, but I think because of consideration [times] we'll make it into CIF."
The girls 200 IM relay team—Elizabeth Timmerman (back), Lily Guevara (breast), Chelsea Yun (fly), and Reagan Glidewell (free)—made the consideration time, but will need to cut their time in the next two regular meets and at either league prelims or finals in order to secure their CIF spot.
Sophomore Reagan Glidewell, who runs track and swims for the varsity team, will have an exceptionally busy schedule next week. She's scheduled to participate in track prelims on Monday and finals on Wednesday along with race at swim prelims on Wednesday and compete in swim finals on Friday. With track finals and swim prelims being on the same day, Glidewell says she will have to rush from the swim meet in order to be able to run that same night. With all of that, she still hopes to go to prom Saturday night.
"I have homework, I am going to prom. I think that makes it stressful. Doing two sports is already a lot, but then you have to try and figure out how you're going to balance homework and how you're going to balance the rest of your extracurriculars like church, hanging out with family, social life. That's the hardest part, I think."
Baseball 
The Fullerton baseball team started off league strong by going 5-1 heading into their spring break tournament falling only to Sunny Hills in an 8-2 loss. The Lancers (9-3) and Indians (9-3) have the same record, but Sunny Hills holds first place because one of their wins was against Fullerton. 
The Indians made a strong run in the spring break Anaheim Lions Tournament going 4-1 with big wins over California High and Paramount High School.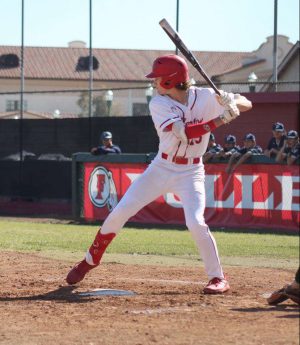 Heading back into league the Indians won two games against Sonora (8-4) but lost to the Raiders 13-4 in their third match up on April 4. 
"[Losing to Sonora] was a needed reality check. It wasn't anything that we could really control," senior Matt Kim said. "Baseball is a sport where any team can beat any team so it showed us that we just need to keep grinding through our games." 
The following week the Indians defeated the Highlanders(3-8) 1-0, with senior Andrew Violet going 2-2 and leading the Indians in hits. Fullerton completed the sweep against La Habra on April 8 with a 6-1 victory. Senior Ej Ayala led the charge, pitching six innings, allowing only six hits and striking out five. Junior Niko Savage closed the game out in the seventh completing the save. 
The boys then faced Buena Park(1-10) on April 13, finishing with a blow out 14-0 victory. Junior Aj Hernandez tossed six shutout innings against the Coyotes , allowing one hit and striking out six. Freshman Luke Galvan and senior Jeremy Maldonado worked together to complete the save in the seventh over the Coyotes. 
The Indians mustered out a tough win against the Coyotes on April 15. Fullerton fell behind Buena Park in the third with Buena Park's senior Anthony Cabral hitting a three run homerun giving the Coyotes a 4-0 lead. The Indians rallied in the bottom of the fourth scoring two. Maldonado singled to center field, scoring two runs and tying the game up. The game stayed tied until the bottom of the seventh when junior Conor Sunderland doubled on the first pitch, scoring one run and securing the 5-4 walk-off win. Fullerton travels to Troy (5-7) on April 22 for a 3:15 p.m. Freeway League game.
Softball 
Senior Jimena Velazquez's three-run homer in the 5th inning gave the Indians a much needed 5-3 victory against Buena on Thursday.
The varsity softball team (2-7, 18-10) started with a strong preseason but has struggled so far in the Freeway League. The team as won 16 preseason and tournament games, but its only two league victories have been against Buena Park (0-8).  
In their April 5 game against the Coyotes, the score was tied 8-8 going into the 7th, forcing the game to extra innings. Junior Allie Yurek's double over the left fielder's head in the 9th gave the Indians the 9-8 win.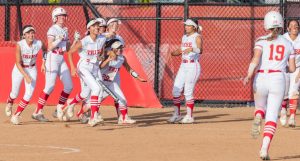 "The game was a lot closer than it should have been but I had no doubt we would win," Yurek said. "It felt good walking it off and I was relieved. The game felt like forever and I was glad it was over."
The team lost its Freeway League opener 9-1 against La Habra. The Indians had only two hits: an RBI double up the left field line by Mya Higerida scoring Zoey Bautista who got on by drawing a walk and a ground ball up the middle for a base hit by Hailee Nelson.
As the season continued the girls suffered five consecutive losses.  A 9-1 loss to Sonora; 7-4 loss to Troy (3-4); 4-1 loss to Sunny Hills (4-3); 8-2 loss to Sonora (6-1) and 10-0 loss to first place La Habra (7-0).
Currently, the team is ranked 5th in league, just in front of Buena Park. Regardless of the girls poor start in league play, they still have a chance to qualify for CIF. By winning the next two games, the Indians have an opportunity to tie with Sunny Hills for third place. The team faces Troy on April 25 and Sunny Hills on April 27. 
Senior right fielder Ava Ortega said, "We have a lot of talent on our team and I know we are capable of coming out and winning these last games. We need to come out with energy, trust and determination."
Boys Golf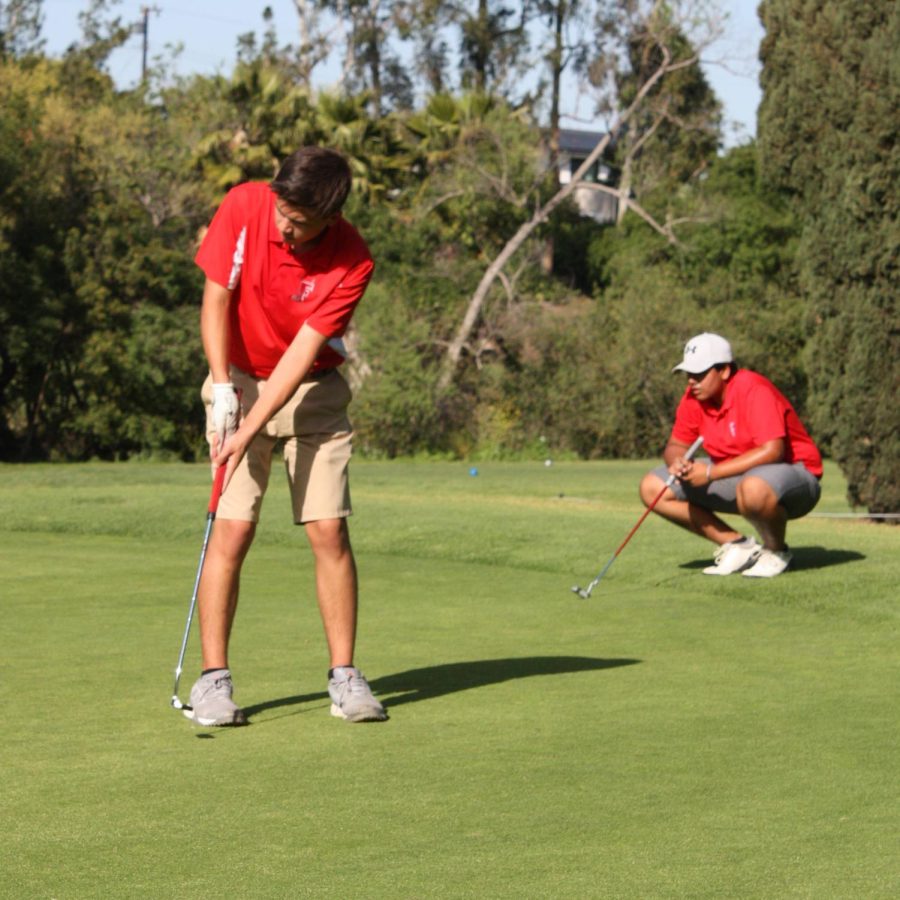 Sophomore Sangat Grewal and junior Jack McMackin beat La Habra's top two scorers by one stroke (90-91) on Apr. 19. The Indians lost the overall match, but McMackin says he's pleased with shooting a 47 on the challenging Hacienda course.
The left-handed junior says he's happy with the results of recently adopting a new backswing. "The ball was hooking right, but now with my arm coming up and around instead of straight cross, it squares the face of the club as I come through," McMackin said.
The boys golf team (4-8) will play Troy and Sunny Hills next week before going into League Finals on May 2. Grewal, McMackin, freshman Jack Arnold and sophomore Andres Bustamante are expected to play at League Finals. If each golfer makes it past the first round, they will play a total of 36 holes. The top eight Freeway League finishers will advance to CIF.
Other active FUHS golfers include Roman Bartosik, Austin Hulsizer, Izaiah Perez, Landon Torresluna and Ford Woolery.
Boys Tennis