Hetts leads with compassion, awareness
Class of 2022 Speech and Debate Spotlight
Senior Kennedy Hetts' passion for leadership and genuine connection with others began with a can of soup.
"In sixth grade, Kennedy ran to be student body president," said senior Frances Walton, who became friends with Kennedy in third grade at Hermosa Drive Elementary School. "She had this slogan 'Kennedy can' and during her speech, she would take out cans of soup and say, 'Kennedy can' do this. 'Kennedy can' do that. And it was cute because we still say 'Kennedy can' all the time to this day because she can do literally anything. She has such a hardworking, diligent vibe."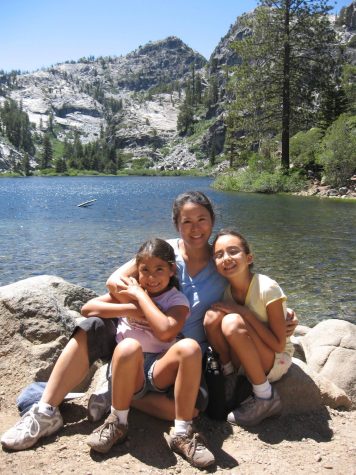 It's true–name an activity at Fullerton High School, and Kennedy can. She's always had a knack for connecting with others in a bright and sincere manner, excelling in multiple disciplines as an International Baccalaureate diploma candidate, a varsity tennis star, and Fullerton's speech and debate president. 
Over the years, Kennedy tackled various subjects in speech, ranging from infertility to foster care. Last year, her original expository speech focused on the relationship between misogyny and pants pockets. 
Senior Garrett Fan, who competed alongside Kennedy for the past three years, found her speech well-written and entertaining.
"You wouldn't really see pockets as a way that society oppresses women, but she wove it in," Fan said. "Her speech had her own personality imbued in it with her sense of humor. And it was just a really good speech about pockets."
While Kennedy placed in regional tournaments every year and became a California State Championship semi-finalist her junior year, one of her favorite parts of speech was seeing her mentees develop as orators. 
"There are a lot of kids that I have known since they were freshmen, especially Amelie Heying," Hetts said. "Seeing her grow so much from a freshman to now a junior and going to nationals for the third time is really amazing. Just seeing the growth in so many of our younger speakers and learning more about them every day is incredible."
Heying, who is the vice president of the speech program, sees Kennedy as an inspiration. 
"She keeps incredible poise in her leadership positions and is a great competitor," Heying said. "I have loved working with her in speech and debate and can't wait to see how she grows in college."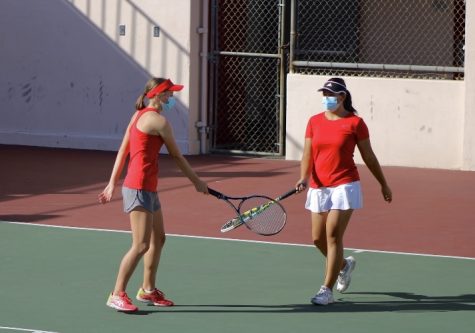 Kennedy joined the varsity tennis team her junior year. Her doubles partner, senior Eliza Lynch, recalls a moment they shared on the court. 
"One time, there was this one doubles team that just kept talking for so long," Lynch said. "So we would just meet up and then talk about food and we would pretend to point at them so they thought we were strategizing. She's so fun to play with."
Lynch also described Kennedy's strengths as a player. 
"She's an amazing volleyer. She just gets volleys and I'm like, wow, you came out of nowhere for that. She's also a very strong hitter, in terms of speed and her serves are very strong as well. She's a great leader. She really knows how to encourage people and pump people up."
Tennis coach Akhom Inthavong said that Kennedy added an enthusiastic attitude to the team. 
"She's passionate about tennis. Win or lose, she still has that demeanor," Inthavong said. "But I know when she loses, she wants to work harder. So you could see that in her work ethic, always trying. She's just fun, jolly, great to be around."
Kennedy is also one of eleven seniors to complete the full IB diploma. One of the requirements of the IB diploma is a 3-hour class after school on Mondays called Theory of Knowledge. Kennedy remembered a conversation on the definition of art. 
"We were talking about this artist, Michael Craig Martin, who had a piece titled, 'This is an Oak Tree' and it provoked a big argument in our class because in actuality, it was just a cup of water on a platform. But by him declaring that it was an Oak tree, it was."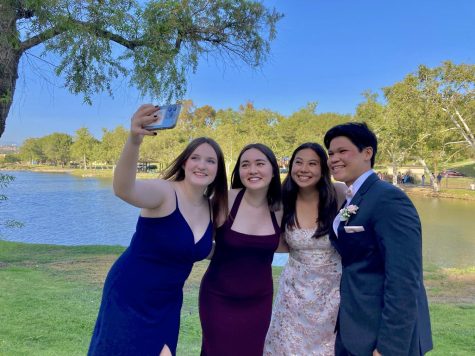 Kennedy learned to think in a more interdisciplinary way, drawing from her own knowledge to grasp the concept. 
"I refused to accept it until I remembered the concept of transubstantiation, or converting wine and bread into the blood and body of Christ. By connecting the artwork to something from my Catholic background, I could better understand his argument."
One of Kennedy's favorite classes, IB Social-Cultural Anthropology with Ms. Sharon Hollon, influenced her to major in human bio and anthropology. 
"We read an ethnography towards the end of the year called Fresh Fruit, Broken Bodies by Seth Holmes, and it was talking about how the culture of Mexican migrants in the United States affects the kind of healthcare they receive," Hetts said. "I think that actually kind of started me on this path of pursuing healthcare as a career option and just committing myself to not only being a doctor, but a doctor who can assess a patient holistically considering different cultural, social, and political factors and how that may affect their health."
Kennedy was also inspired by her mom, who is a primary care physician.
"Often when people think of doctors, they picture a man, but I have always thought of my mom right away when anyone mentions a doctor," Hetts said. "Seeing her be such a compassionate and empathetic person really inspired me to pursue a very similar path."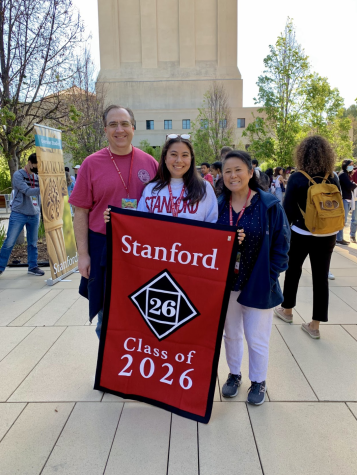 With encouragement from her family and friends, Kennedy will attend Stanford University this fall to study human biology or medical anthropology. 
"It's such a wonderful community up there [at Stanford]. I'm really excited to participate in all the wonderful Stanford traditions that my parents have told me about from their time there," said Hetts, whose parents both graduated from Stanford in 1992. 
Kennedy is also excited to share her experience with senior Jonathan Morales, who will attend Stanford in the fall as well.
"Jonathan and I were at admit weekend together and there is a Stanford tree, it's the mascot. Every year, they choose the Stanford tree through a contest where you have to make your own tree costume," Hetts said. "I remember telling Jonathan about this and him saying that he wanted to be the tree, so I'm really excited to help him make his tree costume and for him to hopefully be the mascot our freshman year. But I'm just super excited to go and have all those new experiences waiting for me."
Her determination and willpower have taken her far, and Kennedy will do great things.
"I think just because of her stick-to-it-ness and her hardworkingness and her just actual passion to succeed, Kennedy got into Stanford," Walton said. "Not because she wanted to go there, but because she actually did the things and changed her community and improved it. And that's what Stanford was looking for."