Roller derby, costumes, science: Marenco does it all
Class of 2022 Theater Spotlight
Some people are surprised to hear that senior Scarlet Marenco will major in Biology and minor in Women's Studies at Cal State Fullerton next year. After all, as the top costume designer for the FUHS theater program, she could have chosen to major in theater.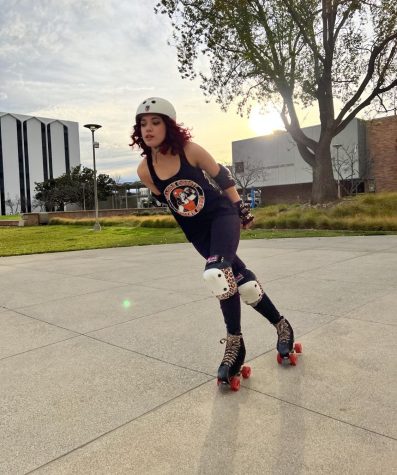 ROLLER DERBY
But there's a lot people don't know about Scarlet Marenco, including her passion for roller derby. She says she fell in love with the sport while watching the 2009 movie "Whip It" starring Elliot Page.
"I started training myself in the parking structure. I wasn't on a team during quarantine, but I practiced with one over the summer," Marenco said. "It's no rules, old school, punk derby so I technically couldn't play with them legally until I was 18. I've been doing derby for just over a year now, and it really helped me fall in love with my body. Like, you really don't know how strong your body is until you try wild things like that."
Her love for science influenced choosing a derby name: "My derby name is Cicatrix, the anatomical term for Scar, which is my nickname."
SCIENCE
Scarlet thought she would study to become a medical examiner but now plans to study gynecology. "Over quarantine, with all of the issues women faced like restrictions of abortion rights and sexual assault awareness, I realized that I wanted to do something to help women," she said. "I could provide abortions, sexual health resources, and others services for people, especially those who don't necessarily identify as women, because there's such a lack of medical support for them."
AP Biology and Anatomy and Physiology teacher Kristen Cruz has had Scarlet as a student for two years.
"As a distance learning student, I was really impressed with her commitment and the quality of her work," said Cruz. "I'm really impressed with her work as an AP Bio student because it's a really demanding class that requires a lot of time commitment, which is hard to manage with everything she does for dance and theater."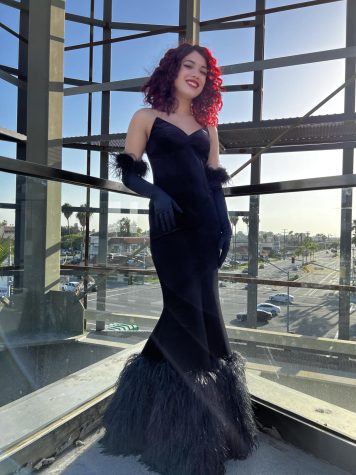 COSTUMING
Scarlet has been a part FUHS's theater costuming crew for four years. She was lead Costume Designer for The Little Prince and Matilda this year. Her work has been nominated for best costuming in a play (Little Prince) by the OC Cappies and best costuming in a musical (Matilda) by the JRAYs.
"I really fell in love with design when I came here and discovered costuming, by way of Mrs. [Beverly] Shirk," Marenco said. "Being in the costume program here has given me the opportunity to work with a lot of mentors and designers, but I'd say the biggest influence for me has been Blake Danford. Blake went to Fullerton and is now a drag costume designer and has designed for musicals and TV shows."
Danford and Marenco became good friends by working together on Matilda's costuming, and working together to design her prom dress. She plans to work as Danford's assistant constructor this summer on a few projects.
STYLE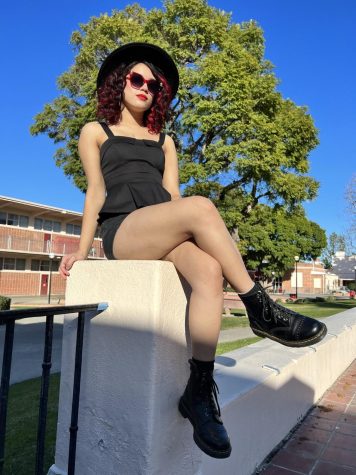 With her talent of costuming, it's no surprise that Scarlet was named Best Dressed by the senior class. Having grown up surrounded by design—her mother owns the clothing line called Mixed Breed—fashion has always been a part of Scarlet's life.
"I've always been inspired by punk rock, rockabilly style," Marenco said. "Like, I'd be in a leopard print bandanna, mary janes and a band t-shirt—probably The Cramps or The Ramones—as an 18-month old. It just kind of carried on and now I like to think about what I want to wear to make myself feel good."
DANCE
Marenco has also been in FUHS's dance program for four years. She works as the program's Costume Manager and has choreographed an original dance for three of the four spring dance concerts she has been in.
"I wasn't always into dance, but it came to me at a hard time and became therapeutic," Marenco said. "I did a contemporary dance in 7th grade after my grandpa had a stroke, and that emotion I experienced kind of pushed me to keep doing it," she said. "I was originally going to stop dancing after sophomore year, but then I got into Advanced Dance so I kept doing it."
Scarlet says that dance teacher Andrea Oberlander has inspired her to continue dancing even as a pre-med college student. "Mrs. O is just such a nurturing teacher and she's basically become my school mom," Marenco said. "I've never danced outside of school before, but I plan on taking classes over the summer."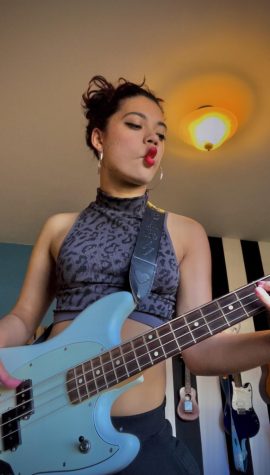 ACTING & SINGING
Beyond dance, Scarlet is a top performer as well. She began her theater journey in the 6th grade as Narrator #4 in The Sound of Music and continued on in Ladera Vista's performing arts pathway.
Scarlet won the Cappie Award for Lead Actress in a musical (decided by the OC Cappies) for her performance as Mrs. Wormwood in Matilda, the same show she costumed.
"Theater here is so different," Marenco said. "When Despars says that he does professional productions put on by high school kids, he really means it. I moved up the ranks with time and effort. I took vocal lessons and did dialect coaching with Mrs. [Genni] Klein, and Wormwood was the grand finale of my high school theater adventures."
Although she had never taken vocal lessons before Matilda, she participated in rock and punk style singing summer camps. Scarlet has played guitar since the 4th grade, but fell in love with playing bass in middle school. She relearned how to read music to make the switch from guitar (which is in treble clef) to bass (which is in bass clef).
MUSICIAN
Scarlet has been in five bands, including her longest running connection with Apollo Descendant comprised of FUHS Jazz Band members. "We played a wedding once, and that was wild," she said. "We never released any music; our style was more so learning a song and then playing it at a gig the next day. We learned so fast. My maximum would probably be learning seven songs on bass perfectly in one day."
Scarlet is currently in a band with her younger sister FUHS freshman Sailor Marenco called Dirt Angel. Scarlet plays bass and Sailor sings.
Sailor says she and Scarlet grew up going to concerts with their family. "Music has always been something important to us," Sailor said. "Both of us have always been in bands without each other but we love messing around with sounds together, so we decided to form a band of our own. Dirt Angel has been a thing for about a year and it's always a fun environment. It's kind of a punk rock, glam rock mash-up."
FAMILY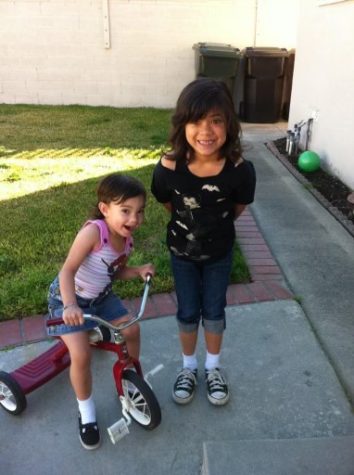 Sailor and Scarlet are very close siblings and make it a point to support each other.
"Music has become a place for us to let go and relieve stress," Sailor said. "It's so important for me because Scarlet has always said that when you do something you love, you don't have to go to school for it."
Despite her multiple activities, Scarlet takes time to help others.
"Scarlet has definitely helped me a lot," Sailor said. "I'm very closed off. Some people think it's weird to talk to your family about personal things but—I know this sounds cliche—Scar is really my best friend. She's pushed me out of my boundaries and has helped me be open and confident at school. She's a strong woman who isn't afraid to speak her mind. She knows how to wiggle her way into someone's heart and I love her."