World of competitive cheer brings glory, injuries
Junior Sierra Grimm competes all year with elite team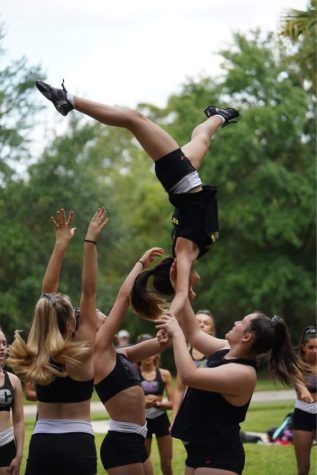 Since age 9, junior Sierra Grimm has been involved in competitive cheerleading. 
In competitive cheer, each team member has a different role. Stunt group positions consist of bases, flyers and spotters. 
The flyer is lifted and thrown into the air, the bases are under the stunt and lifting, and the backspot keeps the stunt stable while doing extra lifting. 
"I actually flew for five years and then I grew seven inches over quarantine. So I became back spot," Grimm said. 
In competitive cheer, there are seven different levels and divisions, including divisions like tinies, minis, juniors, seniors, and open, which is for adults. 
"I am on Level Four currently, and it's stunting and tumbling. It's progressively harder each level," Grimm said. 
A competitive cheerleading season is about one year long. After they finish their season, the cheerleaders have one week off, immediately moving right into tryouts. 
The team practices and goes over all the components of the routine, which they go through over the summer in bits and pieces. At the end of the summer, they put the bits and pieces together with music. The routines are two minutes and 30 seconds long, consisting of tumblings stunts and dancing jumps. 
Throughout the year, Grimm's team Scarlets have about nine competitions. After nine basic competitions, they go to a bigger showcase. But in order to attend a more competitive showcase, you have to have a "bid". A bid is like an invitation to the competition.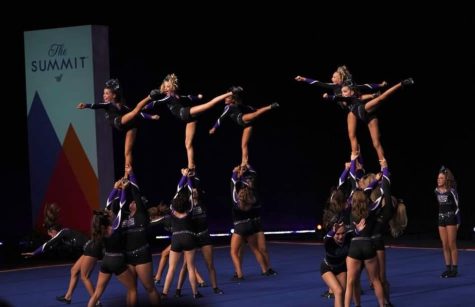 Grimm said that the national competition is called Summit. In order to qualify for Summit, you have to get a specific bid. 
"Different competitions, depending on how big they are, have different types of bids," Grimm said. "There's a large bid, partial bid, and a pull paid bid. At each competition, the judges decide which teams to give the different bids to."
With the partial paid bid, entry fees into the competition is paid for. With the full paid bid, the teams get a room at a hotel and different activities like amusement park passes. 
In each competition, the judges look for the difficulty of the routine and each component of it. The different components that they look for are running, tumbling, standing tumbling, jumps, and the overall look of the routine. Additionally, they judge on the creativity of the routine and overall performance. 
"There's a thing called hit when you hit the routine. That means you did everything," Grimm said. "But sometimes people fall at competitions. They'll have someone that steps out of their tumbling. They're looking for a certain team that can hit a good, consistent routine, not look like they're struggling, and look like they actually enjoy cheer."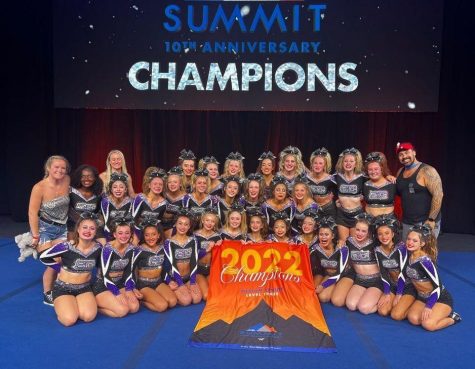 The point system is by categories like standing, running, elite stunts, two men over one man, pyramids, creativity, execution, technique, performance, and the stylistic aspects of it all. And the coaches get a rubric for each of these categories. 
Grimm said the point system has a difficulty range one to four. Each score for the different categories add up to a certain amount of points out of one hundred. The total is added up, then multiplied by two, resulting in the final score. 
Before they get their rubric, the coaches generally look online to look at the past rubrics so their teams can practice those skills and be prepared. 
"Sometimes they change what skills you have to throw," Grimm said. "They think of more creative skills to throw." Throwing is a tumbling pass you have to do. It is like the action of doing something. 
Each competition has around 20 judges who watch each routine. Every judge has a different component of a routine they have to watch for, jotting down notes and giving them to the coaches after the competition. The coaches would then take those notes and make changes to the routine.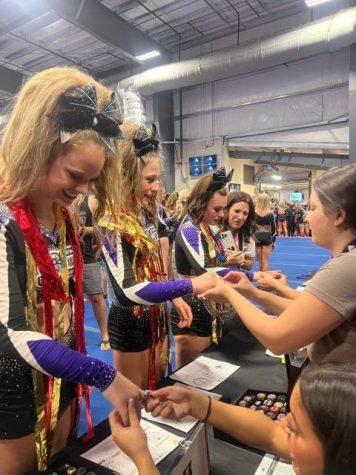 Grimm said sometimes competitions can vary depending on the judges. "Last year we had one judge who loved our routine. Like they really liked the theme of it and stuff like that," Grimm said, "but then our next competition, we had a judge that literally told us they hated our routine." 
Grimm said she did cheer at FUHS for freshman and sophomore year. This year she is taking a break for school, focusing on her academics and enjoying her experience. 
Grimm hopes to be a world champion next year. "When you say you're a summit champion, that's cool. Summit and Worlds is basically the same thing just for different levels." 
However, Grimm worries about her physical health because of all of the tumbling. So far in her years of cheer, she has broken both her ankles, three fingers, her tailbone, her knees, and an "almost-fracture" in her spine. 
But in order to keep a consistent and good routine, her team must constantly practice. 
"Even taking one day off of cheer can set us back so much," Grimm said. 
They do this rigorous routine so they can win competitions and they look forward to the prizes, such as the summit ring and other items like jackets.