Take a Break
Reporters review nearby shops, food
The holiday season can be stressful. With final exams so close to Christmas, it can feel impossible to find time to pause and enjoy the festivities. I took a couple of hours last week to walk around Harbor Blvd. and Commonwealth Ave. with fellow Tribe Tribune reporter Lilli Pope. Whether you need a cookie break or a boba fix, getting some fresh air and stretching your legs will help revive you for your next study session.
Chomp Rockin' Sushi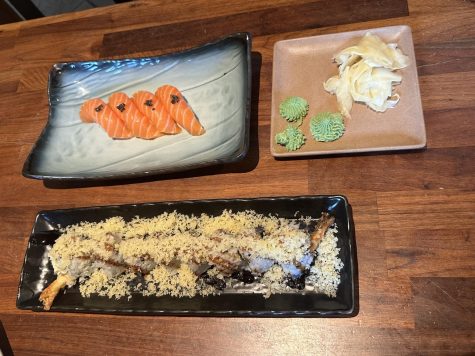 Chomp Rockin' Sushi on Commonwealth is a great place to de-stress after a long week of finals. Inside is dimly lit, with quiet background music. Lilli and I sat in a secluded booth, which we recommend for privacy and a cozy-cave vibe. The food was delicious, and a great option if you like sushi or Japanese cuisine. Although on the pricey side, Chomp has a large selection. Lilli and I ordered one crunch roll and 4 pieces of salmon sashimi for $28. We recommend sharing with 2-4 friends and splitting the check to make the trip more affordable. Chomp Rockin' Sushi is a nice post-finals celebration destination with friendly service.
Boba Time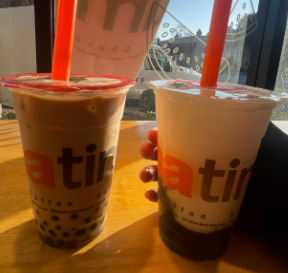 Boba Time is a great after-school study spot. They sell inexpensive food and drinks for students and offer many quiet spots to do homework. We ordered coffee milk tea for $4.75 and a lychee slush for $5, better deals compared to nearby Dripp's Madagascar Vanilla Latte for $6.75. Even though Lilli doesn't like coffee, she was pleasantly surprised by how sweet the coffee milk tea was.
Milk and Cookies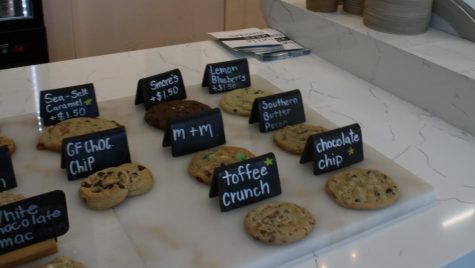 Also on Commonwealth is a new bakery called Milk and Cookies with a wide variety of cookie flavors. As per an employee's recommendation, Lilli and I ordered the sea salt caramel cookie for $3.75 and the s'mores cookie for the same price. They're served warm and gooey, making for a great snack to warm up in the cold. I recommend getting the s'mores cookie if you enjoy a sweeter, chocolatey cookie, and Lilli recommends the sea salt caramel if you enjoy snacks that are a balance of sweet and salty.
Terrace Skateshop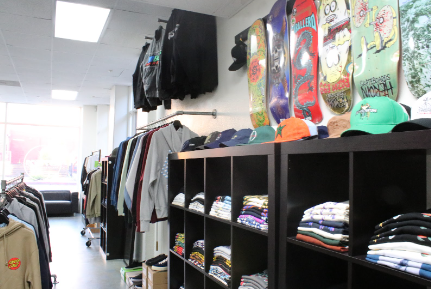 While walking around, Lilli and I stumbled across a skate shop. Terrace Skateshop is a great place to buy holiday gifts for friends and family who skate or simply enjoy the skatewear style. You can find some unique Santa Cruz graphic t-shirts for around $28.
Downtown Fullerton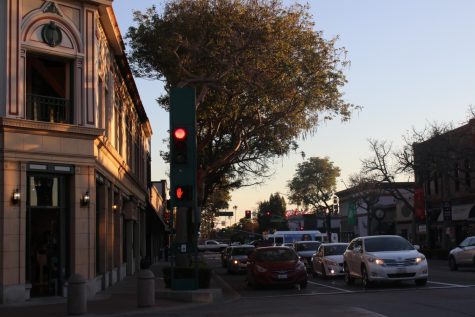 One of our favorite parts of downtown is the beautiful architecture. The historic buildings and intricate designs are something that Downtown Fullerton is well known for. Lilli and I enjoyed walking down the tree-lined streets and observing the Christmas lights.
Buffalo Exchange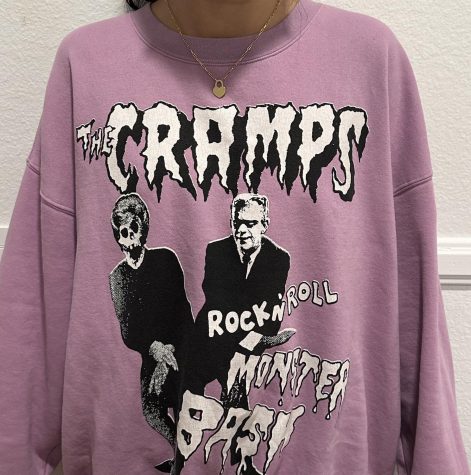 Finding holiday gifts in your price range can be difficult, but we have discovered a solution. After finals week is over, Buffalo Exchange is the perfect place to find great gifts at even greater prices. They offer a variety of unique clothing and accessories, with something for everyone's style. It doesn't take much money to buy meaningful gifts. I bought a sweatshirt for my sister from Buffalo Exchange for under $14. I had never seen something like it in a department store, and it fit my sister's style perfectly.
Villa del Sol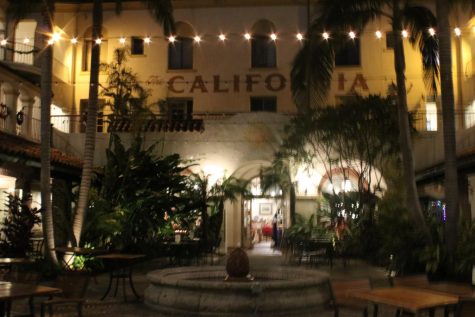 A change of scenery can be beneficial when studying for finals. Villa del Sol can be found tucked behind SomiSomi. It is a great place to study, as it is a secluded area removed from the busy streets of Downtown Fullerton with many tables available.
Fullerton Downtown Plaza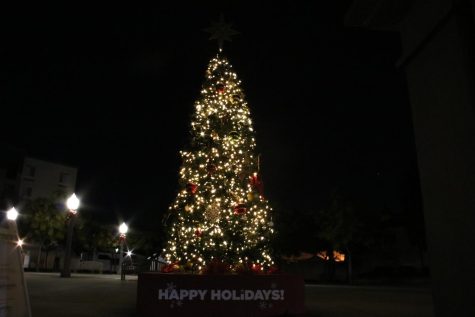 Finally, to end our day we went to the Christmas lights at the Fullerton Downtown Plaza. They served as a reminder that the holidays are just around the corner, and provided a great photo backdrop. Remember, it's important to take breaks from studying to avoid feeling overwhelmed and burnt out. Good luck and happy holidays from the Tribe Tribune!
Reporter Lilli Pope contributed to this story.