Pride for both cultures
Being invited to my first car show by Elany was the Chicano experience I never knew I lacked in my life. 
Both of my parents were born and raised in Mexico. I always felt that my Mexican side never correctly blended with my American side. I was not Mexican enough. I was not American enough. However, on Jan. 28, I was accepted by a community of people who grew up in an environment similar to mine.
On Chapman Ave. and just west of State College Blvd. I met many Mexican Americans who were representing their Chicano pride and lifestyle.
The more I spoke with each person and heard their stories of family or mistreatment the more I felt understood. Not being Mexican enough or being American enough was a universal experience within all of us.
This experience built a strong connection to bring our family's Mexican culture and our American culture into one called Chicano culture.
Elany and I looked at the cars near where her dad parked his truck. These are some of the many cars that showed up at the Puro Amor car show.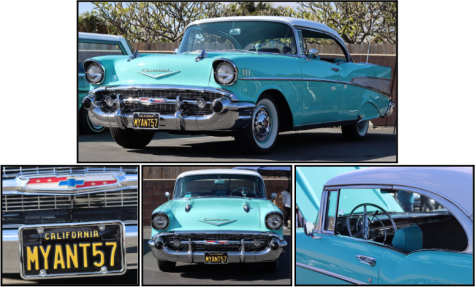 While at the car show, I met and interacted with many different people with unique experiences. However, there were two stories of Mexican Americans that stood out to me whose lives have been influenced by their love for cars and their embrace of Chicano culture.
Christina Martinez is 69 years old and has been a resident of Fullerton for 35 years. The license plate on her car is in honor of her late son Anthony, whose nickname was Ant.
Ant graduated from West Covina High and was going to college. While driving home he was rear-ended by a drunk driver and passed away. In Anthony's memory, Christina has dedicated her car to him.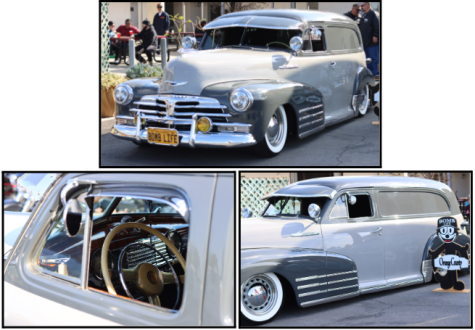 A Fullerton resident discovered his love of cars through his older brothers. He got his 1948 Sedan Delivery 18 years ago and has slowly worked on it ever since.
One of his modifications is the interior wood grain. The original didn't have wood grain, but he took inspiration from the cars his brothers owned and added it himself.
I'm insecure when it comes to speaking Spanish, the color of my skin, and my lack of knowledge of Mexican culture. These set me apart from my family. But with this Chicano culture, I experienced a place that embraces and balances both the American and Mexican sides of me, and I am proud to be Chicana.