ART of WAR
Students, teachers enjoy Warhammer 40k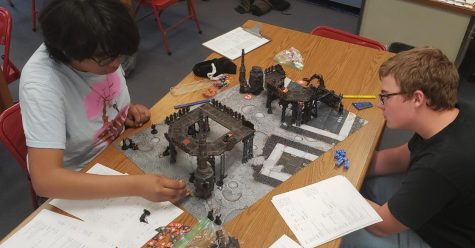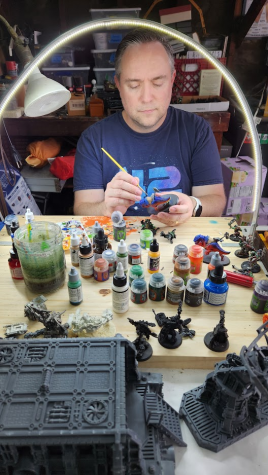 When Speech and Debate teacher Tarin Almstedt returned home from the war in Iraq in the early 2000s, he struggled to adapt to life at home. After his time as a Marine, painting Warhammer 40,000 miniature figures helped him reacclimate to civilian life.
Almstedt still has those miniatures he painted over 20 years ago, and, now, many, many more.
"[Painting miniatures] was meditative. I was creating something, not destroying something," Almsedt said. "I'd spent the last I-don't-know-how-many months destroying." 
In his early teens, Almstedt discovered Warhammer 40,000—a UK collectible tabletop wargame published by Games Workshop—from his older brothers' Dungeons & Dragons group. Almstedt was surprised at how much he enjoyed the hobby.
"I could actually see the models, and painting was worth it," Almstedt said. "That's more than just pen and paper or even a video game."
Players buy the miniatures unassembled and unpainted then build and paint them themselves. Some miniatures take weeks to finish. 
"It's something I can do on my own. When playing the game, you have to have someone else to play," Almstedt said. "But if I have a half an hour and I can get out to my workstation in the garage [and paint a miniature], then great."
During the COVID lockdown in 2020, Almstedt found himself painting to fill the newfound time. Almstedt spent the day playing with his two kids, then would sit at his home studio and paint for several hours in the evening.
"I painted probably 300 miniatures in the first part of lockdown. It was how I dealt with a very strange time in my life, painting and coping and doing what I could."
As the adviser of the Warhammer club, Almstedt has been able to share his gaming passion with FUHS students.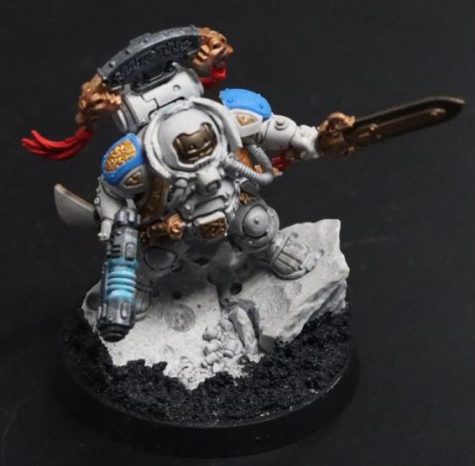 Originally only a small club of 4 or 5, it quickly turned into a group of 13–15. Almstedt brings his miniatures, and the meetings see as many as four games running at once. 
Warhammer 40,000 is a tabletop wargame that's usually played as a skirmish game with one miniature representing an individual combatant. Players bring their own armies of miniatures to a table representing the battlefield and participate in a battle. The Warhammer franchise is celebrating 40 years of production this year, and over 1,700 unique miniatures are currently in print.
The Warhammer club is having a meeting at lunch in Room 242 on Wednesday, April 18 and an after-school meeting to play games on Thursday, April 19. Miniatures are provided for students looking to play for the first time, and games will run for two hours from 2:30 to 4:30 p.m. 
Club meetings are two hours, and usually hosted on Early Release days. The club often plays a smaller and faster version of Warhammer called Kill Team, with miniatures, dice, and rules available for students.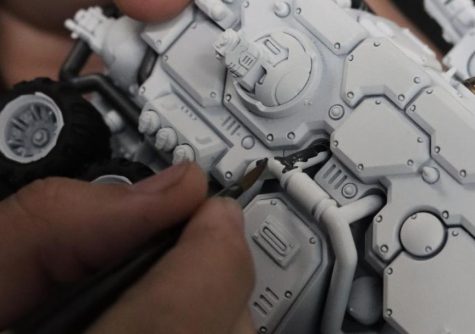 A full set of Kill Team miniatures costs about $110 plus the cost of tools and glue. However, students don't need to invest cash immediately in the hobby. Joining the campus Warhammer club is a great way to try something new through borrowing materials provided by Mr. Almstedt.
Senior David Salinas says that he likes playing and painting Warhammer because he gets to put his own creative spin on his miniatures. 
"It's really interesting, you get to paint them however you like and really make them creative and yours," Salinas said.
Salinas emphasized that there's something for everyone when asked how niche Warhammer is. There are 700 books, dozens of painting tutorials and multiple sizes of tabletop games. Ultramarines: A Warhammer 40,000 Movie was released in 2010. Henry Cavill is scheduled to star in and produce another Warhammer 40,000 project through Amazon. 
There's no one way to jump into Warhammer, and The Warhammer Club on campus is a great way to explore this hobby and see the miniatures that students have put hours of time into.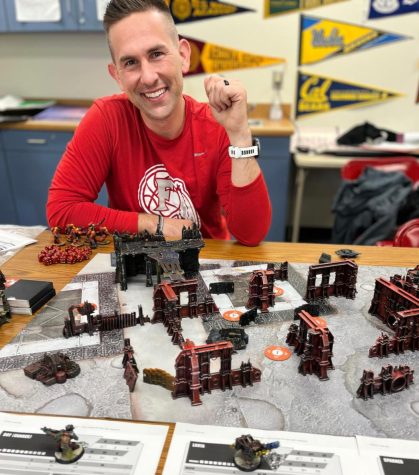 Building and painting models is a large part of the hobby, and for history teacher David Shanebeck, painting Star Wars and Warhammer miniatures is his creative outlet. 
"As far as getting started painting Warhammer, I just walked into a local shop and just picked a set I thought looked cool. Big guys with big shoulders and big old guns," Shanebeck said. 
Shanebeck started playing board games, including Risk and Settlers of Catan in college. He then transitioned to Star Wars tabletop games such as Star Wars: Armada and Star Wars: Legion. 
"As a kid, I hid the things that I loved," Shanebeck said. "I didn't want to tell people I liked Star Wars because you'd get made fun of. I love what you guys get to do because you don't care. And that's part of the culture in society that we have now."
The Warhammer community supports each other and is a great way to make meaningful connections with fellow gamers, Shanebeck says. 
"[Warhammer's] a bigger community than most people would think," Shanebeck said. "I have a friend up in San Francisco who anytime we get a chance to, if he's down here for something or if I'm up there for something, we'll hang, not even to play games. Just chat, catch up and make friends."