Henderson retires after 37 years at FUHS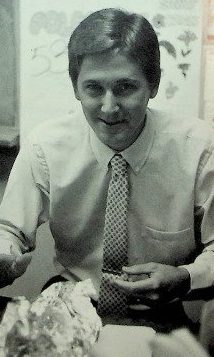 In our era of politicization and polarization, everybody–especially teachers–must tread cautiously. History teacher and International Baccalaureate (IB) coordinator Mark Henderson— who, after 37 years of teaching, retires at the end of the 2023 school year—can tread carefully while still challenging students and having fun.
For example, a recent discussion in Henderson's Theory of Knowledge course asked students to consider two important questions about religion: What's the difference between a cult and a religion, and what qualities make someone a religious leader?
A discussion like that could easily turn ugly. So, instead of discussing real-world religions, Henderson went abstract. He created Rockism—a religion whose worshipers revere rocks—and, without offending anyone, led the class through a discussion of how religions function.
However, this doesn't mean that Henderson ignores controversial topics in his Theory of Knowledge class or in his other classes.
"There's a curriculum to teach. That's what I have to do," Henderson said, "but if the kids ask questions about current politics, we'll talk about it. That's not a part of my daily plan, though."
Instead, Henderson's curricular playfulness respects students' opinions while letting them explore what their opinions mean and where they come from without the potential burden of outside judgment.
"Mr. Henderson makes students feel like they're at an open discussion," said Angel Wang, class of '22. "That openness is very important for people who feel that they're not being respected or that they're not being heard." 
Henderson emphasizes that his classes—and Theory of Knowledge in particular—have always been discussions to be had not debates to be won.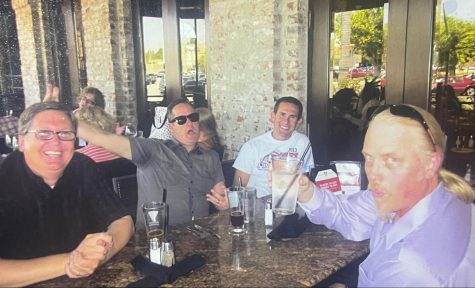 Junior Julie Martinez appreciates how Henderson facilitates class discussions. "Since people have different perspectives, that allows for us to see their point of view even if we may disagree," Martinez said, "but people aren't arguing about what's right and what's wrong."
Mark Henderson grew up in Anaheim and graduated from Magnolia High School in 1979. He had planned to get a degree in psychology from Biola University, but traded psychology for history and transferred to Cal State Fullerton.
"I would have been a terrible psychologist; I'm not a good listener," Henderson said. "And I always loved history. History is storytelling, and I love storytelling. I did my student teaching here at FUHS in 1984 with Mr. Sherwood. I loved him. I love teaching. Kids are the best."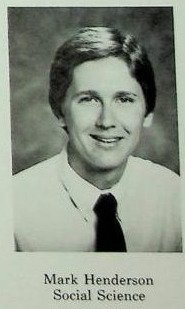 Henderson landed his FUHS job in 1986. Fullerton is all he's known. 
"My children, who are in their 30s, think that it's bizarre that I've only taught at FUHS. All 37 years—plus my student teaching—have been here. For me, there was never a reason to leave," Henderson said. "I try to think why I would want to leave. I'd only leave because of the environment or because I didn't like the kids, but  I love the environment—staff, faculty, and facilities—, and I love the kids."
Many of his former students now work for the district, including FUHS history teacher David Shanebeck, who had Henderson for Honors World History in 1999 and for Global Studies in 2001. "There are plenty of teachers I've had that I've forgotten," Shanebeck said. "It's not because they're bad teachers or because they didn't do their job well. They just didn't have an impact. You can't walk out of Henderson's room without him having an impact. It's impossible." Counselor David McIntosh had Henderson for economics in 1986, and history teacher Katy Wren had Henderson for Honors World History in 1999 and for Global Studies in 2001, too.
"I love that some of the kids that I taught have come back to teach. More than that, I love that these young teachers excel," Henderson said. "To have them go from sitting in my class to being their friend and fellow teacher should be weird, but it's not. It seemed a natural progression."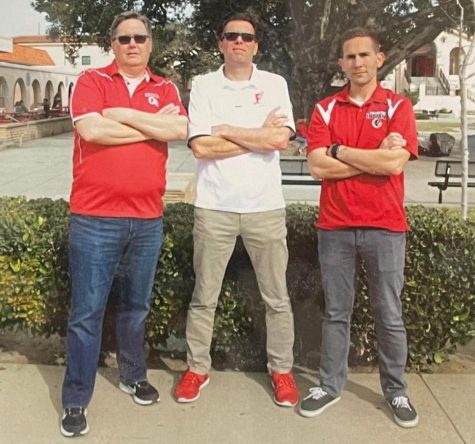 Shanebeck agrees. "I've spent 16, 17 years of my life as his colleague. I was only his student for two years," he said. "Almost half of my life has been as his colleague and as an equal. Our relationship is defined by our work relationship, not anything previous to that."
Henderson's connections to his colleagues run deep. He was good friends with history teacher Jeff Rupp who died in a 2011 motorcycle accident. Henderson says he struggled with his grief and was so grateful to his friends and colleagues, especially photo teachers Gabby Kudron and Maggie Crail.
"Kudron and Crail have been my rock for I don't know how many years, 20 some years, and when Mr. Rupp passed away, those two ladies were there for me," he said.
Crail says she feels so blessed to have met Henderson early in her career. "From the beginning, I was so impressed with his energy and intelligence," she said. "He's always advocating for students. When we're in a meeting, he never starts with 'I want'; instead, he'll say, 'It would be good for kids if…."
At 6'2" and with a booming voice, Henderson is known for his infectious positivity.
"Henderson is sunshine," Wren said. "When you're having a tough day, he's who you want to see. He's the one you want to talk to."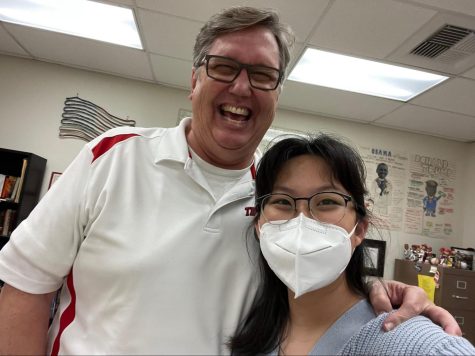 "He brings that good energy, and it's refreshing," said junior Jack Coffman. "You want to learn more when you're being taught by a good teacher."
"Not only did he know so much about his class, but he also managed to teach it like it was his first time every year," said Jameson Oates, class of '22.
Henderson acknowledges that teenagers are mostly hormones and feelings, and sometimes it's hard for teachers to stay positive, but Henderson does his best.
"I don't let the kids drag me down. This job is hard. It's very emotional. And, at the end of the year, I'm tired—all the teachers are tired—exactly because it's so emotional," Henderson said. "Our students have problems. Some have huge problems. I try to remember that I don't know the kid's whole story."
Students and staff agree that it's too soon for him to retire, but Henderson believes that it's important for him not to overstay. "I'm going to look back and think that FUHS is the greatest. It was so good to me," Henderson said. "I want to retire while I love the job and the school."
Yet if anyone deserves some peace and quiet, it's Henderson. He plans to spend his retirement golfing and remodeling his garage and office.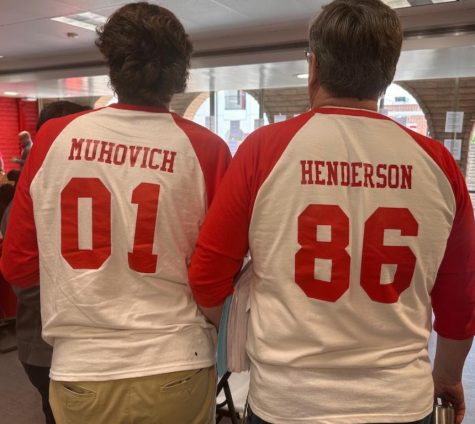 Shanebeck and English teacher Mike Alvarez will take over next year as co-IB coordinators. Shanebeck will also teach Theory of Knowledge, and history teacher and track coach Angelica Spurrier will teach History of the Americas.
He will be missed by all but especially by his teacher friends. Social studies department chair Mike Muhovich says Henderson is on his "moral compass" and the go-to guy to talk about school issues and about life in general. "Just talking about random things, I've enjoyed that with Mr. Henderson and I hope that continues," Muhovich said.
 "A lot of the joy of my job is getting to hang out with him every day," Shanebeck said. "That'll disappear."
"I'll miss going across the hall to talk to him," Wren said, "fifteen times a day."
Henderson said, "They won't be part of my daily life anymore, and I dread that the most. These great humans, great teachers, great people—they are a part of my daily life. They make me a better person."