Ervin overcomes adversity, helps others
Class of 2023 Senior Spotlight
I earned a 35% on my first Algebra 2 test this year. I thank math teacher Warren Hahn for dropping the lowest test score, but on my next test I earned an even lower score.
I had three tutors who didn't help. Then senior Isaiah Ervin—a math god and the nicest guy you'll ever meet—started tutoring me. With his patience and guidance, I went from Fs to As.
Instead of telling me how to solve an equation, Isaiah explains why I should approach the equation a certain way. Knowing why math works has changed my entire attitude about math.
It's not surprising that Isaiah is a master tutor. He's been helping people his entire life. Brynn Ervin, Isaiah's mother, suffered a massive pulmonary embolism followed by cardiac arrest in Dec. 2009 when Isaiah was 5. She was clinically dead for 95 minutes then in a coma for a month. After her release, she used a walker and occasionally a wheelchair. Despite this, Isaiah wouldn't let his mom skip Muffins with Mom, an annual Rolling Hills Elementary School event that allows students to bring their moms to school. Although the pair were met with stares at the event, Isaiah realized the stares weren't because people are rude but because people were surprised to see a child who could barely reach the wheelchair push handles taking care of his mother.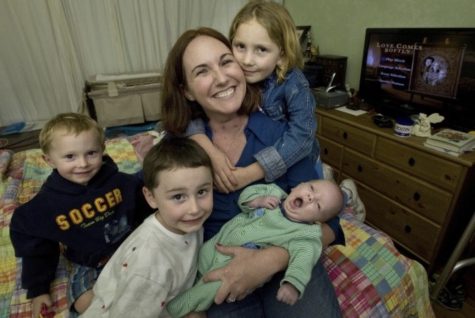 Sophomore Noah Ervin, Isaiah's younger brother, remembers Isaiah assuming many daily responsibilities like making his lunch for school.
"When I saw other kids with a full meal I would ask, 'Where'd you get that?' and they'd say, 'My mom made it for me.' I'd say, 'Your mom makes your food? That's kind of weird,'" Noah said.
Noah also benefited from Isaiah's math tutoring.
"Usually someone naturally good at math isn't the best teacher," Noah said. "Usually the people that struggle with math then figure it out are the really good teachers. But Isaiah gets the problem and can explain the problem. I'm just captivated by how he understands things."
Isaiah's academic gifts meant that he didn't struggle with distance learning during his sophomore year like some of his peers did. Instead, Isaiah embraced learning on his own and reached out to help others who were struggling.
English teacher Kimberley Harris says she was particularly impressed with Isaiah's attitude in her English 2 Honors class.
"He was the obvious leader in his breakout room over Zoom," Harris said. "He explained the assignments and led the mini-discussions we attempted. He was a natural."
Isaiah's English 2 group for most of sophomore year included Isaiah's soccer teammates Dutch Kohlenberger, Aaron Villaseñor, and Gilbert Verduzco.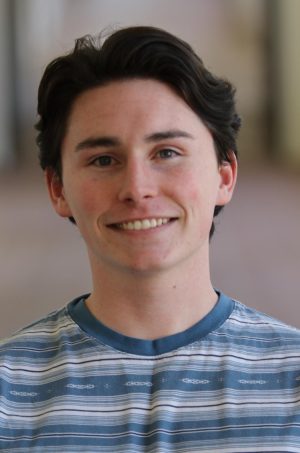 "The group always had their cameras on. They were talking and laughing. Of course, it wasn't always about the course content, but they learned and they really supported each other," Harris said. "That wouldn't have happened without Isaiah, though."
When it came time to create a project for the novel The Catcher in the Rye, Isaiah hosted a game of Minecraft and invited his group to create six different locations from the novel like Pencey Prep, the Central Park lagoon, and the carousel.
Harris expected students to spend about two hours on the project; Isaiah's group spent twenty. "I wanted to choose something that would be enjoyable and would actually get us thinking about the book in a way that during the pandemic we weren't really able to do," Isaiah said.
The pandemic lockdown also meant that Isaiah had more time for soccer, but he soon injured his knee. Although he'd played soccer his entire life, an extra four games a week was too much.
"The first memory that I have of [my knee] really causing me pain was after a [soccer] game when I collided with somebody," Isaiah said. "There was a massive bruise around my knee, so for a few weeks I couldn't really walk."
A few medical appointments later and Isaiah learned that the bone in his knee had died, a condition so rare that only he and another person under age 20 had ever been diagnosed with it.
"It was a little intimidating. I'm not gonna lie. I had never heard of it before," Isaiah said. "The testing alone was a little bit scary. We didn't really know what was going on, and we didn't know what was going to happen."
It took Isaiah 18 months to recover from his first knee surgery in Nov. 2022. "There was about an inch and a half of bone in my left knee that they had to remove, and then they replaced it with bone from a little bit higher on my leg," Isaiah said. "They scraped it off, and then had to fill the hole with it. They put screws in to keep it all in place."
FUHS soccer coach George Shumaker said that it was hard for Isaiah to keep moving forward. "He was an impact player for us. Usually when you get hurt in your sport it's because something tore or broke," Shoemaker said. "But his issue didn't have anything to do with an injury. It had to do with something in his body, his genetics."
Isaiah missed out on soccer his senior year and he has another knee surgery scheduled for next year. But he hopes to try new sports like pickleball. "Just kind of silly things like that because at the end of the day, I feel like college is a time where you can experience new things," said Isaiah, who will study engineering at UCLA where we're sure he'll make his mark just like he did at FUHS.
And, thanks to Isaiah, I'll end the year with an A in Algebra 2. I couldn't have done it without him.
Click below to see slide show of senior Isaiah Ervin's 10th grade group project
Managing editor Reagan Glidewell contributed to this story.