Coming off of a 18-0 win against La Habra on Thursday, the girls tennis team (9-2, 2-2) will travel to Buena Park on Oct. 3 for its fifth league match of the season.
The Tribe also had a 13-5 win against Sonora on Tuesday. 
The Indians had a 7-11 loss against Sunny Hills (7-1, 3-0) on Sept. 22. 
Junior Abigail Kelly, sophomore Kate Luengo and freshman Hailey Kwok beat Sunny's singles (6-0, 6-2, 6-3), giving the team 3 points and a chance for the doubles to pull the win. However, the doubles team only won 4 of 9 sets played, ensuring the loss.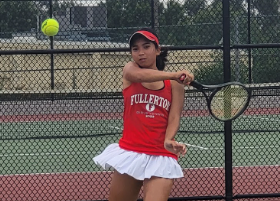 The team traveled to Troy on Sept. 20 for its first first league match; however, they lost 10-8. In singles, Kelly and Luengo scored two points for the team.
Luengo said that the team has made significant progress since summer, setting them up well for the season.
"We were not that confident at first before the preseason started because we lost a lot of varsity seniors. But we all worked hard through the summer. People that were in JV who moved up, they really deserve to be in varsity," Luengo said. "Even if we don't win league finals, our hard work and all of the fun has been an amazing experience."
The Indians went undefeated for all of preseason.
Double teams won all 9 sets played against Brea on Sept. 14. Christina Sfatcu and Rebecca Balarie (6-0, 6-2, 6-2), Nicole White and Bonnie Lynch (6-0, 6-2, 6-2) and Amber Elomina and Francine Bondoc (6-1, 6-3, 6-0) all won their sets. Kelly (6-3, 6-0, 6-0) won all three sets, and Luengo (2-6, 6-2, 6-0) and Kwok (1-6, 6-1, 6-0) won 2 of 3 sets.
Luengo said the team gained significant experience during the preseason, especially for the newer players on the team.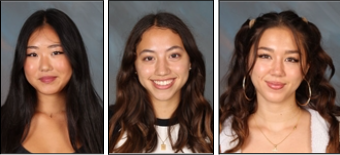 "Simply knowing how to keep score is really important. It is something that you just need to practice, just like we've been doing through games," Luengo said. "I do think our first week of the season will be especially rough to balance. But through preseason, through our success, we've gained a lot of confidence as players, especially the JV players who haven't played many tennis games."
The girls tennis team had an 11-7 win against Walnut on Sept. 13. For singles, Kelly (1-6, 6-1, 6-0) Luengo (0-6, 6-0, 6-1) and Kwok (0-6, 6-2, 6-4) won two of their three sets. Doubles teams Amber Elomina and Francine Bondoc (7-6, 7-6, 4-6) and Christina Sfatcu and Rebecca Balarie (2-5, 6-0, 6-2) also won two of their three sets.
Despite having to forfeit two matches due to injury, the Indians had a 15-3 win against California High School on Sept. 7. Kelly (6-0, 6-0, 6-0) and doubles team Sfatcu and Balarie (6-0, 6-0, 6-0) both had perfect games. Kwok won 2 of 3 matches.
Sfatcu and Balarie won all three sets on Sept. 5 against La Serna. The Indians won 18-0 against Western on Aug. 29. All of the players won all of their sets.