As a World Schools debater, senior Audrey Bae needs to research everything from the influence of TikTok to the need for marginalized people to secede from their oppressive governments. In fact, Bae researched both pop culture and secession policies in June when she traveled to Phoenix, Arizona for the National Speech and Debate Tournament. Bae, along with her four debate team members from Los Angeles schools, captured the Championship Title for World Schools debate.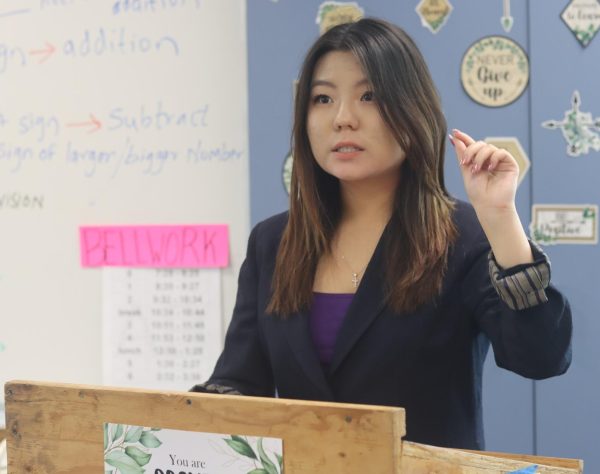 State speech and debate events are organized by counties. However, national events are organized by district. Making things even more complicated, Fullerton (an Orange County school) belongs to the West Los Angeles District. 
Very few students in the West Los Angeles District have participated in the international category called World Schools. Alex Lee, a student from Harvard-Westlake, got permission to form a team of students from any West Los Angeles District school. When building his roster, Lee invited Bae, who was the state champion in Lincoln Douglas debate her sophomore year. The team, called the West Los Angeles Violets, is pretty much an all-star team for debate consisting of four students from Los Angeles schools and Bae from Orange County.
Bae worked with her teammates Cammie Hong from La Canada High School, Mihika Chechi from Burbank High School, James Miller from Westlake High School and Alex Lee. Together the whole team combined their expansive knowledge of world policy and high-level literacy to create round-winning speeches to read in the final round.
World Schools Debate has multiple motions at a time that can either be decided an hour before the round or prepared for weeks prior to the tournament. In the final round, the Violet team proposed the motion that "This House supports a people's democratic right to secede."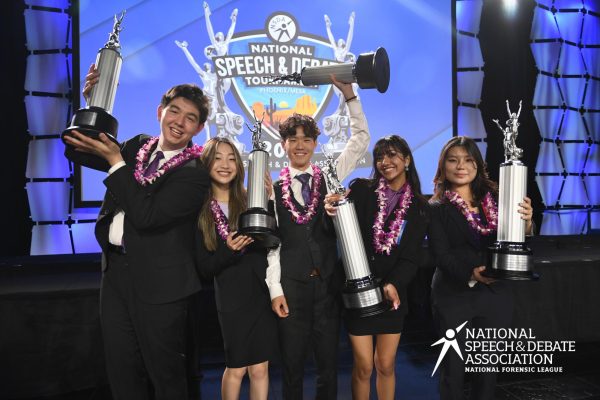 Bae says that in rounds, she aims to promote arguments that help minority groups who are often forgotten. So once she heard the motion she immediately decided that in order to properly debate the topic they had to advocate for retribution for groups who had injustices occur against them.
"When we look at the core genesis of humanity, there needs to be a moral compass to dictate right and wrong and that means any sort of principle argument that we make should come as a priority," Bae said. "That's why we thought this was the strongest argument we could make."
Bae's teammate Mihika Chechi says that their vast understanding of historical instances made coming up with examples easy.
"We got ourselves really familiar with the history behind the topic and historical information about secessions," Chechi said. " It really helped that we knew a lot of the history behind them because it wasn't too difficult to argue once we knew what the topic was actually about at its core."
To promote this argument, Bae wrote of examples that ranged from Czechoslovakia's Velvet Revolution in 1989 and workplace violations against minority workers to show that secession provides agency for wronged groups. 
"So things like, if there's mass incarceration without trial, citizens are threatened by the state military, citizens are starving and they're not being provided welfare by the government, or if there's a cultural disconnect states should be allowed to secede," said Bae. "So when Czechoslovakia became Slovakia and the Czech Republic there was a cultural disconnect and they should have the right to be able to break apart if they don't identify with it."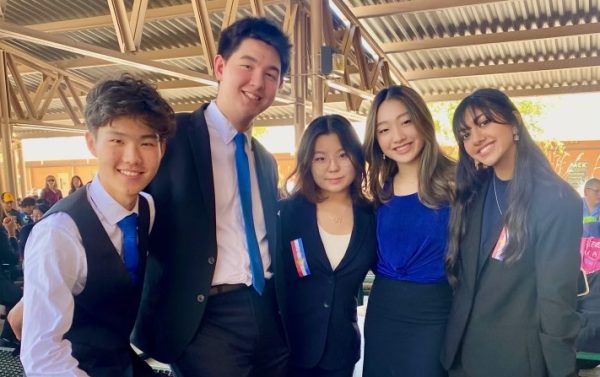 Ultimately, the collaboration of persuasive speaking from the speaking team and intensive preparation from the writing team proved to be successful. Not only did the Violet team win, but it was nearly unanimous with a 12-1 decision. 
While Fullerton High School has a history of qualifying and excelling at the National Tournament, the win was unprecedented. This year was the school's 23rd year in attendance at the tournament. In the past, there have been numerous students who have "broken" and made it past the preliminary rounds at the tournament but only Bae has won it all. 
This year, the success has already continued. Last weekend, Bae competed at the Chuck Ballingall Memorial Invitational with her Violet teammate James Miller and was undefeated, winning the whole tournament. 
This weekend, Bae will compete at the Jack Howe Invitational in Long Beach with the Violets aiming to continue their streak of success for the rest of the season.
Watch the Final Round here: