Boys water polo
By Josie Lee
The boys water polo team beat Sunny Hills 13-9 on Wednesday. Junior Owen Coulombe scored 6 of the 13 goals. Sophomore Brandon Fan had 3 goals; senior Joshua Reed and junior Justin Pearson each had 2 goals. The win would have been by an even bigger margin, but coach David Bock gave his second-string bench more playing time the final five minutes of the game.
The Indians will be looking to stop Sonora's junior setter Noah Samanta in its game against the Raiders Oct. 4. Sonora lost to Sunny Hills 15-6 this week, but Samanta had two goals and is Sonora's most consistent player.
Sophomore Brandon Fan said the entire FUHS team is talented. "We can pass fluidly," Fan said. "Instead of looking for a dominant player, it's nice to know I can pass to any player. They're all strong."
The Indians lost their first league game 14-8 against Troy on Sept. 20. The Indians traveled to Whittier High School on Sept. 8-9 for their first tournament against Los Ojos, Whittier, Walnut, and St. John Bosco.
The Tribe had a 9-8 loss against Los Ojos, an 11-9 loss against Walnut and a 2-1 loss against St. John Bosco. However, the Indians had a 12-7 win against Whittier. Fan said the close games in preseason were a good warm up for league play.
Coulombe and Pearson each had five goals in their 13-7 win against Glendale on Aug. 22. Fan, Reed and senior Christian Lawson each scored one goal. Senior goalie Josiah Jessup had nine blocks against Glendale.
Reed had three goals in the 11-7 loss against Rancho Cucamonga on Aug. 31. Pearson followed with 2 goals. Lawson and junior Maurice Huy had one goal each.
Girls Golf
By Flora Nishigawara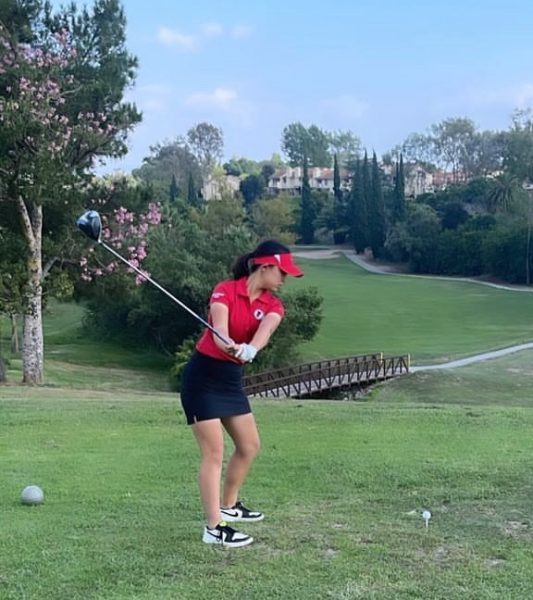 The girls golf team (2-3) will travel to La Mirada Golf Course on Oct. 3 for its match against Sunny Hills (4-1). The varsity team lost against La Habra on Sept. 21. 
However, the Indians secured a win against Sonora on Sept. 19. Sophomore Emily Kim was the medalist in the game against Sonora, with the best score out of both teams.
The Indians lost their first two league games against Troy and Sunny Hills.
Varsity captain, senior Amaya Moreno has been on the golf team since her sophomore year and has noticed an improvement in her teams' overall skills. 
With the addition of two new players, freshman Olivia Woo and sophomore Emily Kim, the Indians have shifted from a team that only joined for PE credits to a team that wants to improve. Woo is part of the 6-person line up on the varsity team, and she has been playing golf for 3 years. Woo said that the team has great chemistry.
"I came into the team not knowing anybody and the team chemistry is definitely a good match," Woo said. "We're not one of the best teams in the league, but we're definitely working hard and improving a lot."
Football
By Dante Diaz
Going into Friday's first league game against Troy, the Fullerton football team will be missing wide receiver Henry Pillon who tore his ACL during the summer. But the Indians have a backup plan: fill the roster with eight baseball players to replace those who graduated or have gotten injured.
Junior Zachary Fany played his first high school football game against Santa Fe on Sept. 8 and scored a touchdown in the fourth quarter. Fany successfully ran 80 yards while his team held back the opposing team.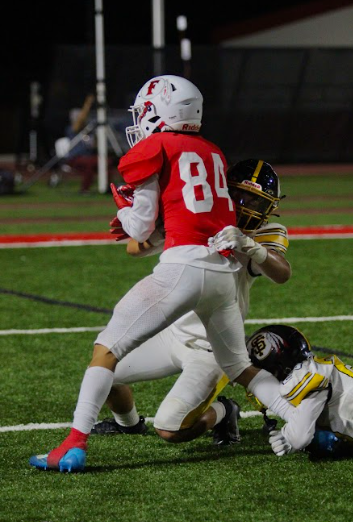 On Sept. 15, the Indians faced Brea Olinda (4-1) and lost 35-26. Seniors Deshawn Cobbs, Dallas Padron, Malachi Meni and Niko Mendez all scored touchdowns. 
In the first preseason game on Aug. 25 against Whittier (1-5), the Indians won 28-0 with three touchdowns from Cobbs and one touchdown from senior Ben Chacon. 
The FUHS football team will play host to Troy for its first Freeway League game Friday. 
 Both teams have the same winning percentage of .400% and the same pre-season record of 2-3.
Senior Aidan Zavala said that the team is prepared for a high-scoring game. "It's really going to come down to who's defense can stop the offense first. As long as we can contain them from scoring, we should be fine," Zavala said. "I definitely think we'll get top three in the league and go to CIF this year. Our preseason record doesn't show how good our preseason actually went. We had some players out for a few of the games but everyone's back and healthy now."
For Pillon, the season will be watched from the sideline. Pillon tore his ACL this past summer and will miss his senior season. 
"This year is going to be our year. We have a lot of seniors and I was really excited to play this year but there's nothing I can do about it now," Pillon said. "I just have to move forward and focus on getting healthy."
Girls Volleyball
By Audrina Quinonez
Due to an increase in injuries among players, the girls volleyball team has struggled this season. Multiple starters such as seniors Noah Chung and Sofia Camargo have been benched due to their injuries which has forced the Indians to change line-ups and formations.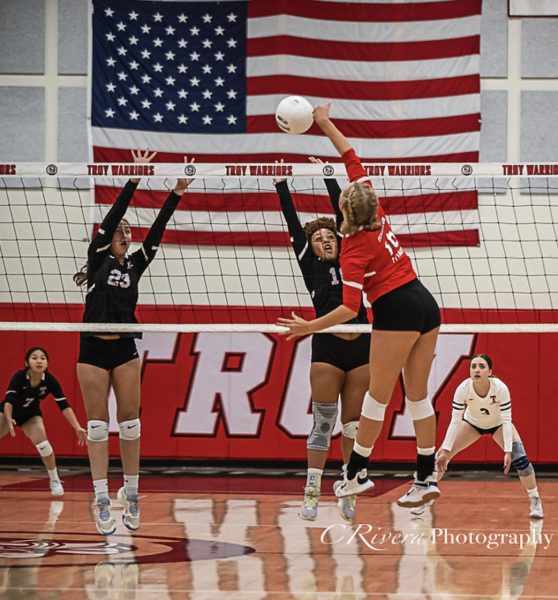 Chung said that she struggled with a serious knee injury during the summer season. "One of the summer league tournaments, [junior] Christina Kharrat and I were going for the same ball and her knee went into mine," Chung said. "My knee bent inwards and I couldn't walk after that. It took me about a month to recover."
Chung said that she has been wearing a knee brace to help keep her knee steady. "I had to wear it in my sleep too because I couldn't bend my knee," Chung said. "[The doctor] said that after I am out of the brace, I need to wear a compression sleeve."
There have been multiple injuries, some more serious than others. However, each injury has contributed to the Tribe's losses. Senior Demaris Delgado said that the team's injuries may have to do with their training.
"I feel like everyone's pushing themselves because everybody here is passionate about the sport," Delgado said. "I just feel like everyone is going a bit too hard on it."
Despite the injuries, Delgado said that the Indians have a solid connection and continue to work as hard as they are able.
The Indians (0-4) will face the Warriors (2-2) on Sept. 28 for their second match against them.
Sports Editor Ella Kirby and Editor-in-Chief Reagan Glidewell contributed to these stories.