The last few days to catch Taylor Swift: The Eras Tour Movie are upon us. It's leaving AMC theaters next week. What? You haven't already seen it? What's wrong with you?
"I don't like Taylor Swift," you reply?
Again, I say, "What's wrong with you?"
You don't like Taylor Swift? So what! See this movie anyway! You have a three-day weekend! What else are you going to do? Taylor Swift: The Eras Tour Movie is three hours of pure joy. What? You hate smiling? Okay. You win. Go see Killers of the Flower Moon for 3-plus hours instead.
Maybe you reply, "I already saw Swift in concert."
"So what?" I say. "I've seen her live, too, and I'm still glad I saw this film."
When my friend Sofia, her mom, my mom, and I attended the Eras tour in August at Inglewood's Sofi Stadium, we had stage right nosebleed seats. We could see the catwalk but not the stage. 
We experienced almost the entire production through a video screen. And it was still awesome. Being in a room with her 70,000+ Swifties just like me made me feel as if I was part of one, very large community. Though I couldn't see too well being able to sing and dance with the crowd made up for the lousy view. 
But this film allowed me to really see, not just hear, the concert. The film made clear Swift's various eras in a way that my live experience didn't, so the film might clarify things for you, too, if you had seats like mine. (It really was Swift twirling in her cowgirl boots during "Fearless" and not just some dot-sized figure on a faraway stage.) Further, the film really makes you feel like Swift is singing these songs for you, that she plucked them from her catalog because she somehow saw you—you special Swiftie—out there in the AMC Imax theater.
Taylor Swift has had a huge impact on my life. Hers is the soundtrack to my mildly tumultuous girlhood. Swift reminds me that I'm not alone in my tangled feelings. For me, Eras was three hours of big screen nostalgic escapism–I was 6 again, dancing to "You Belong With Me," and, finally, absolutely not worrying about college.
When she was performing her concert and as I was watching the film I was journeying through her many eras but it was a tour of the eras throughout my life as well. 
Throughout my life Taylor Swift was always an artist I could come back to for comfort to the tribulations of growing up. There was something so calming and therapeutic to hear her country twang in "Picture To Burn" or her poppy dance tunes like "Shake it Off". Even as a junior high student, a young Evelyn would religiously listen to her Reputation album along with my more "emo" Panic! At the Disco.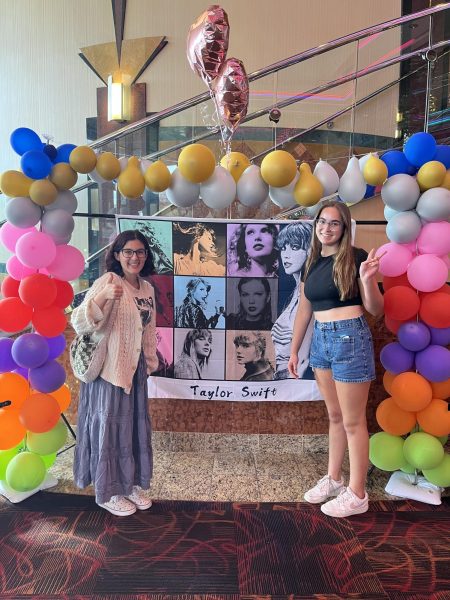 Taylor Swift, though my interest came in waves, was always someone I loved. It wasn't until during 2020 when I became obsessed with her again. 
I thought when I was little I had a strong love for Taylor Swift, but nothing compared to this. It was like she sang what I was thinking, especially when the world was shut down and all I had was time to think. I would listen to people on TikTok analyze the complexities and beauty of her music from her newest songs like "illicit affairs" from Folklore or even back to the oldies like "All Too Well" from Red. 
Her music traveled with me throughout high school, I had friends who loved her as well and we bonded instantly, talking about our favorite songs and albums because of just the sheer number of albums she had, I always got a different answer. When her most recent album, Midnights, came out, I got invited to a listening party with my friends that consisted of pizza and homemade chocolate cake. 
Hearing these songs performed in the movie brought me back to two very distinct stages in my life: my elementary school self and my COVID self. Hearing the opening lines to "22" from Red I was transported to my 2nd grade self who would wear denim shorts, a white t-shirt, and a fedora (because it was the best I could do without a wide brimmed hat) and claim that I was just like Taylor Swift. That song, which was so simple, was something that I screamed along to when I was 8 and now 17 at the concert and the theater. 
The other phase of my life was also satisfied when listening to her more indie songs. Her Folklore and Evermore set from the concert and from the movie reminded me of being locked up at home during COVID, having nothing to do but watch TV, read, bake, and most importantly, listen to music.
While I was searching for new things to listen to I decided to give Taylor's new album a try, what did I have to lose? When I placed my earbuds in and pressed the first song from Folklore I was transported away from home into the story she was telling through this album. I got to see her perform "Last Great American Dynasty" live and in theaters as she chronicled the story of the house in Rhode Island she used to own. Seeing her tell that story through performing it made me completely understand the song rather than just listening to it in the confines of my own home. 
But you don't have to be a teenage girl who's always loved Taylor Swift to like Taylor Swift or to enjoy Eras. With the wide range of emotions she covers, there's a Taylor Swift for you. That's what's wrong with you: You haven't found your era yet.
Tickets to Taylor Swift: The Eras Tour Movie are about $20. Shows at the AMC on Lemon in Fullerton are Nov. 9 at 1:40 p.m., 4 p.m., and 9:30 p.m.; on Nov. 10 at 12:15 p.m., 4 p.m., and 8 p.m. and Nov. 11 at 4:45 p.m. and 8:45 p.m. There are also shows at the AMC at the Outlets at Orange.