The boys and girls cross country teams will travel to CIF Prelims at Mt. Sac on Nov. 10, the second year FUHS has sent both teams to the championships.
Senior captain Reagan Glidewell said that the girls team hopes to make history, sending the first girls team to CIF Finals on Nov. 18. In order to qualify, the Indians must finish fifth in their heat of 13 teams. 
Last year, the top four teams moved on to CIF Finals, and the girls team tied for fourth. The top 5 of the 7 runners score; however, because the two teams tied, it came down to the sixth runner. The Indians sixth runner finished behind the opposing team's sixth runner, so they did not move on.
"We nearly qualified for finals, and we weren't even supposed to be close. We were ranked much lower, and I do feel our team is in better shape than it was last year," Glidewell said. "We do have a few athletes struggling with injury, so it is all going to come down to getting healthy and staying healthy."
The Indians competed in the Freeway League championships on Nov. 1 hoping to secure a spot for CIF and to have a first place sweep for the girls team. Both teams secured their CIF bid; however, they were not able to pull off the win.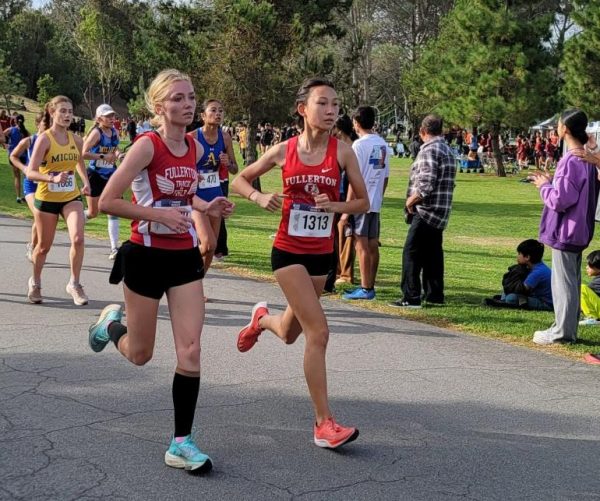 The girls team finished second to Troy by 14 points. Leading the girls was 4-year varsity runner Morgan McAndrew in third with a time of 19:37. Behind her was a pack run of Fullerton runners, Glidewell in 11th (21:02), sophomore Sofia Tabbal in 12th (21:05), freshman Azumi Fuertes in 13th (21:10), and sophomore Melina Sibal in 14th (21:13).
The boys team finished in third. Leading off the guys was junior Jack Golla finishing in 16:20 for a second place finish. Following him was senior Maximilliano Olivares in 14th (17:13), sophomore Jude Banda in 16th (17:25), sophomore Anthony Benedetto in 19th (17:30), and senior Nathan Karcher in 21st (17:58).
Glidewell said that originally the team took the loss hard, as its goal throughout the season was to be the first FUHS girls team to win the Freeway League championships. However, Glidewell said that the team has taken the loss as a learning experience.
"One of our captains from last year used to always emphasize the importance of finding passion and gratitude in every part of this sport, even times like this when you feel really disappointed. I have really tried to take that mindset on and remind the team of this," Glidewell said. "Yes, we didn't have the race we wanted, but it doesn't determine our season as a whole. None of us have to be on the team and put in the work. We get to be on the team and put in the work. And we love it. That is what I am proud of, not the points or the placings. Sure, that's a plus. But the work we put in, the growth, the passion we have for this sport, that's what matters."
Glidewell said that the second place finish is due to the team's shift in mentality starting her sophomore year. 
"Last year's success with our boys snatching the league title and our girls jumping from fourth to second was a huge indicator of what we could do this year. Seeing the shift that we've seen, it makes us want it so much more," Glidewell said. "Two years ago we were a fifth place team. We were all so excited that we didn't get last. And now we were fighting for first place in the league."
The Indians traveled to the Orange County Championships on Oct. 14 where both the girls and boys took home trophies for their first and second place finishes.
The girls cross country team smashed the precious school record team time by 3 minutes with its 97:49 team time. Leading them off was McAndrew's fourth place finish (18:36). Close behind was Glidewell in seventh (19:14), beating her previous personal 3-mile record by 46 seconds. Right behind her was Tabbal in eighth (19:33), Sibal in 15th (20:12), and freshman Ella Casto in 17th (20:12).
Glidewell said the girls' success at the meet was surprising and a significant confidence boost for the team.
"I don't think any of us medaled besides maybe one person [last year]. To compare that to this year when our team, everyone on our varsity team got a medal, and pretty much swept the competition, it's so special," Glidewell said. "It's a testament of how important it is to trust the process and trust your coaches."
Finishing first for the boys was Golla in third with a time of 15:41. Following him was senior Alejandro Hernandez in ninth (15:51), junior Ryan Leitner in 32nd (16:35), Banda in 33rd (16:36), and Karcher in 35th (16:42).
The cross country teams traveled to Clark Park on Oct. 4 for its second league cluster.
The girls team pulled off a 3-point win over Troy despite missing two of their previously top-scoring runners. All of the scoring runners finished in the top 20. Finishing first for the girls was McAndrew in second with a time of 19:45. Behind her was Glidewell in eighth (21:14), Tabbal in 10th (22:03), Sibal in 11th (22:08), and sophomore Darelys Rizo Roman in 14th (22:15).
The boys team finished third led by Hernandez coming in first with a time of 15:50.  Behind him was Golla in fourth (16:12), Olivares in 12th (17:10), Banda in 17th (17:32), and Benedetto in 19th (17:39).
Glidewell said that the absence of their top runners made the team realize they need to be able to be flexible and confident in their abilities.
"That's something as a team we do need to work on," Glidewell said. "If we have two of our girls out, we need to be comfortable saying, 'okay, we're going to move two girls up, but we're fine.'"