Senior becomes hit promoting school spirit through Tik Tok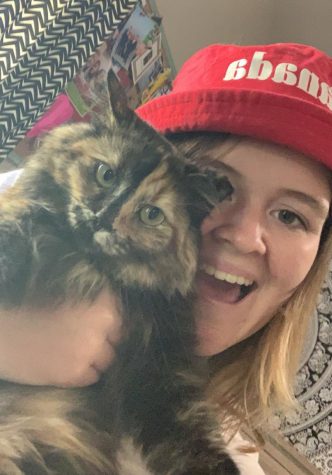 "The Nights" by Avicii plays in the background as Fullerton players break through butcher paper and sprint onto the field. ASB members and football players cruise down to the beach. Junior Zoey Afram and senior Brooklyn Campbell sumo wrestle at an assembly. 
And all this school spirit is encapsulated into one 15-second video created by senior Gwen Gonzalez through the social media app Tik Tok. 
As ASB senior class president, Gwen has been able to create about 25 videos of school events and add a little flavor and hype to make them more fun. 
In addition to building school spirit, Gwen has also managed to build a massive following—over 26,000 followers. 
"I thought it was just like people recording themselves singing and doing weird dances but it's so much more than that. Tik Tok is a community," said Gwen, who is also the ASB Commissioner of Student Activities.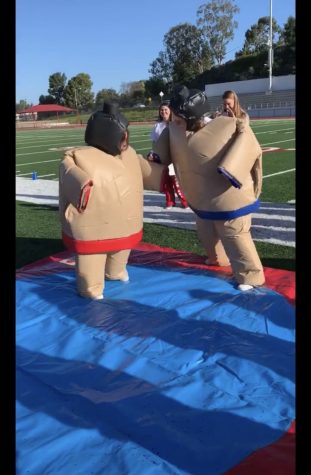 Another video of hers captures the class of 2020 celebrating the takeover of senior corner in all of their Hawaiin garb and gear. Hawaiin Rollercoaster Ride from the movie Lilo & Stitch plays while Stephen Gialamas—decked out in Hawaiin shirt, straw hat, swim goggles, lei, and inflatable tube—dances the hula with his friends. Brooklyn Campbell and Ashley Thibideoux bust out a few moves as well. Katelin Chavez and her friends hit the woah while Nate Chong follows behind, hitting a beach ball in the air. The clip ends with a group shot of all the seniors celebrating the beginning of their last year of high school.
"Honestly it's a lot of pressure because I'm constantly saying to myself 'I need to make more videos' and 'I need to keep my followers up,'" Gwen said. 
Gwen's fame is consistent with the growing popularity of the app Tik Tok itself. More and more people are making Tik Tok accounts, whether to create videos or browse those of others.
Senior Sydney Basham has had a Tik Tok account since 2015 and has observed the changes in the culture and general content of the videos in recent months. 
"It started out as a joke and then some people were getting clout and now everyone wants to be Tik Tok famous," said Sydney, who has made hundreds of videos over the years, ranging from lip syncing, to singing original songs, to telling jokes and memes. 
Tik Tok's popularity is still growing and doesn't seem to be stopping any time soon. Even so, it is difficult to say if it will stay that way or if this is just a trend that will eventually fade out.
"I don't think it's going to become a normal social media but I also don't think it's going to be a quick phase," Sydney said. "I don't think it's going to become like an Instagram or a Snapchat, but I think it will last for a little bit."
For now, Gwen Gonzalez isn't worried about the app's future. She's going to celebrate FUHS school spirit the best way she can. One of Gwen's most recent Tik Tok videos shows campus police resource officer Brandon Ramek cheerleading at the Military Night football game against Santa Fe.
And, after all, isn't promoting school pride what social media should be about?
Follow Gwen on Tik Tok @gwengonzalez4