Principal Rubio reveals plans for new FUHS gym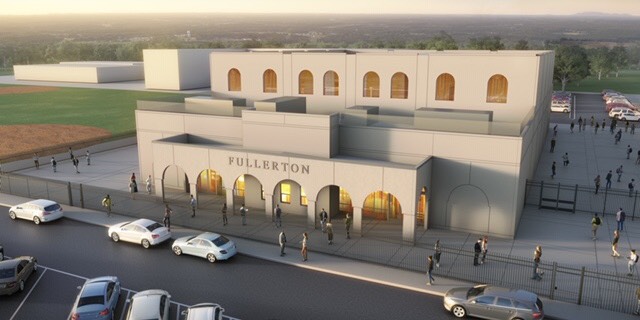 By Nathan Smith, News Editor and Cyrus Burton, Reporter
September 25, 2019
FUHS Principal Laura Rubio recently revealed the first images of the concept for the new gym. The gym will be built on the Lemon parking lot with updated systems and architecture. 
State inspectors condemned the old gym for not being structurally sound last year.   
"Our old gym was built in 1927, before any blueprints or earthquake regulations were put into place," Rubio said. "Inspectors determined that the building was unsafe and had to be closed down for student safety."
Construction will begin once plans are approved by the state. The Lemon parking lot will be closed during construction.  
The gym was one of the biggest parts of the school's history so building a new one with a similar look was a main concern. 
Rubio said she believes that the gym couldn't be a blocky structure and should reflect the mission-revival architecture of the school. 
"What we are known for on this campus are our archways. Through Plummer, and even over by the cafeteria, that's really who we are as a school," Rubio said. 
The new gym is also being fitted with all sorts of new technology to benefit students attending assemblies or playing sports. It will have air conditioning, a high-level sound system,  big-screen TVs, and an upgraded snack bar. 
The old gym on Pomona Avenue will eventually be demolished and the space will be repurposed. As of now there is no plan for what will go there. 
"We have the opportunity to look at what we want to do with that space," Rubio said. "The district is really looking at how we can best use our limited space now that we have an opportunity to shift some of those buildings around."
Fullerton officials do not have a projected time frame for the completion of the gym as the plans have not received approval from the state.
Sonora High School recently opened its new gym which began construction in March 2018. The new Fullerton gym will be smaller than Sonora's but will have a different facade and exterior design. 
Social studies teacher Sharon Hollon knows how tough it is on athletes who don't have a home gym. Hollon's son Will was a senior basketball player last year but was unable to finish his season in the FUHS gym. 
"I'm sad for the kids who are going to miss the opportunity to play in a home court," Hollon said. "It's really unfortunate that we don't have our home court with our home colors."
Despite the wait, Hollon said she is excited for the new gym to be built and all the new opportunities it will bring to students. 
"I look forward to seeing it and being able to cheer for the Fullerton Indians one more time in a brand new gym," Hollon said.