The Politician premieres Sept. 27 on Netflix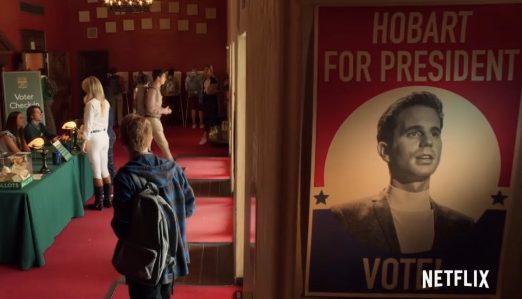 The old Spanish architecture and grand arches which define the Fullerton High School campus fit director Ryan Murphy's vision for the filming of his show The Politician which premieres Friday on Netflix. 
According to theater teacher Michael Despars, Murphy wanted to use Plummer Auditorium (on the FUHS campus) previously for the filming of his hit show Glee, but scheduling issues prevented him from using it. 
"It just so happened that everything worked this year that the space was available for them to be able to book and use it for [The Politician]," Despars said.
 As payment for using Fullerton Union High School as a film set, the school received about $400,000 for future renovations to improve the school's facilities and benefit the surrounding community. Purchases with the money include softball field renovations, two-way radios for the entire staff, new fencing on the utility field facing Lemon Street and new orchestra seating in Plummer Auditorium. Some future projects that will be funded with this money are shade for the lunch area near the 140's building, touch-ups on the Plummer mural and directional signs around campus. 
While the school undoubtedly benefited financially, students also gained insight into the professional filming process. Students saw first hand the time, effort and crewmembers needed for a successful production.
 The IB Theatre students had the privilege of meeting The Politician star Ben Platt when he came to visit them during class.
"We were all hanging out in the classroom, ready to start class, and [Ben Platt] walked in through our set, and sat in the rocking chair that was on set for the play we were directing at the time," Despars said.