Cross country succeeds despite small numbers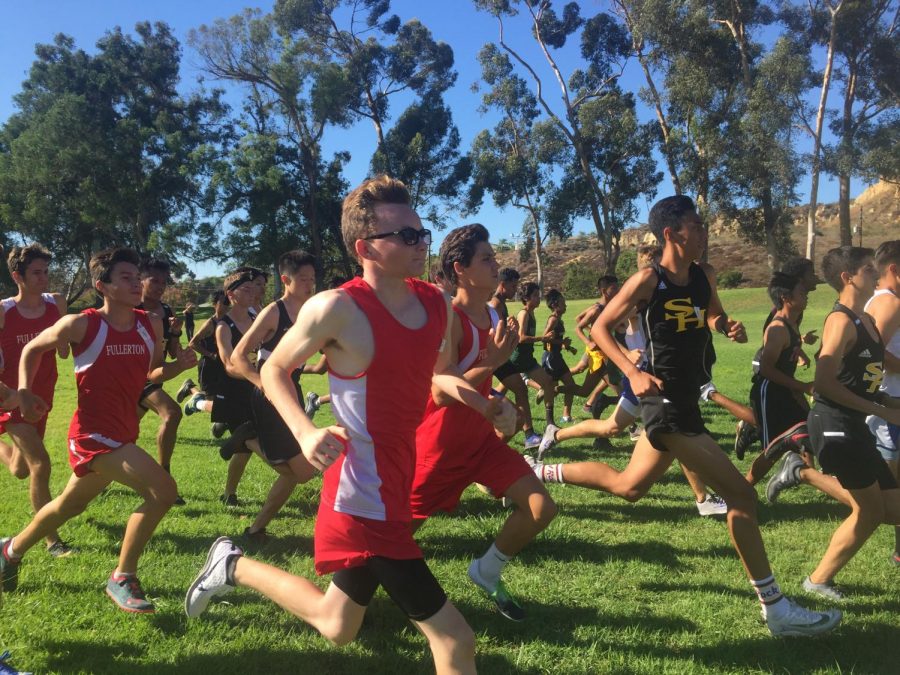 Nathan Smith and Cyrus Burton
October 3, 2019
The FUHS cross country team will travel to Ralph B. Clark Regional Park in Buena Park on Wednesday for its second Freeway League cluster meet. The Indians will run against all five of the other Freeway League teams.
Sunny Hills' top runner Zachary Gomez (15:22) and Troy's Jacob Shirota (15:38) will be the ones to beat. The Indians aren't posting top times, but the team has a consistent middle with multiple runners under 19 minutes. 
The team has struggled to recruit enough runners this year. The average size of a cross country team in the Freeway League is about 50 to 60 runners. Fullerton's team has eight girls and 15 boys, a total of 23 runners. 
Despite their small number, the Indians feel positive because each runner is posting personal bests. Coming in last many times in years prior, the team is hoping to break its losing streak. 
Freshman Carlos Martinez has been running varsity times and practices since he joined the program and says he feels strongly about the spirit the team brings. 
"Everyone's really close because there's not a lot of people and everyone knows each other," Martinez said. "Everyone motivates each other to be better."
Junior Max Maggio has risen to varsity level based on his success in training over the past year. 
"We're improving a lot, we're getting results, and you can see it," Maggio said. "I'm just trying to be the best that I can be." 
At the Woodbridge Annual Cross Country Classic on Sept. 20, junior Cyrus Burton ran a time of 17:37. This marks the first time in three years a Fullerton runner has run under 18 minutes.
Much of this success has been attributed to the new coaches, Angelica Garcia and JD Krawczyk. The coaches have overhauled the training program and have been helping all runners achieve their best. 
Garcia, who teaches history at Fullerton, ran cross country for Fullerton in the early 2000s and her love for the sport has helped the girls team thrive under her coaching. Sophomore Hannah Torres says she has felt the benefits of Garcia's coaching in her running career.
 "She makes it more specific to team members and how they're working, so we can work on what we need," Torres said. "I feel like they're really pushing us."
Krawczyk has pushed the boys team into a much stronger position than they were previously, with longer distances and harder workouts. Maggio says that Krawczyk has been a real help pushing him to do his best. 
"Coach K. gets good results, but he's not extremely hard on us or strict," Maggio said. "He's maintained a sense of calm for the team."