Fall sports advance to CIF, finish seasons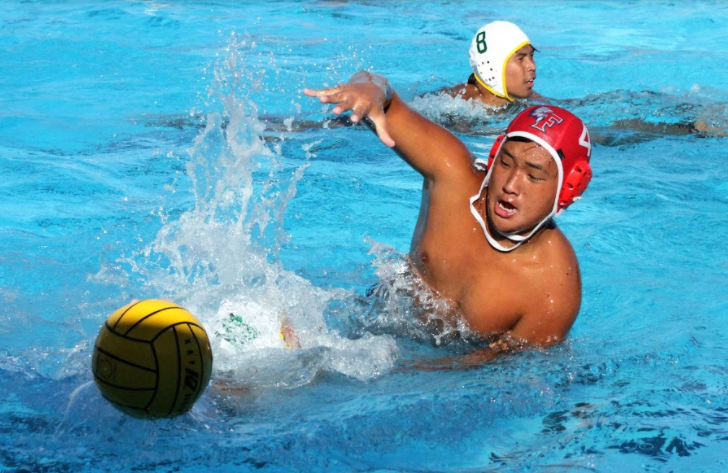 Boys water polo team makes history with CIF qualification
By Rachel Koo
After a highly successful season, the boys water polo team qualified for CIF for the first time in 10 years.
The Indian's young team faced a deep line-up of Chadwick High School seniors and after a strong fight lost 16-6, cutting their CIF season short.
"Chadwick should probably be Division 3 instead of Division 4," said sophomore Aiden Ricklef. "I won't be surprised if they win the Division 4 Title."
Co-captain Mack Woolery is proud of the team's accomplishment after facing tough losses since his freshman year.
"Last year we tied for last place and it's especially cool that we made it into CIF my final year," Woolery said. 
In League play, one of the bigger wins was a 17-8 victory against Sunny Hills on Oct. 16.  During the first quarter, Junior Nick Osborn was able to secure a goal despite being double teamed. Later in the game, with junior Aidan Garcia's assist, junior Derek Johnson was able to score a goal.
Senior Wyatt Logan kept the goal guarded the majority of the game and successfully deflected six of the goals attempted by Sunny Hills.
Football team to travel to Long Beach for CIF game 
By Michael Ureno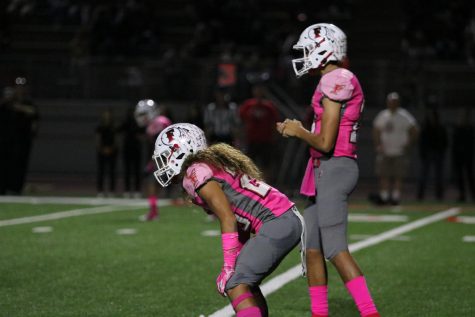 The Fullerton Indians (6-4,3-2) beat Buena Park (1-9,0-5) 20-12 in their final league game of the season. 
The Indians took third place in the Freeway League and will face Woodrow Wilson (9-1, 5-1) tonight in Long Beach for their first game in CIF. 
Juniors Donavan Price, Dylan Neal, Jake Romero and Hudson Chacon will look to play big roles in tonight's game.
Woodrow Wilson quarterback Ryan Pettway has lead the Bruins to a 9-1 overall record and second place in their league. 
"Sophomore Brad Cosas a defensive end averages a sack a game" FUHS coach Richard Salazar said. "Junior middle linebacker Matt Galvan has also been playing great."
Girls tennis team wins CIF matches
By Alexandra Williams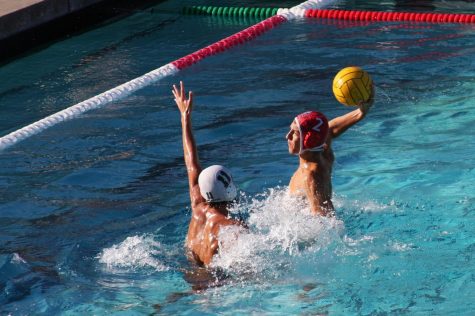 The girls tennis team will play its third CIF match Friday at home against Jurupa Valley High School.
The Indians won their first CIF match on Tuesday against Whittier High School with a score of 14-4 and continued their winning streak on Wednesday with a score of 10-8 against La Quinta High School. 
Eliza Lynch, Lillian Kelly, and the doubles team of Abby Lynch and Dalia Eldjoundi won all of their sets and contributed nine points to the score. The doubles team of Gabby Ilioi and Jade Sheridan won their final match, solidifying the win for FUHS.
Students to try out for FUHS's first boys volleyball team
Athletes who have finished their fall sports schedules are invited to try out for the boys volleyball team on Wednesday,
Nov. 6 at Fullerton Free (EvFree) Church. The bus will leave the Lemon Street parking lot at 1:55 p.m. and will return at 3:15 p.m.
Students not currently enrolled in 6th period sports, can try out for volleyball on Monday, Nov. 18 at Sonora High School.
Golf team sends girls to individual finals
By Betsy Barreto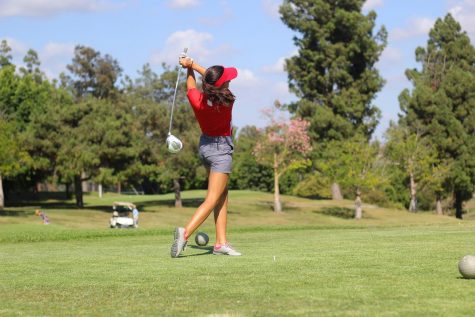 The girls golf team ended its season at the Freeway League Girls Golf Individual Championships. Fullerton sent juniors Alyssa Vasquez and Emily Friedrich as well as sophomore Taylor Frank to compete at the championships. Vasquez advanced to the second round, played 10 hours of golf in one day and finished 14th among 40 golfers.
On Oct. 17, the team had a 246-289 win against Buena Park. Emily Friedrich had a low round score of 44 and lead the girls to victory.
Cross Country finishes season
Despite finishing last in the Freeway League, the FUHS cross country team has shown significant improvement over the course of its season. Many runners have improved their times by a large margin.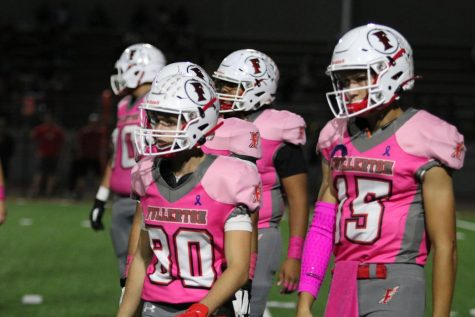 Season highlights for the boys include sophomore Matthew Abernathy and juniors Cyrus Burton and Chris Perez running personal bests under 18 minutes. Junior Nathan Smith and freshman Daniel Frausto and Carlos Martinez ran personal bests under 19 minutes, and juniors Max Maggio and Jeffery Ilerne ran personal bests under 20 minutes. 
The girls team also ran hard and improved their times over the course of the season. Junior Alexandra Williams was the top runner for the girls, running a personal best under 21 minutes. Freshman Elizabeth Arcos was the only girl on the team other than Williams to run under 22 minutes. The other five girls on the team ran between 22 and 24 minutes.