Thank You, JROTC
Students enrolled in Fullerton's JROTC are taught to be tough. To be resilient. To be disciplined.
But after spending an entire day at a recent competition with the JROTC team, I learned that this team is so much more.
I was invited to watch the FUHS Cadets compete at the Spartan Obstacle Course at the naval base in Seal Beach on Dec. 7, along with reporter Alyssa Campos.
I arrived at school at 6:15 a.m. Tired and facing the soft morning light, I watched the cadets pack up a basic district school bus. Being an ex-cadet, it was nice to see some familiar faces.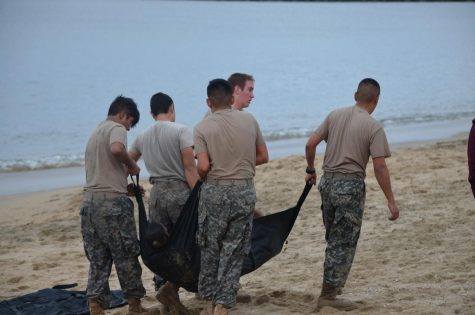 I was talking to Amanda Granados-Jurado, a junior, when she asked to see our ID's. Luckily, I had mine in my wallet. Unfortunately, because this was the first time we had heard about bringing ID's, Alyssa did not have hers.
Alyssa frantically called her grandma so she could send a picture of the ID in hopes that that would work.
On the way there, we joyfully sang "Take Me Home, Country Roads" by John Denver and "I Want It That Way" by The Backstreet Boys while others tried to catch up on the sleep they lost from waking up so early.
We arrived at 9 a.m. Our feet immediately met the cushion of sand and our eyes met a beautiful sunrise over the clear water. We set up an EZ-Up and some chairs. Each school's platoon organized themselves into one large formation of cadets and received their grading sheets. We didn't need our ID's.
The races, Spartan-Obstacle course, and knot-tying events were heavily based in teamwork. They won as one, and lost as one.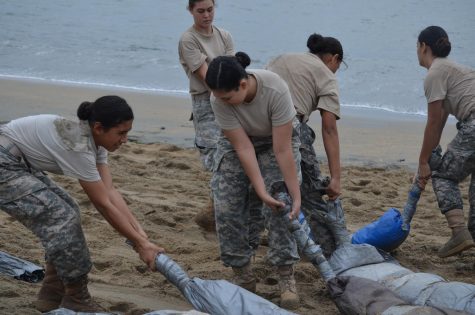 Not only were there feelings of camaraderie within the FUHS team, but a supportive community amongst competitors.
When teams from other schools raced, the FUHS cadets cheered them on.
When cadets harmlessly wrestled during their free time, everyone came together and cheered each other on. When they played volleyball, they welcomed anyone and everyone.
Alyssa and I were included in conversations and even asked to participate in their games. A sense of trust, community, and family surrounded us.
After all the challenges, the exhausted FUHS cadets decided to go home instead of watching the awards. At the end of the day, winning isn't everything.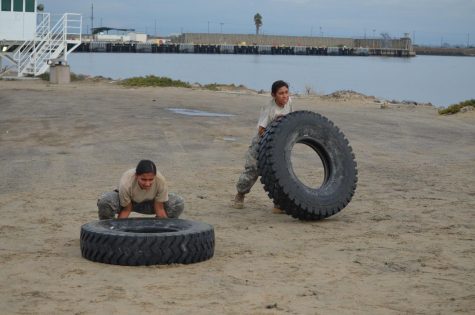 Even though I had to wake up at 5:30 a.m. to save my grade in journalism, spending the day with JROTC showed me that as long as I have friends and teammates supporting me, I am a winner. So I say thank you to JROTC for welcoming me and Alyssa with open arms and for teaching us such a valuable lesson.
Tribe Tribune reporter Alyssa Campos contributed to this story.