Tribune staff writers recommend 80s classics
Underdogs overcome bullies; teens find love

Ferris Bueller's Day Off influences later films, culture
By Nathan Smith
Ferris Bueller's Day Off was released in 1986 and has gained a reputation as one of the most hilarious movies of all time. It's remembered primarily for its fourth-wall breaking, iconic story, and excellent performances, especially by its lead, Matthew Broderick.
I've only seen this movie once, at a friend's birthday party, but I still love it to this day. Set in suburban Chicago, the film follows high school senior Ferris Bueller (Matthew Broderick), who decides to ditch school for a day. He takes his friends on adventures around town, while the suspicious Dean of Students Edward Rooney (Jeffrey Jones) attempts to get into Ferris's house and prove his truancy.
Director John Hughes described the film as a love letter to Chicago, helping to capture many of the iconic elements of the city. The showcasing of many different areas, like Sears Tower and Wrigley Field, gave this film enormous cultural significance in the United States.
In fact, Ferris Bueller's Day Off was preserved in the National Film Registry in the Library of Congress, due to it being "culturally, historically, or aesthetically significant."
Due to its popularity, the film has also been parodied extensively. There is a scene in the 2017 film Spider-Man: Homecoming that mirrors Ferris running through his neighborhood trying to get home on time, and a scene in the 2018 film Deadpool 2 where Deadpool breaks the fourth wall in a similar way to the post-credits scene where Ferris tells the audience that the movie is over.
Even Domino's had a pizza commercial parodying the film, and very often, when no one answers their questions in class, teachers will say "Bueller? Bueller?" Ferris Bueller's Day Off has affected nearly all levels of social life, cementing the film as a timeless classic.
Withstanding the test of time, Ferris Bueller's Day Off is not just a funny, relatable movie about high school students ditching school. It's an iconic piece of culture that offers positive outlooks on life in general. As Ferris himself said, "Life moves pretty fast. If you don't stop and look around once in a while, you could miss it."
Ferris Bueller's Day Off is rated PG-13 and is 1 hour and 43 minutes long. The film is available to rent for $2.99 from Amazon, and is currently available to stream on Netflix.
Reporter Lexi Ruegsa contributed to this review.
Say Anything is romance goals
By Lauren Wright
A common staple in romance movies has for decades been a boy trying to get the attention of his female love interest through her second story window. They've yelled from below, climbed the fire escape—even thrown pebbles. However, nothing compares to the classic image of Lloyd Dobler holding a huge boombox over his head, serenading his crush with "In Your Eyes" by Peter Gabriel.
In the teen romance/coming of age story Say Anything, we follow the protagonist Lloyd Dobler (John Cusack), an average student and optimist, on his pursuit of winning the heart of Diane Court (Ione Skye), the class valedictorian, following their high school graduation. It's a heart-warming tale of two unlikely people coming together in a relationship that ends up being exactly what they both need.
Watching this movie, I was reminded of the types of high school relationships that my parents have told me about. Nowadays, I see people gaining the titles of "boyfriend and girlfriend" without ever actually going on a date. We are missing all of the heart racing "will you go out with me," pick you up at 7, arm around her at the movies, walking hand in hand just talking, goodnight kiss on the doorstep type of love.
While it's my opinion that we've lost the chivalry from past years when it comes to high school dating, I do think we've made progress with representation in the media. Say Anything has a serious lack of diversity, as almost every character is white. The movie is supposed to be reflective of the average high school experience, yet the lack of diversity in the cast is unrealistic.
Despite the lack of diversity, Say Anything is a fun, light-hearted, classic 80s teen movie. I would love to see guys nowadays learn a little from Lloyd when it comes to romance.
Say Anything is PG-13 and runs 1 hour and 40 minutes. It's available for $3.99 through Youtube or Google Play.
Cult classic The Princess Bride never grows old
By Nathan Smith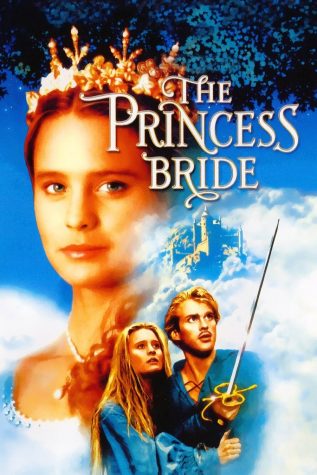 I grew up watching The Princess Bride, and it would take a rodent of unusual size to stop me from watching it again. I love this movie. Memories of sword duels, a six-fingered man, and little Fred Savage complaining about the kissing parts made me laugh and love this film even more.
Based on William Goldman's 1973 book of the same name, the film was released in 1987 and has become a cult classic. Many remember the film for its humor, and many iconic lines like "You fell victim to one of the most classic blunders!" and "Hello. My name is Inigo Montoya. You killed my father. Prepare to die."
The Princess Bride follows the stories of Westley the farmboy (Cary Ewels) and Buttercup the landowner (Robin Wright). Westley eventually leaves the farm and is believed to be killed by the Dread Pirate Roberts. Buttercup is promised to Prince Humperdinck (Chris Sarandon) as his wife, but she doesn't love him. When Buttercup is kidnapped by mercenaries, her one true love, Westley, returns, having taken the mantle of the Dread Pirate Roberts, and comes to rescue her. They must work with the mercenaries in order to defeat Prince Humperdinck and allow Buttercup and Westley to be with each other.
One of the most wonderful things that I noticed upon rewatching this movie is how it managed to balance humor and maturity. The themes of true love, bravery, and vengeance are very medieval and classical, but the humor is much more modern. Rhyming couplets, debates on word meanings, and battles of wits don't seem funny to most people, but The Princess Bride twists this around to make these encounters so much funnier.
When you really think about it, this movie doesn't feel like a stereotypical "80s movie." Sure it came out in 1987, but it has a very classical fairy-tale feel to it, full of swashbuckling sword fights, oaths of vengeance, princes, princesses, kings, queens, knights, and true love. The soundtrack is more medieval than the normal synth-electric soundtracks of most 80s movies, yet it still uses synth music blended with triumphant horns to create a unique soundtrack. My personal favorite snippet is how the music swells suddenly each time swords clash.
Although The Princess Bride may not look the part of an amazing movie, it still holds up today as wonderful entertainment and is absolutely worth your two hours and $4. If you enjoy movies like Pirates of the Caribbean, Harry Potter, and classic Disney films, The Princess Bride is for you.
The Princess Bride is rated PG and is 1 hour and 38 minutes long. It's available to watch on Amazon Prime Video for $3.99.
Quotable Karate Kid still fun, relevant
By Cyrus Burton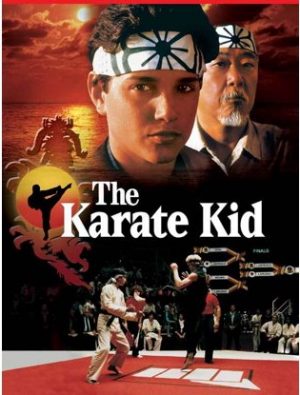 Quirky humor, a good soundtrack, and quotable dialogue are key ingredients to an 80s cult classic, and the 1984 Karate Kid has all three in abundance.
As one of the most famous underdog movies of all time, The Karate Kid follows a young Daniel LaRusso (Ralph Macchio) as he struggles to fit in after moving from New Jersey to California. He gets into trouble with a group of bullies whose leader (William Zabka) is the ex-boyfriend of Daniel's love interest, Ali (Elisabeth Shue). With the help of Mr. Miyagi (Pat Morita) Daniel learns karate to defend himself against his bullies.
Rewatching the film, I laughed out loud a number of times, both at the lines that were actually meant to be funny and also at lines that were just super campy and stereotypically 80s. Seeing Daniel dressed as a literal shower at the Halloween dance was one of the funniest parts of the movie.
Its stereotypical 80s soundtrack really works. Joe Esposito's famous "You're the Best" plays behind the montage of Daniel facing his opponents in the Karate tournament. Listening to the song on its own is just mediocre, but when you hear it play behind the montage it is clear that it is one of the best 80s power ballads around. Regular Show embraced the tune in its Karate Kid homage training montage.
We can thank this film for the famous lines "sweep the leg," "finish him," and, the most popular, "wax on, wax off." These lines have been repeated and parodied so frequently that the film is required cultural literacy. Fans of CBS's series How I Met Your Mother were treated to seven episodes with William Zabka playing himself to highlight Barney's obsession with Zabka's villainous character Johnny Lawrence. Macchio and Zabka later teamed up in 2018 to create the YouTube series Cobra Kai. The first episode has over 80 million views. Season 3 of Cobra Kai is scheduled for May 2020.
I think The Karate Kid has managed to stay relevant today because of its positive messages: stand up to bullies, don't be egotistical, and never give up.
Ultimately, I think that The Karate Kid is deserving of the praise it receives. It fits the mold of a campy, goofy, 80s movie perfectly, with some laughably terrible, yet endearing, moments. It is a funny, classic, feel-good movie that is definitely worth a watch.
The film is rated PG and runs 2 hours and 7 minutes.
The Karate Kid can be rented on a variety of streaming services, but it's cheapest on Amazon Prime Video for $2.99.
Bully victims become heroes in Goonies
By Elizabeth Jimenez
In 1985, director Richard Donner and executive producer Steven Spielberg released one of the most beloved, pop culture movies of the 80s–The Goonies. Although the movie was made for kids, the film was wildly popular and anyone who watched it loved it.
When the lower-income housing area called the Goon Docks is threatened, best friends Mikey (Sean Astin), Data (Jonathan Ke Quan), Mouth (Corey Feldman) and Chunk (Jeff Cohen) are forced to move and go their separate ways. When they find an old treasure map they embark on one final adventure to steal the treasure and save Goon Docks. On their journey, they are chased by criminals, escape booby traps, and meet Sloth, a character everyone grows to love.
I can appreciate the outdated sets and corny props, like Data's suction cup belt because it only adds to the film's charm. I loved how every detail was incredibly imaginative in a simple way.
Lovable characters create a movie that can be appreciated and loved by anyone at any time. Chunk's endearing personality and classic dialog keep the film light even as it introduces harder themes like bullying.
Today's audience can still feel for Chunk, the chubby kid who's used to being made fun of. When he meets Sloth, a neglected, deformed man, an alliance is born. Both bring strength and save the rest of the group multiple times.
The movie highlights how mean kids can be, but puts an emphasis on finding the right people who will build you up.
The goonies all have different situations, but they all are just trying to find their place. They encourage each other and show great perseverance. As one of the most famous quotes from the movie puts it, "goonies never say die."
When their homes are threatened, the goonies step up and make the change needed. It shows that anyone can make a difference when they try to help others.
You can rent The Goonies for $3.99 though Amazon Prime Video. The film is Rated PG and runs 1 hour and 55 minutes.