Tribe Tracks: Carlos Diaz
Q: Who or what would you say most influences your taste in music?
A: I say Playboi Carti…I know he's really popular and everyone listens to him but once you see him in concert—or you've seen him three times like I have, he performs really well so it's fun to see him live.
Q: Do you go to concerts often?
A: Yeah, probably like once a month. I haven't been to a concert in like a month. My last concert was Bane's World.
Q: What do you like most about going to concerts?
A: The people. I've been to a festival called Camp Flog Gnaw and the people there are really humble—at a festival,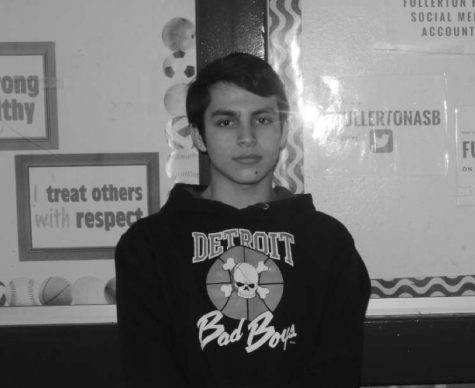 there's no way you can survive without water. The first year I went to the festival I didn't have water, so everyone was like offering me theirs. I know it's really gross to take water from other people but you just have to so I'm glad for the people there. At Rolling Loud, it's like survival of the fittest—people will literally try to punch you to get to the front. 
Q: What would you say was your favorite concert?
A: Chief Keef because of the vibe that he sets. Everyone that was there was so cool. Everyone is just having a good time, no one was rude, no one was like "ugh don't push me." We were just there to have fun.
Q: What was your least favorite concert?
A: I haven't had a worst concert but at Rolling Loud, I was uncomfortable the whole time because I was getting squished towards the gate, my ribs felt like they were gonna collapse and I couldn't breathe. I just had to stick through it to see Playboi Carti because I was not gonna leave where I was in the front until Playboi Carti came on.
Q: Is there any advice you have for people who've never been to a concert but would like to go?
A: Take a sweater, a backpack, like 4 water bottles if you're gonna stay at one place—make sure to pack lightly but make sure to bring water. Water is like the main key
Q: Would you say you were always more generally into hip-hop or did your taste kind of evolve as you got older?
A: Yeah I was always into hip-hop because my parents are into hip-hop so they influenced me. My older cousins influenced me as well.
Q: What kind of artists do your parents listen to?
A: They're like old artists so I don't really know the names but like my cousins listen to Tyler, the Creator, Playboi Carti, Chief Keef—my cousin introduced me to [Chief Keef] I don't know how long ago and I was listening to him and really liked him.
Q: Do you listen to any other types of music at all?
A: Well I listen to every genre so I listen to rap, R&B, Indie, soft music, anything, even Mexican music I vibe to.
Q: Do your friends mostly listen to the same music as you?
A: Yeah, most of them—we bond by going to concerts.
Q: Have you ever met any of your favorite artists?
A: Yeah, I've met Brockhampton, Taco who is friends with Tyler, the Creator, and some other people.
Q: Who would you still really like to meet?
A: Playboi Carti. I haven't seen Travis Scott in concert so that would be really cool. I think they're like $200 and that's, like, a lot of money. Before I got to a concert I have to save my check, figure out how much the ticket's gonna be, and figure out how much I'm gonna spend at the festival or concert.
Q: What do you like about rap that you don't get out of other music?
A: Say I went to an indie concert, no one is really having fun—well you're having fun but no one is really hyped up. How are you gonna get hype to a Clairo song? How are you gonna jump to a Clairo song? So with Chief Keef and Playboi Carti you can just release your energy when you're watching them perform—you can jump and have fun.
Other Student Playlists