Tribune staff writers recommend recipes
Crispy honey chicken provides comfort when stuck inside
By Lauren Wright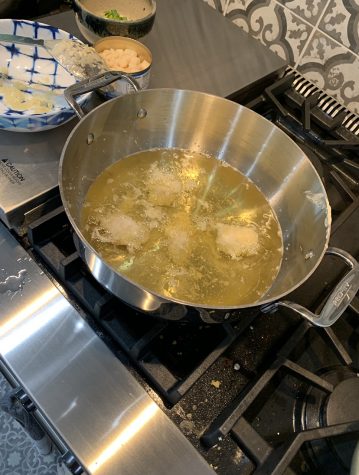 When you've been in quarantine for this long, you start to miss the small things just as much as the big ones. For my family, something as simple as going to our favorite restaurant, P.F. Chang's, could mean the difference between us all getting along or all being at each other's throats. Though going out isn't an option while stay-at-home orders are in place, I would argue that it is essential for my family to get the Chinese food that they love so dearly, so I decided to make it for them.
With all the free time on my hands, I looked up actual P.F. Chang's duplicate recipes that my whole family enjoys for a family-style meal.
I decided on crispy honey chicken, chicken lettuce wraps, garlic green beans, and fried rice. I wanted a recipe that was a bit more challenging, and I can definitely say this fit the bill. For this article, I'll be teaching you how to make the crispy honey chicken.
First of all, you will need the following items. Personally, I had a lot of them at home already but had to buy the chicken and some of the spices. I recommend getting everything measured and ready beforehand and separating it all into 3 groups: items for the chicken, batter, and sauce.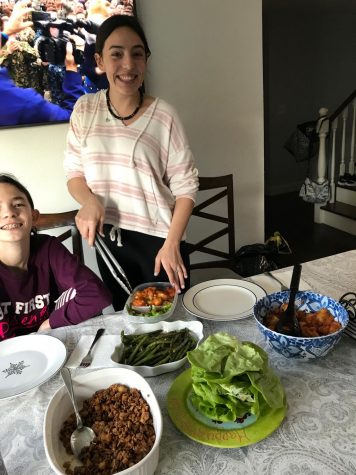 Chicken:
1lb of chicken
½ tsp of salt
¼ tsp garlic powder
⅛ tsp white pepper
3 Tbsp water
Batter:
¾ cup flour
½ cup cornstarch
2 tsp baking powder
1 egg
2 Tbsp canola oil (can substitute vegetable oil)
¾ cup water
¼ tsp salt
⅛ tsp garlic powder
Sauce:
3 Tbsp honey
5 Tbsp ketchup
¼ cup sugar
3 Tbsp water
One thing to remember is that you'll be cooking the chicken in a pot of vegetable oil. What I didn't realize the first time I made this is that I'd need enough oil to fill the pan almost halfway, which in my case meant using a whole container of oil.
To get started, cut the chicken into small pieces (1-2 inches) and put them into a medium bowl. Mix all the ingredients in the "chicken" group (chicken, salt, garlic powder, white pepper, and water) and then put it into the fridge for about 20 minutes. While that cools, you can start making the batter and sauce.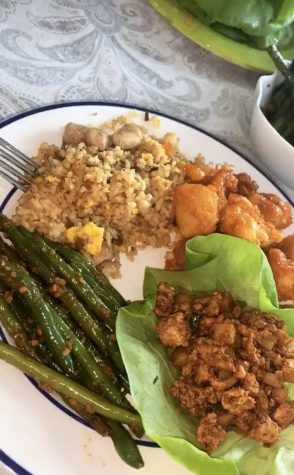 For the batter, you'll need a large bowl. Start by mixing the dry ingredients first (flour, cornstarch, baking powder, salt, garlic powder) and then add the liquid ones (egg, canola oil, water). The consistency should be like a thin pancake batter so you can eventually coat all the chicken before cooking. If it is too thick, just add a bit more water until it seems right. Set that aside.
The sauce is simple. Just mix the honey, ketchup, sugar, and water in a small bowl and set that aside. You won't be needing it until later.
Once the chicken's 20 minutes are up, it's time to get cookin'! Fill up a short stockpot a little less than halfway with vegetable oil and put it on medium heat. Once that's heated, dip the chicken into the batter and then cook it in the oil in small batches for about a minute at a time. Continue until you've cooked all the chicken.
Next, put the chicken back into the oil in larger batches (basically as many that will fit at once) until golden brown. This took only about 5 minutes for me. To make sure the chicken is cooked all the way through, I like to cut the biggest piece in half and make sure it's not pink in the middle.
The last step once the chicken is all cooked is to heat up the sauce in a saucepan and then add the chicken to it. Mix well until all the chicken is coated with the sauce.
And of course the best part: Enjoy!
This was the perfect meal to make for my family if I do say so myself. Even my youngest sister Abby, who is known in my house to be the pickiest eater, ate it all and loved it. This is perfect to make for your family of course, but also could be made in a takeout style to deliver to friends. And, might I add, it turned out to be the best cure for boredom that I have found so far.
Strawberry cheesecake bites are small but flavorful
By Elyza Flores
Ingredients:
Strawberries
Powdered sugar
Cream cheese
Vanilla extract
Crushed graham crackers
One afternoon I was on Tik Tok saw a video that showed how to make strawberry cheesecake bites. I was intrigued by the recipe and love trying out new things, so I rushed to my fridge to see if I had all of the ingredients.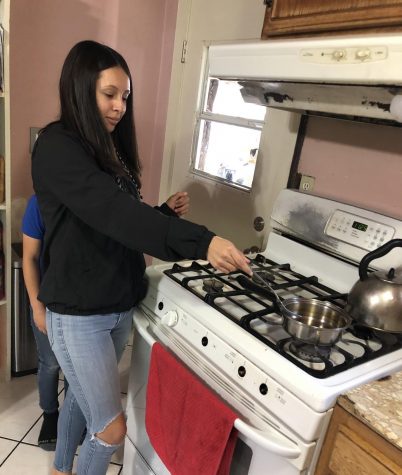 I had everything except for strawberries so I had to figure out how I could get strawberries. I called my aunt who lives right behind my house asking if she had strawberries and luckily, she did. I was so happy when I checked outside my front gate and saw the strawberries sitting there.
Right when I came back inside, I washed the strawberries and started cutting the top of them. It was hard cutting the inside of the strawberry because every time I cut the inside, I would end up cutting half of the strawberry.
After I cut all the strawberries, I mixed in the cream cheese, powdered sugar and vanilla extract until it got smoothed in a medium-sized bowl. That was the easiest thing to do.
I then grabbed a Ziploc bag, put the filling inside and cut off a bottom corner of the bag so it would be easier to fill up the strawberries. After filling up the strawberries, I dipped them in the crushed graham crackers.
When it was all done, I tried one and it was the most amazing thing ever. My family members tried it and gave so many compliments on it which made me really happy. It is such an easy recipe to do as a dessert.
Fried Oreos recipe brings fair food home
By Elyza Flores
Ingredients:
Aunt Jemima Pancake mix
Any type of Oreos
Vegetable oil.
Optional- whip cream or powdered sugar to top it off
The first thing I had to do was grab all my ingredients.
Next, I started mixing the Aunt Jemima pancake mix. I grabbed a saucepan and turned it on to medium heat and added vegetable oil to it.
The first time I made fried Oreos, I was scared because of the hot oil. I didn't want it to splash on me. I used vegetable oil and a small saucepan to deep fry the Oreos.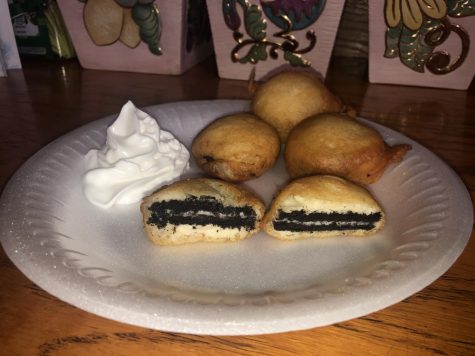 When the oil became hot I grabbed one Oreo and dipped it into the pancake mix with a fork. Then I put it into the oil and flipped it two times on each side so the pancake mix cooked.
The first 2 fried Oreos ended up coming out a little burnt, so I made my brothers taste them because I didn't want to eat the burnt ones. They thought they were still really good and didn't have a burnt flavor, which I thought was crazy.
At the end of baking the fried Oreos, I tasted them and they came out amazing! I added whipped cream to it which made it even more amazing.
It is a really easy pastry to make and it doesn't require too many ingredients. I recommend that people try this, but just be careful with the oil!
Homemade icing provides topping for variety of pastries
By Emily Morales
Don't settle for store-bought icing. Make it yourself!
This versatile and creamy frosting can be made in a quick 10 minutes with four simple ingredients. Icing too thick? Add in more milk. Icing too thin? Add in a small amount of powdered sugar. Not liking the plain ivory color? Add drops of food coloring until preferred shade or mix colors to create a funky shade. Perfect to top any cupcake, cookie, and cake. All you need to achieve this rich frosting is powdered sugar, butter, vanilla, & milk.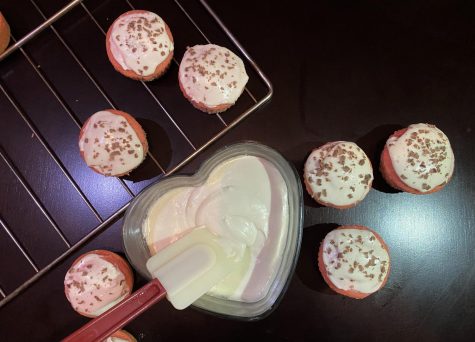 Begin with a medium bowl, mix 3 cups of powdered sugar and ⅓ cup of softened butter with an electric mixer or spoon. Mix until butter has dissolved. Lastly, stir in 1 tablespoon of milk and 1 ½ teaspoons of vanilla. Gradually beat until frosting becomes spreadable and smooth.
Obviously, you can drizzle your icing on any pastry or cookie lying in your pantry. But have you thought of adding it in your oatmeal or pancakes? Whirl in a spoonful into your morning oatmeal to blank out that oat taste for a sweeter taste. As to sweeten up your pancakes or waffles, add a small amount of milk into the icing to thin it out first. Drizzle over morning pancakes for a creamy, sweet taste.
I had strawberry cupcakes baking in the oven while I made my icing. Luckily, I had all the ingredients at home which meant I didn't have to head to my local grocery store and risk getting exposed. I had a Hershey's chocolate bar laying around so I used a cheese grater and turned it into chocolate shavings for a topping.
Also, always let your cupcakes cool before adding icing or else it'll just melt right off. I didn't have icing bags in hand so I used a butterknife to apply my icing.
At last, I topped off my store-bought, Pillsbury strawberry cupcakes with chocolate shavings. Most likely you´ll have leftover icing, which is good for one week if refrigerated in an airtight container.