Tribe Tracks: Zachary Holden
Editor's Note:
The Tribe Tribune started publishing our regular feature called Tribe Tracks in February in order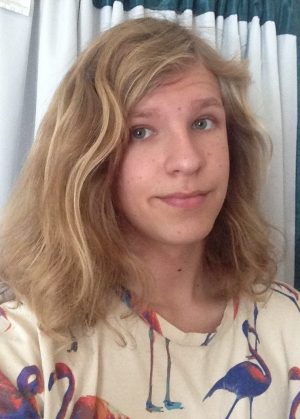 to highlight the diversity of musical interests across our campus. Each issue featured a one-on-one student interview along with a few student-curated playlists. Instead of an interview this month due to the restraints of distance learning, we asked sophomore Zachary Holden to send us an annotated playlist. Beneath the countdown of Zach's current favorites are a few other student playlists.
#5 "Unravel" by Bjork
"This track is beautiful in every regard. From Bjork's lush, accented voice, the orchestral backing, and the small little sound effects that play every now and then. This song has brought me to tears and even thinking about it gives me goosebumps. It's the kind of song you can just lay down and appreciate the stars and the trees and everything that exists. You know?"
Tribe Tribune commentary: Unlike the other tracks on Holden's playlist, this piece doesn't require a 10-minute commitment. Most of us honestly only knew of the artist Bjork for being a bit of a nutcase, known for attacking paparazzi. However, Zach's recommendation is solid. Lie on the floor and think about life while giving this a listen. Bjork's vocals were smooth and otherworldly. If you're looking to be somewhere else this quarantine, we highly recommend this song.
Listen HERE
#4 "Switchin Lanes" by Playboi Carti & Pi'erre Bourne
"It was hard for me to choose this song over any other Carti song. Or any cloud rap song, psych hop song, or any popular rap song for that matter. I like Playboi Carti and it's not hard to see why because everyone likes Carti, but why people like him is more meta than just his beats or his baby voice. Carti represents the reincarnation of Punk Art that has been cycling around in the mainstream for decades. From Andy Warhol to The Ramones, Carti is punk. It's raw and minimal yet it says a lot. High art meets low art."
Listen HERE
#3 "Helpless Child" by SWANS
"Mortality is scary. But in my opinion, pain is far more terrifying. If you're dead, you don't feel a thing. However, if you went to hell for all eternity, you wouldn't become numb to the pain, because it's hell. Hell sucks. Is this song hell? No, but it's fifteen minutes of sound that defies the nature of fear of pain. Like one welcoming death as an old friend, this track sounds like pain. Not that it hurts to listen to though. Think of it like a virgin beverage. It's alcohol without the alcohol, but replace alcohol with pain and it's a 15-minute song. I don't know if that's a stretch, but it is what it is."
Tribe Tribune commentary: We like SWANS, sort of. We find Gira's mope-rock cathartic. SWANS is so dark, it might make you feel better. In other words, if you think life can't get any bleeker, try SWANS. You'll say, "Oh, I guess my life could be more depressing."
Listen HERE
#2 "Life Should Be Easy" by Death's Dynamic Shroud
"Let me set this straight: Death's Dynamic Shroud is not a metal band, they're a vaporwave group. They're the opposite really. This is off of one of my favorite albums of all time and for good reason. While this is technically instrumental, there are these vocal samples that really melt into the track itself, as if the song is alive and pulsating with the world around me. It's like the people who made this are collectively reaching out to me in a cosmic, magical, beautiful way that brings me to near tears every time I listen to it."
Listen HERE
#1 "I See You Pan" by Animal Collective
"This song is long. 11 minutes to be exact. There is barely anything resembling a rhythm structure or a consistent tempo. It's just a droning yet small synth lead, a vocalist popping in and out of the song, and static. It's not much, but it's honest work. It's raw, primitive, and drowning in its own nothingness. I love it."
Tribe Tribune commentary: Animal collective is not a band for everyone. At a glance, "I See You Pan" seems almost unbearable with its scratchy ground-scraping beats and sirens. When listened to alone, this track might feel abrasive to the ears, however, when followed by the song "Pride and Flight" in its respective album order it makes for a strong, risk-taking intro. If you're into experimental-pop, or just looking to try something new, give these two a listen.
Listen HERE
Other Student Playlists