Science teacher says goodbye to FUHS
While the Class of 2020 says goodbye to Fullerton High School after four years via a YouTube livestream graduation, science teacher Christine Irwin will say goodbye to Fullerton after 23 years.
Irwin began teaching earth science and oceanography at Fullerton in 1997 after leaving a job in the oil industry. 
"That wasn't my thing," Irwin said. "I didn't want to destroy the environment. I thought, 'What the heck. Let me try my hand at teaching.'"
Since then, Irwin has become a core part of the FUHS science department.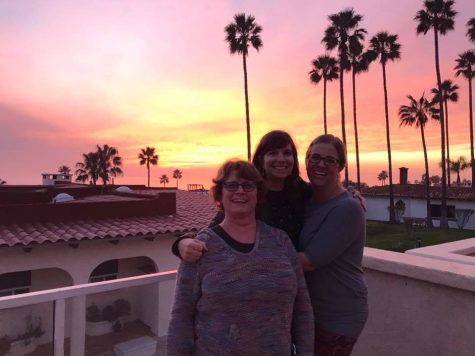 "She is synonymous with geoscience, oceanography, AP Environmental Science," said Kristen Cruz, fellow science teacher. "Irwin has built a huge legacy with those programs. She has done a fabulous job in getting students interested in taking those classes." 
Irwin's respect for her students makes her classroom a flexible, content-focused environment.  
"I don't sweat the small stuff," Irwin said. "You can use glow ink as long as I can read it. And I'm not a disciplinarian by any stretch of imagination. I kill with kindness. I'll treat you the way I want to be treated, and I don't fake it."
Many of Irwin's students can attest to her genuine attitude and commitment.
"She did go out of her way to make sure people understood the content," said senior Seth Bergquist, who plans on studying environmental science in college. "I remember she came into the class with a fish tank full of water from Laguna Lake, and she bought grow lights for us to filter it out and test it."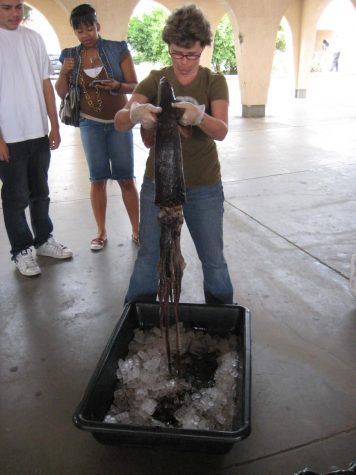 Each year Irwin takes students to the Ocean Institute in Dana Point to see humpback whales and megapods of dolphins. One year, she even dissected a 30 pound, 6-foot Humboldt squid in the quad.
"With Irwin leaving, you are losing the most expert from campus," science teacher Jeff Oliva said. "She's the one science teacher who could go teach college right now. She has a Master's, she's defended research in front of a bunch of geologists. She knows her stuff."
Irwin's passion for the earth sciences has followed her through her entire life. As a child, she'd pretend excavating dinosaur bones. She kept a rock collection and avidly watched Dr. Mary Leakey on PBS, the paleo-anthropologist who discovered Lucy, the earliest discovered australopithecus skeleton.
When Cruz was first hired to teach geology at Fullerton, she remembers even Irwin being excited for her.
"She called me and took me to go look at rocks at a rock store," Cruz said. "It was an hour drive, but she was so excited. Then she got lost and we ended up in Rancho Cucamonga. But then I knew that Fullerton was going to be a really good place to work."
According to science teacher and colleague Ashley Hill, Irwin isn't just passionate about her classes, she was also a dedicated leader and friend.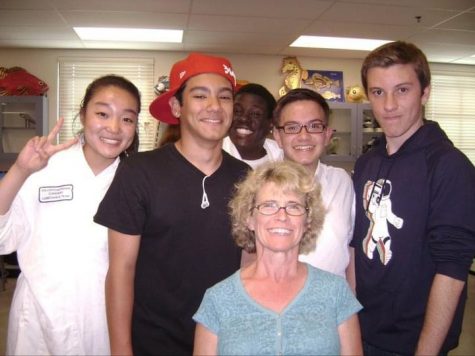 "She will advocate for you," Hill said. "She's a pillar. If you're having a problem she will voice her opinion and stand up for what she thinks is right—for teachers and for the students."
The FUHS science department is a close-knit group of friends. Oliva describes Irwin as integral to the group, as well as an important part of their meal get-togethers.
"We do science department brunches," Oliva said. "Irwin is the panini person. That was her thing, and now we have to pass on the panini maker tradition. Also, once she burned her popcorn and the fire alarm went off."
Irwin goes above and beyond as a teacher, colleague and friend. But 23 years of going above and beyond wasn't easy.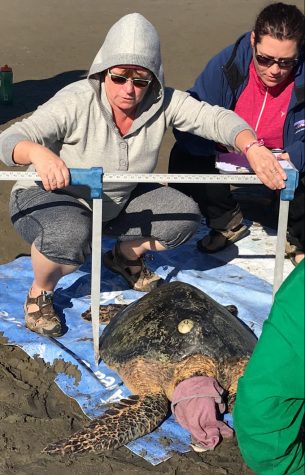 "It was the hardest thing I've ever done in my life," Irwin said. "There was a point in the beginning where I was working from 6 a.m., leave at 5, work till 10 p.m., work all Saturday and Sunday." 
The past few years, she'd go out to dinner or Happy Hours with friends and her husband, but bring her laptop and work.
"I just kept working and working," Irwin said. "One day I was standing in front of the principal's secretary. I turned ghostly white and passed out from exhaustion.They told me to take a couple days off but I didn't know. I was trying to do everything at one time."
Though this is an unprecedented time for retirement, Irwin says she's looking forward to doing things she was previously unable to do. 
"I want to do my sun salutations every morning," Irwin said. "[My husband and I] are thinking about moving to the desert and having some space. I'd like to grow things, make my own bread, just walk out the front door and have coffee on my patio. Go back to simple."
Click below for slideshow.