Tribune staff finds fun summer activities for kids
For kids, summer has meant swim lessons and day camp. But this summer is going to look different. Specifically, some of those day camp instructors will now be homebound FUHS students.
Children need lots of opportunities to think, talk and play. So while it's okay to schedule some TV and video game time, children will need a variety of activities to keep them engaged and happy. Below are ideas of fun things to try with younger siblings this summer, sorted into categories.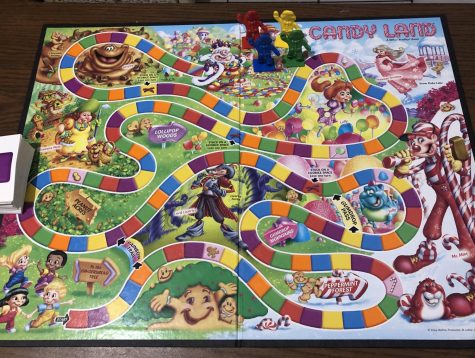 Cooking
Cooking is a great activity for little kids. Kids tend to be curious and cooking can really help them. There are so many fun little snacks and treats to make together and bake. Whether it's cake pops or mini pancakes, they can help with stirring the ingredients or even measuring them out. Click here for recipes to appeal to a younger siblings' taste. 
Arts and Crafts
Arts and crafts keeps kids preoccupied for a long time and doesn't cost a lot of money.  Find stuff around the house like glue, paper, popsicle sticks, glitter, string, old t-shirts, and toilet paper rolls to create art projects.  
One thing you can make is oobleck, which is made up of just cornstarch and water. Take a bowl, measure one cup of cornstarch and one cup of water and mix it with a whisk until evenly combined. The oobleck becomes hard when held, but once it settles on its own, it becomes liquid. It will definitely intrigue the little ones. 
Family game night
Family game night is another great activity to keep kids occupied. Whip out some board games, snacks and play the night away. Some games may include Uno, Monopoly, Candy Land, Connect Four, or Heads Up.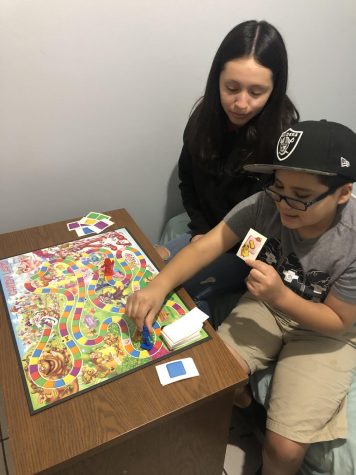 Movie night—with a twist
If you have Netflix or Disney+, take two mason jars, one for shows and the other for movies. Label the jars and go through all of the shows and movies you guys have been wanting to watch, whether it's the whole collection of Toy Story, Finding Nemo, Frozen, Descendants or The Lion King. Write them down on little pieces of paper, roll them up and put them in the mason jars. Have someone reach into one of the mason jars and pick a paper to choose the movie or TV show for the night. Grab them when you're having trouble deciding what to watch. 
In addition to the mason jars, grab some blankets and pillows and to make a fort by the television. This way, it will feel like camping, but inside the house. 
Outdoor activities
If your little siblings are active, playing outdoors is a really great outlet to have fun and get rid of excess energy. Go outside to play sports like soccer or volleyball, play catch with them or even monkey in the middle.
If they don't like to play sports, buy chalk to decorate the sidewalks or take a ride on bikes and scooters around the neighborhood. With summer coming up, Target and Walmart have inexpensive water balloons to purchase. You can easily fill them up and have a water balloon fight. You can also get inflatable mini pools for cheap and fill it up with water and put it in your backyard for the little ones to splash around in.