Salutatorian ends 7 sibling legacy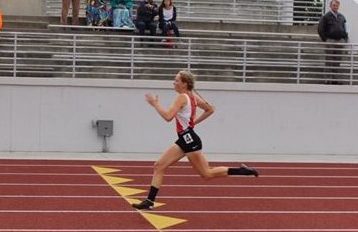 Rosemary Kehoe will graduate as the seventh, and last Kehoe sibling from Fullerton High School. But Rosemary will also graduate as salutatorian, full International Baccalaureate diploma candidate, 3-time CIF track qualifier, and 3-time 400 meter Freeway League champion.
"The fact that my dad said to all of admin and the principal that he was glad to be leaving Fullerton with a bang felt really good," Rosemary said. "Sibling rivalry doesn't motivate me to do much. I was contributing to their success and our success as a family."
Laurel Kehoe, one of five of Rosemary's older sisters, says Rosemary has paved her own successful path.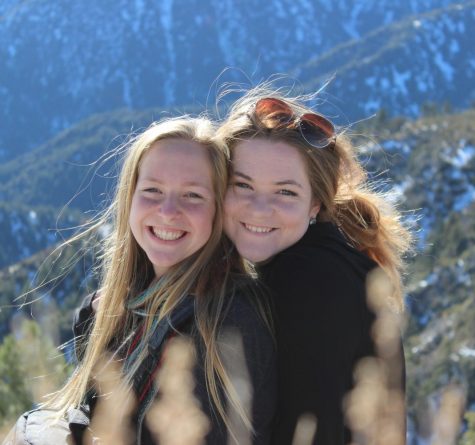 "When I was in high school, the teachers would be like, 'Oh, another Kehoe, another Kehoe,'" Laurel said. "But when it was Rosemary's turn, she wasn't thinking she had to fill the shoes of the earlier siblings. She created her own high school experience."
And that Rosemary did. Her first high school dream was to be in the Academy of the Arts, so she enrolled in theatre. 
"My aspiration was to be a triple threat— dance, choir and theatre," Rosemary said. "But I'm not actually good at any of those. Constantly being put in a situation where my face turned really red was not my favorite and did not evoke positive emotions."
Rosemary's freshman year served as trial and error, setting herself up for success the rest of high school. 
"Freshman me actually thought school was a joke," Rosemary said. "I remember hearing about AP Human Geography and thinking, 'There is no way I'm taking that. I'm not a nerd.'"
Come junior year, however, Rosemary enrolled in the full IB program and several extra AP courses. 
"I wanted to enjoy high school, not get caught in an educational rat race," Rosemary said. "But I could do more than I thought I had the capacity to do, mentally and academically. I was excited to see what else I was capable of achieving."
This fall, Rosemary will attend Williams College in Massachusetts to run track and major in Japanese.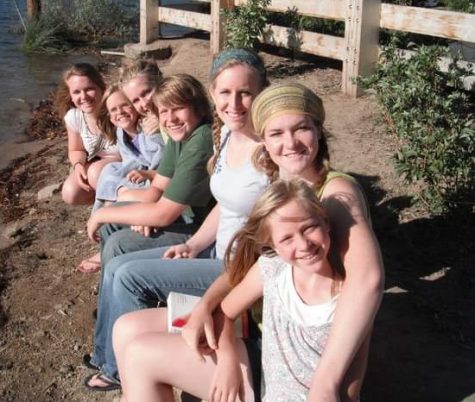 Her interest in the language sparked after traveling to Japan twice. Junior year, she even enrolled in Japanese classes at Fullerton College. 
"[Japanese is] so grammatically complex," Rosemary said. "I appreciate the culture. It'd be cool to study over the course of four years because there's so much to learn. I'd never get bored."
Rosemary's passion for language extends beyond her intended major. In high school, she studied Spanish all the way up to AP Spanish Literature, the highest level offered at Fullerton.
AP Spanish teacher Guadalupe Lawton remembers being surprised that Rosemary wanted to enroll in her class.
"I told her, 'Please don't be disappointed if this class is too difficult,'" Lawton said. "She struggled. But boy, she proved she could do it. It was pure perseverance."
Rosemary had no prior knowledge of Spanish language or culture before high school, but still excelled.
"She's capable of becoming bilingual," Lawton said. "She's more assertive in the language, more confident. She even jokes in Spanish. I hope she dreams in Spanish."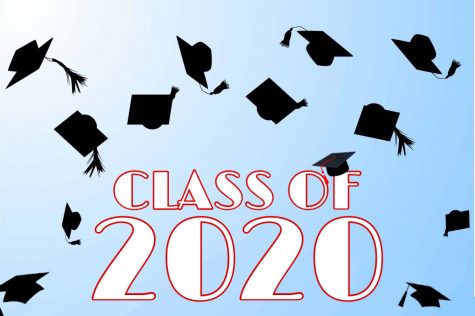 The 20th century piece San Manuel Bueno, Martír, by Miguel de Unamuno, influenced Rosemary especially. The protagonist, a Catholic priest, struggles between his lack of personal faith and duty to his community as a religious leader. 
"San Manuel Bueno struggled with wanting other people to be happy in their faith while not believing in it himself," Rosemary said. "I walked away from Christianity over the course of the fall semester, so I related to that. To read it in another language added to the realization that I wasn't alone, whether or not we are in the same culture or religion. 
Rosemary's propensity for personal growth expands beyond foreign languages and into her personality and family life.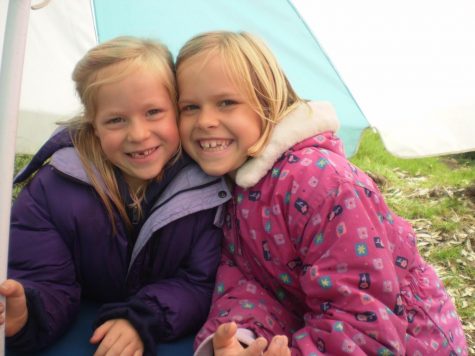 "I used to just say whatever, and do whatever," Rosemary said. "My actions were often done selfishly, with no purpose other than momentary enjoyment. But who I'm trying to be now is a caring and loving person, sensitive to other people's needs."
Older sister Olivia Kehoe experiences Rosemary's generosity every day.
"I used to struggle with eating issues," Olivia said. "But I live with someone who always takes care of her body, with such a healthy approach. She encourages me to try to take care of myself in that way."
Olivia also appreciates Rosemary's silly expressions of love. 
"I'll be watching YouTube or typing at my desk and she just falls on top of me and gives me a hug," Olivia said. "Kind of a body slam. Sometimes I kick her away like a dog. But she always smiles the biggest, cheesiest smile."
While the Kehoe family may know Rosemary for special hugs or sibling bonds, the rest of the FUHS community knows Rosemary for running track.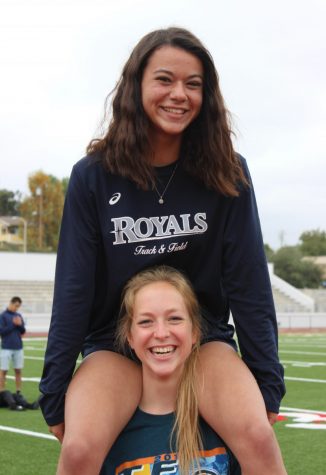 Rosemary has won League Champion and qualified to CIF 3 years in a row in the 400m with a personal record of 57.89 seconds. Her PR in the 200m is 26.16 seconds. She's also qualified to CIF in the 4x400m relay, 4x100m relay and 300m hurdles.
FUHS alumnae Sophie Ruesga ran the 4x400m relay with Rosemary for two years.
"It was so hype," Ruesga said. "We'd huddle up and pray, then we'd hop in line and race. We were both so determined to get that baton to our team, and we'd be screaming to 'go faster' and 'finish it!'"
Rosemary ran varsity track all four years, but it was her first time competing in a real sport.
"I had never done a club sport, or even a little league," Rosemary said. "I didn't even know what being a teammate meant. Being on varsity where everyone was motivated, wanting to PR and train harder, showed me what it meant to be in a sport for the first time."
She applied what she learned from upperclassmen varsity members to her own life to improve her speed and skill. Laurel attests to Rosemary's dedication.
"She changed her diet," Laurel said. "She showed up for a personal trainer. She'd wake up before zero period and go on a run in the dark. And she loves her letterman jacket."
Rosemary's passion for running goes way back. In elementary school, Rosemary turned P.E. sessions into secret competitions.
"I'd measure how fast I was by how many boys I passed," Rosemary said. "I remember I'd set goals, like 'This week, I'll pass Derek.' The next week, it was a different boy. Eventually I was faster than all of them."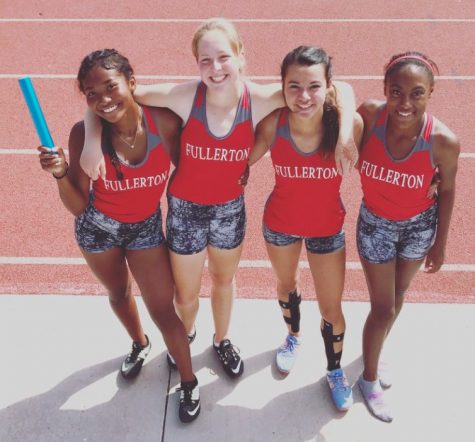 Running is a huge part of Rosemary's life, but her illustrious resume falls short of revealing her full personality.
"Who could know the weird, beautiful mind of Rosemary Kehoe?" Olivia said. "She wants to build a hippie commune in the middle of the desert, and have a kombucha brewery and grow a vegetable garden and orchard. She likes growing plants out of shoes."
Rosemary even wrote her IB Physics internal assessment to calculate how to supply her commune with energy. 
"Rosemary researched the physics behind solar cells and experimentally determined a mathematical relationship between the cell's output voltage and the angle of the sun," physics teacher Jim Pitochelli said. "Based on the angle the sun is making with the solar panel, she can determine energy production efficiencies throughout the day."
Rosemary's unorthodox approach to academics allowed her to explore multiple subjects.
"Rosemary frequently borrowed books of mine to read on her own time," math teacher Warren Hahn said. "A recent one is New Ideas From Dead Economists. She wrote her IA on the economics of lemonade stands. You can tell she wraps her mind around things—whether it's a math concept or a passage in literature, a political topic, or a style of dress."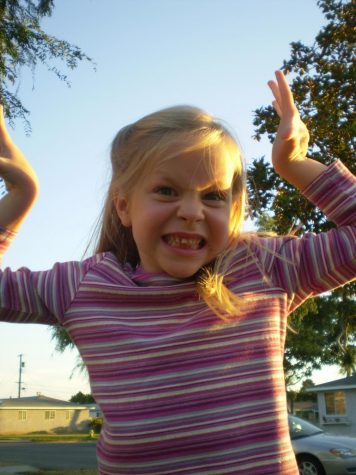 Rosemary can often be found rollerblading and biking through Fullerton, reading books by Jack Kerouac and Haruki Marukami, or even marching home from the railroad tracks with a 10 foot long, abandoned, steel railroad sign to use as decoration in her room.
"She's a spicy one," Laurel said. "I'm surprised all the time by her bold personality. She's contagiously vibrant and happy. She has a green thumb, a record player and a vintage fridge. She paints her pants. But she's also salutatorian."
Her passion for learning, combined with her unique personality makes Rosemary a great fit for a liberal arts college like Williams. 
"She's not someone to put herself in a tiny box and be content," Olivia said. "Maybe other people don't understand it, but she's found her own freedom and autonomy."
Click below for slideshow.