Let's make Hybrid check-in awesome
The school board voted last week to transition from Distance Learning to a Hybrid Model beginning Nov. 2.
About 500 students will be coming to school on Mondays and Thursdays. A different 500 will attend on Tuesdays and Fridays while about 900 students have decided to stay home full-time.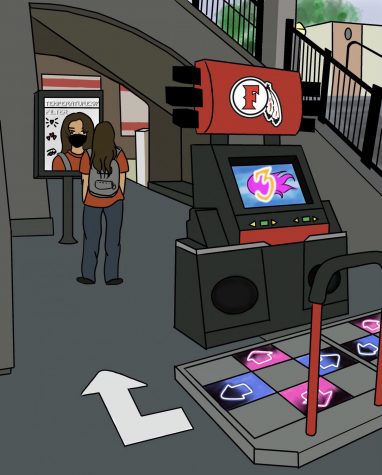 In preparation for our return, the district released a reopening plan, emphasizing protocols to keep us safe from the coronavirus.
I only skimmed the 31-page game plan, but some topics did catch my eye.  
For those choosing the Hybrid Model, your school day actually begins at home with a wellness survey. Even before you set foot outside your door, you're required to testify that you ain't sick. The online survey asks if you have a temperature or if you've been hanging out with COVID patients. Now, since this boring mini-test is required, I think school officials need to make it fun. Buzzfeed-style questions could enhance the process. Ask students questions like, which Disney Princess are you? Or, to fit with the times, which Among Us color do you choose? We could make them COVID themed, like choose the sickest looking mask.
Zero Period students are invited to line up for their mandatory temperature checks at 6:15 a.m. Yes. Six. Fifteen…in the morning.
For your convenience, white footprints have been painted on the cement (6 feet apart) to indicate where you should wait to have your temperature taken.
Now, instead of just standing in line for 20 minutes doing absolutely nothing, might I suggest a Dance Dance Revolution (DDR) station in every spot. It's a great way to get exercise in and the music will definitely pump up students. It has to be good music though. Actually, can't make it too good because you gotta get to class. I guess something like Despacito is fine.
 If there is any way to add cool filters, Snapchat type beat, while our faces are being scanned for the temperature reading that would be greatly appreciated. Maybe bring back the notorious flower crown filter that dominated 2017. After they clear you for temperature, each student will be given a wristband that must be worn the whole day. Different color wristbands will be used each day. You can pretend they are an admission to a cool concert where the main event is finally being able to sit at a desk.
Maybe the marching band will be back for its Zero Period practices on the field, too. Instead of requiring face masks, the school officials should provide a giant hamster ball for each musician. As students line up for temperature checks along Lemon Street, they can watch the band try out new formations. It will be hilarious. Trust me. Our band could be COVID innovators with a fun new half time routine. Absolutely worth the investment. 
Can I promise you Hybrid will be worth all the pre-flight check hassles? Absolutely not. However, these ideas will make it at least 50% better.