Community says goodbye to gym
Alumni, community members and school officials gathered on Sept. 25 to say goodbye to the FUHS gym that was originally built in 1927. The group gathered on Pomona Avenue near the west gym exit doors.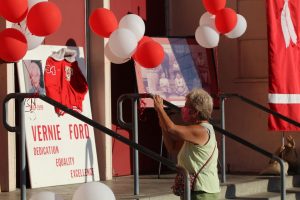 Assistant principals Amanda Bentley and Jon Caffery organized the event. According to Caffery, it will take about one month to remove the gym from Pomona Avenue. Crews have started some demolition on the inside.
In January 2019 an inspector from the Division of State Architect examined the FUHS gym in preparation for a new air conditioning system. He instead ended with the verdict that the gym was completely unsafe.
The inspector observed that the upper half of the building was not structurally sound. The truss system (the beam structures that help disperse the weight of the roof) was failing.
A new gym on the east side of campus is under construction and is expected to be complete by May 2021.
Click slideshow below for more photos